Introduction:
Founded in 2016 by Assaf Eisenstein and Yoni Tserruya, Lusha B2B Lead Generation Tool is making quite a hype in the market.
They recently raised 40 Million USD in Series A Crowdfunding and are planning to invest the capital in their R&D. 
Lusha browser extension helps salespeople to close deals by finding contact details of working professionals from various Industries. 
We will see the In-depth review of lusha tool and check how it is compared to some of the best B2B lead generation tools in the market.
What's Lusha is all about:
Lusha is built for salespeople who want to reach out to other businesses for marketing purposes. It helps you find the correct contact details of professional Individuals.
They have an extension tool for Chrome, Firefox, and Edge browsers with the help of which the user can find contact details such as the direct phone number and email ID of the targeted prospect. 
As per Lusha, the extension can be used with LinkedIn, Social media accounts, B2B Websites, and the Gmail Inbox.
They have their own dashboard which stores the list of contacts found with the help of the extension. From the list section, you can export the data in the excel sheet.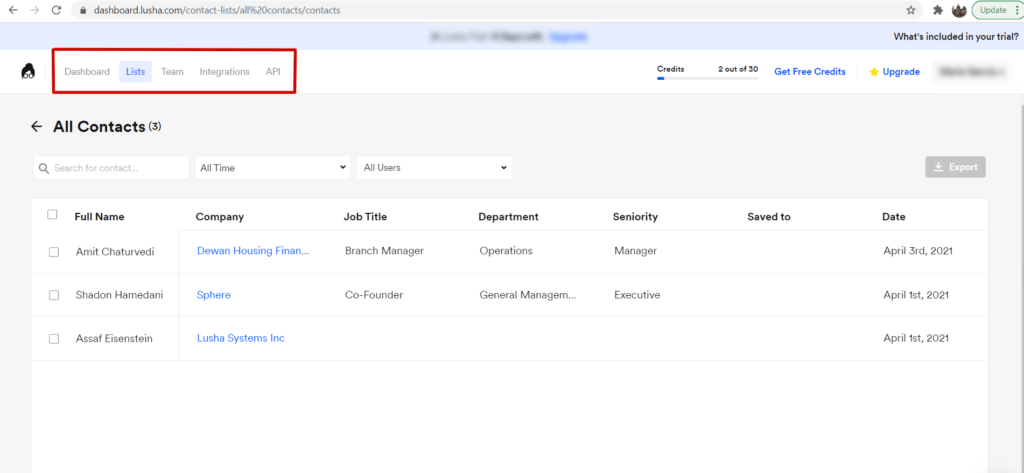 You can Integrate Lusha with salesforce, Outreach, Hubspot, Pipedrive, Salesloft, Zoho CRM, and Outlook for exporting the contacts.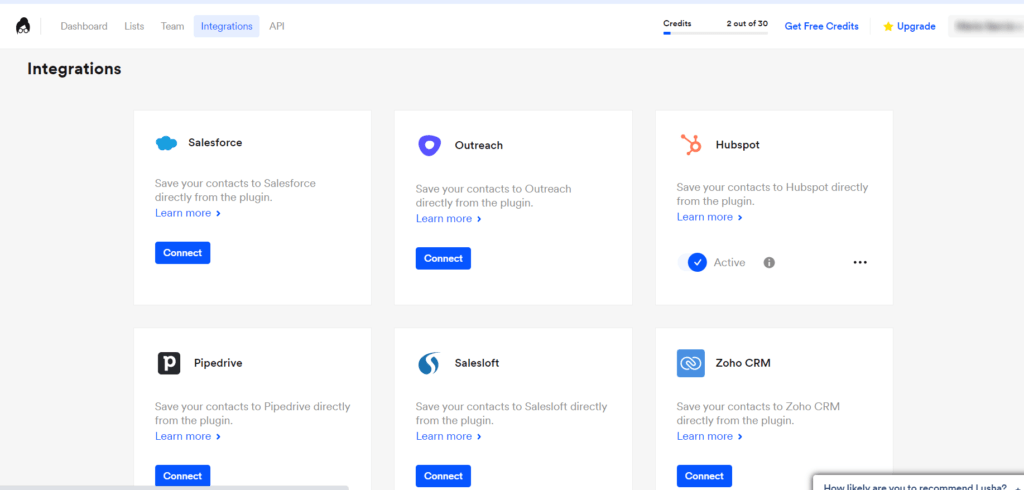 Lusha Sales Prospecting Tool:
This tool has a system with an advanced filter by using which you can directly find the contact details of the targeted person. This tool is not available in the free plan and you will need to purchase their 99$ per month to get access.
You can find contact details of Individuals by choosing:
i) Geography- Location of the Individual/Company
ii) Industry- The Industry in which the person works
iii) Seniority Level and Title: CEO, Manager, Director, etc.
And other important parameters.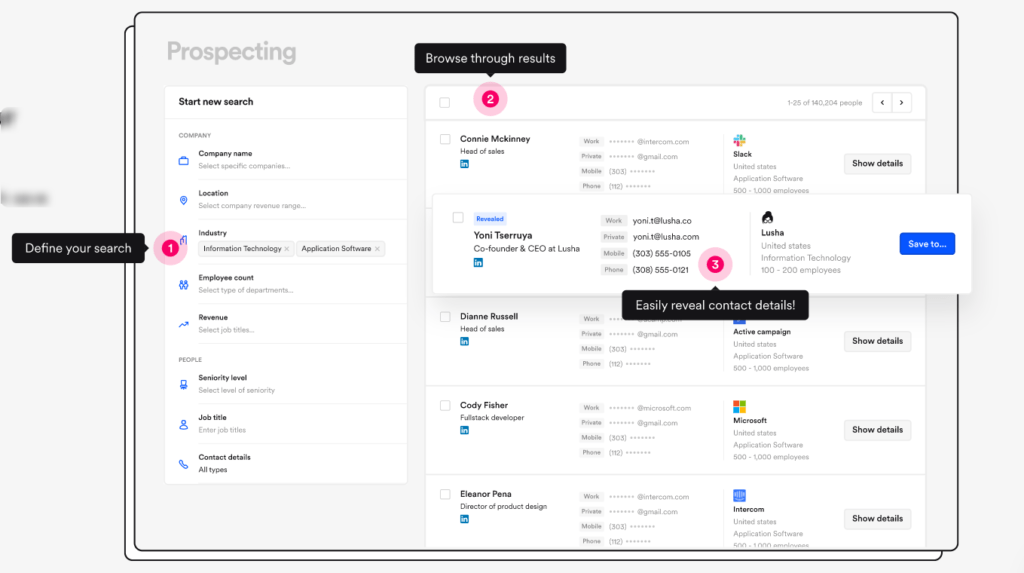 How the tool works:
Sample file exported from Lusha: Click Here
Community Program by Lusha:
It's like a mutual benefit program (where lusha gets more benefits).
Once you start using Lusha and its products you automatically become a part of the Lusha community. There is no separate dashboard/Platform for signing up in the community.
What you give: You give them access to your email Inbox and they can now search for any professional email IDs that are laying in your Inbox. It will help them enrich their database for either cross verifying the information or adding new contact details in their system.
According to them, they will only use contact information that is available in the email headers and signatures. Although they have the policies to protect your data and not store any of your confidential information, Data safety issues do arise here.
What you get: They say that you will get extra credits and access to premium features. They have not revealed any data on their website on how many extra credits and which premium features.
If applicable by the law of any country, the team of lusha will email the person that they have stored the contact details in their system and they will have the option to either allow or disallow them.
Pricing:
Below is the pricing of the Lusha tool. Here 1 credit = 1 contact details (Email and phone number).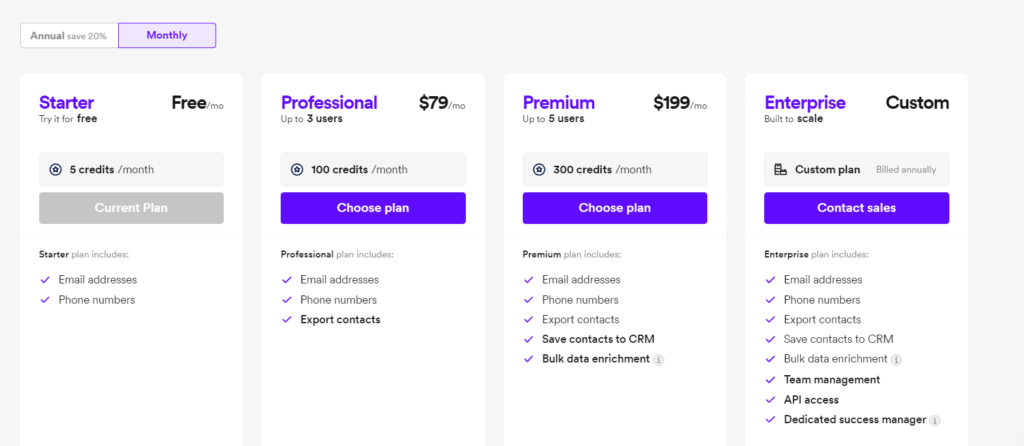 It is one of the highly-priced tool and might not be a good choice for beginners who have a limited budget and want to experiment new things.
Lusha Alternatives:
Seamless.ai: They not only have all the features that Lusha provides but also have an unlimited plan where you can find any number of leads without worrying about your budget.
They have an In-house email validation tool making it easy for you to directly send email without using any third-party verification tool.
Hunter.io: It provides you with credits just like Lusha and has the feature of finding email IDs from the domain and with an inbuilt email verification tool.
Other notable tools are Snov.io, uplead.com, Apollo.io, and Rocketreach.co
Pros:
Interface: They have a visually appealing website and easy to use browser extension. The dashboard of Lusha is simple to use and navigate.
Future looks great: They have got huge funding of 40 Million dollars and It will be Invested in improving their software. This is will make their tool more advance and feature-loaded.
Integrations: You can export and save your contacts directly to the top CRM software such as Salesforce, Hubspot, and Zoho.
GDPR and CCPA aligned: There are many tools in the market that do not have any data protection policies in place.
Cons:
Community Program: The program asks the user to give access to their inbox which raises many concerns. Although they have security and policy in place, It will be on the user's end if they are comfortable OR not.
Pricing: The pricing is on the higher side and there is no unlimited credits plan available.
Poor customer support: Here the poor term is used not for the availability of the customer agent but the product knowledge of them. When I asked about the community program and how it works overall the agent failed to answer me to my satisfaction.
Conclusion:
Lusha is the B2B Lead Generation tool that helps salespeople close deals by providing accurate contact information of working professionals. Although it was launched in 2016, It is comparatively new in terms of features when we compare it to the other competitors.
They recently received 40 Millon USD fundings for their R&D and new features and upgrades are expected to be launched soon.
According to my experience, there are currently many tools available in the market that are better than Lusha, One such example will be Seamless.ai.
However, there are high chances that in the future they will introduce more features and affordable pricing plans that will attract more users.