BuzzStream Introduction
I am going to do an In-depth BuzzStream Review and also teach you how to use BuzzStream by providing live examples.
BuzzStream is making quite a Buzz in the market and rightly so. It is one of the most powerful Link building tools out there.
To make sure that you understand all the features of BuzzStream, I have attended one to one live webinar where I got the chance to ask some questions. You can check that webinar here.
BuzzStream Starter Kit
1) Buzzmarker Chrome Extension (Check how to add Buzzmarker for other browsers here)
2) Trial or Paid account on Buzzstream
BuzzStream User Interface
When you log in to your BuzzStream account you will see the below Interface: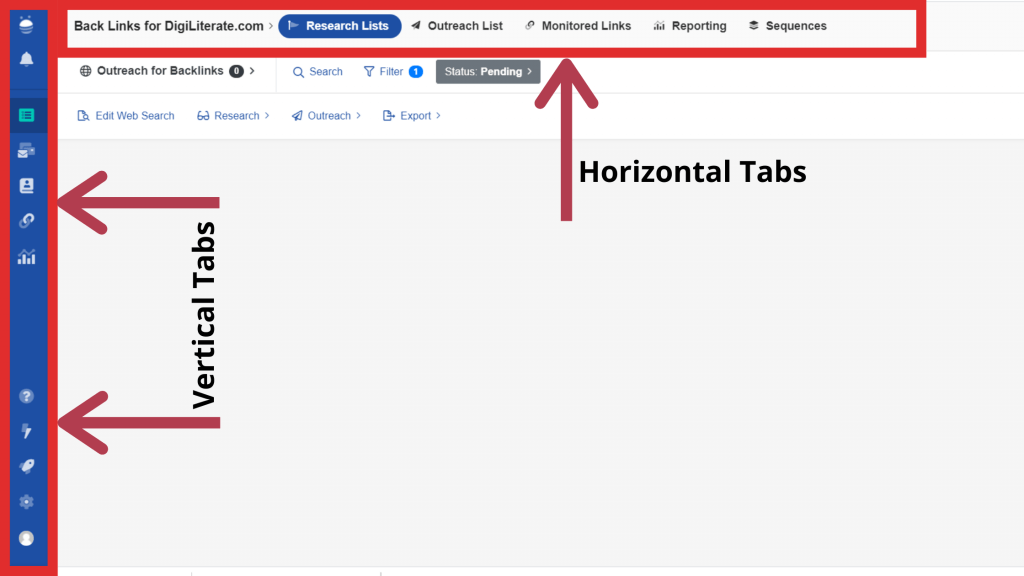 Horizontal Tabs
1) New Project: Create your new Buzzstream Projects from here.
2) Research List: From here you can find and approve 100s of websites that match your blog or business niche.
You can import websites by:
Creating a new project and typing in the related keywords. Buzzstream will automatically import websites and contact details.
Using Buzzmarker you can do a simple google search by using related keywords and Import websites. (Keep reading for How to use Buzzmarker)
3) Outreach List: From here you will be sending Emails to the relevant person of the website that you have vetted in the Research List section.
4) Monitored Links: After you send an Outreach Email, BuzzStream will automatically check if you have got any backlinks from the website and update that in the Monitored Links Section.
The Name "Monitored Links" is because when you create a new project you get an option to Enable Backlink monitoring for your website. (More on this ahead..)
5) Reporting: This is where you measure your campaign's Key Performance Indicators (KPI). You can measure how many link placements you got, how many emails got opened, which email subject line got more attention and other details.
6) Sequences: For sending Emails in the Outreach List section you can either compose the Email directly to the person or create your templates and sequences.
The Name "Sequences" because you can create follow-up emails that will get delivered to the recipient either automatically after a few days or you can set a reminder to do that.
Example:
Email 1 (Today)—>Followup Email 2 (After 4 days)—>Followup Email 3 (After 4 days). This is our Email Sequence.
Vertical Tabs:
1) Mailboxes and Tasks: It is like your Gmail where you can track all the sent and received emails. All the tasks that are delegated to you can also be tracked from here.
2) Global Outreach List: The word Global because here you can track all the contacts and websites (Vetted ones) from multiple projects.
3) Global Monitored Links: Similar to Monitored Links but again you can track backlinks you got across multiple projects.
4) Global Reporting: Similar to Reporting but again you can track the performance of multiple projects.
5) BuzzStream Discovery: It is a separate platform from Buzzstream Outreach, Here you can find targeted Influencers for your content marketing efforts. All you need is to type a Keyword and BuzzStream Discovery will present you with Influencers who are in a similar niche.
6) Settings: As the name suggests, You can manage all your important BuzzStream account settings from here. You can manage Invoices, Third-party Integration, Roles, Projects, and other things.
Now that we know the Buzzstream Interface and Terminologies, Let's check each section in more detail.
Creating a Project and Researching Prospects in BuzzStream
When you log in to your account, You have to start by creating a new project.
1) Project Name: Give a name to your main project and add team members if you want.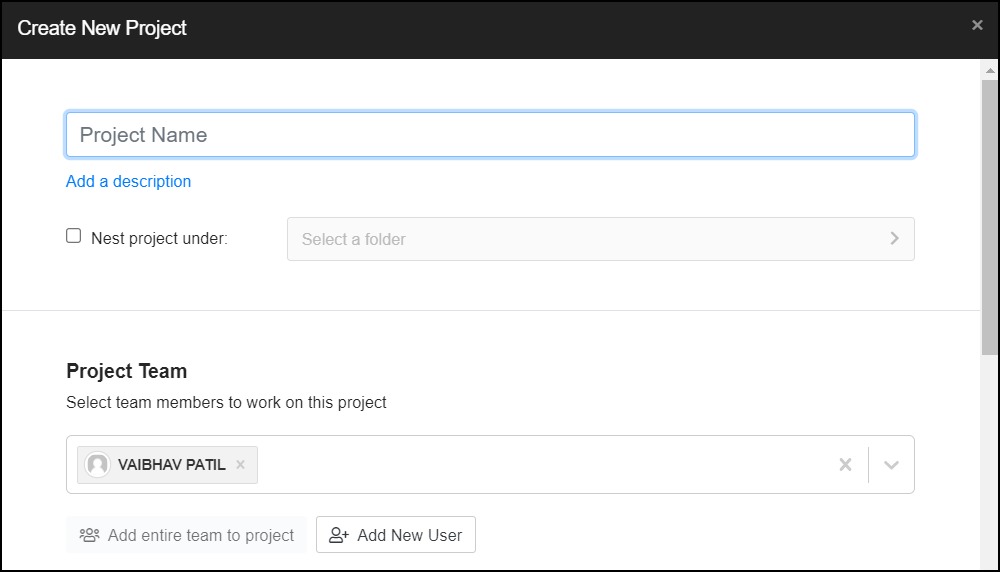 2) Research Metrics: For all the websites you research, you can find their important metrics like Domain Authority (DA), Inbound links, etc. You can also Integrate the Ahref account if you want metrics from Ahref.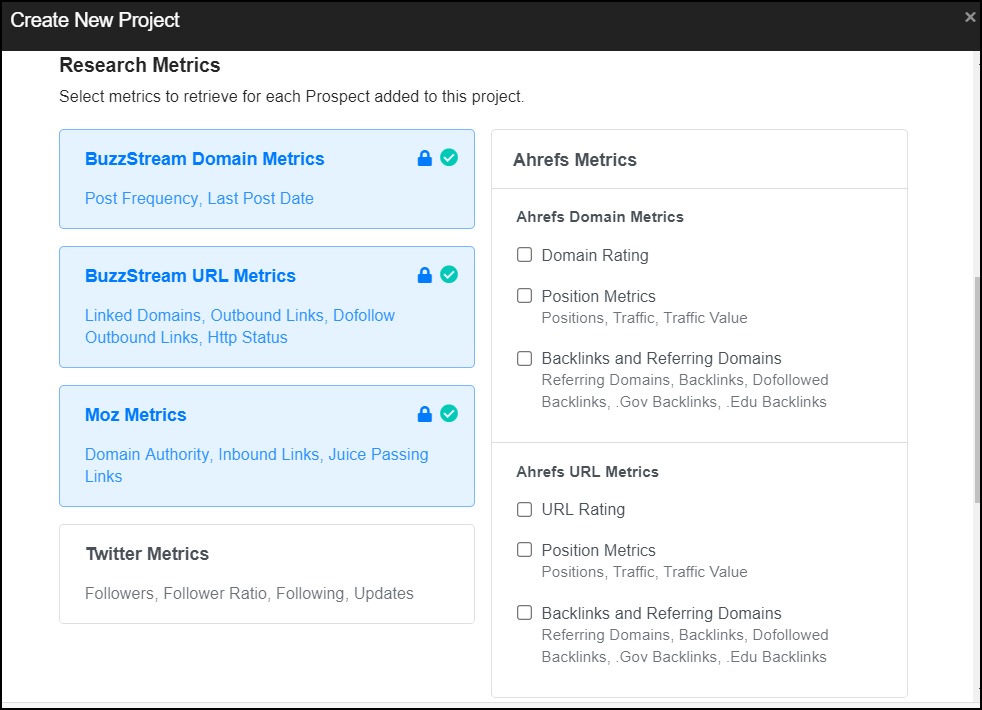 3) Link Monitoring: As discussed earlier, You can enable link monitoring if you want to get reports of backlinks for your website in the Monitored Links section.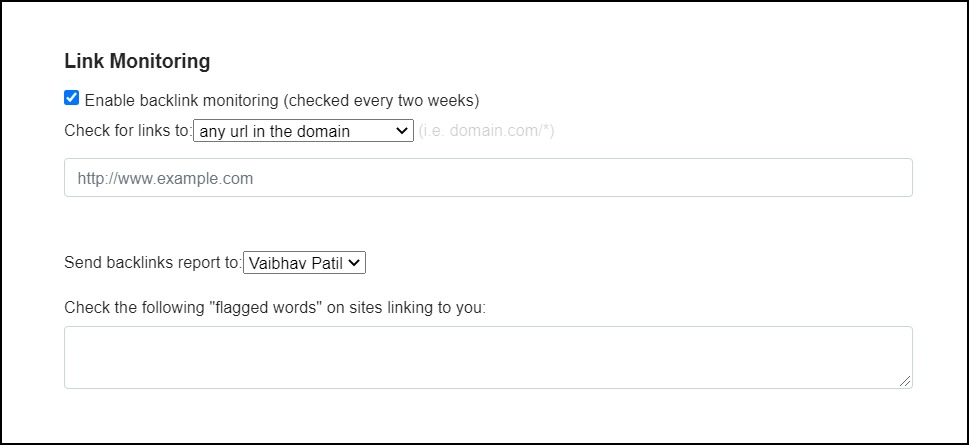 For Example: If I am running a Link Building project where I want Backlinks for Digiliterate.com or any specific page of Digiliterate.com then you can enable Link Monitoring option and get reports whenever any website links to you.
Note: Each Project can have multiple research lists.
For Example: I am running a Link building campaign for my website Digiliterate.com, Now this website may have several articles and each with a different topic and keywords. I will create different research lists for each article or topic and promote them.
Now the Next Step is to create a Research list (Finding relevant websites that fit our criteria)
Once you click on Research List, You will see three options.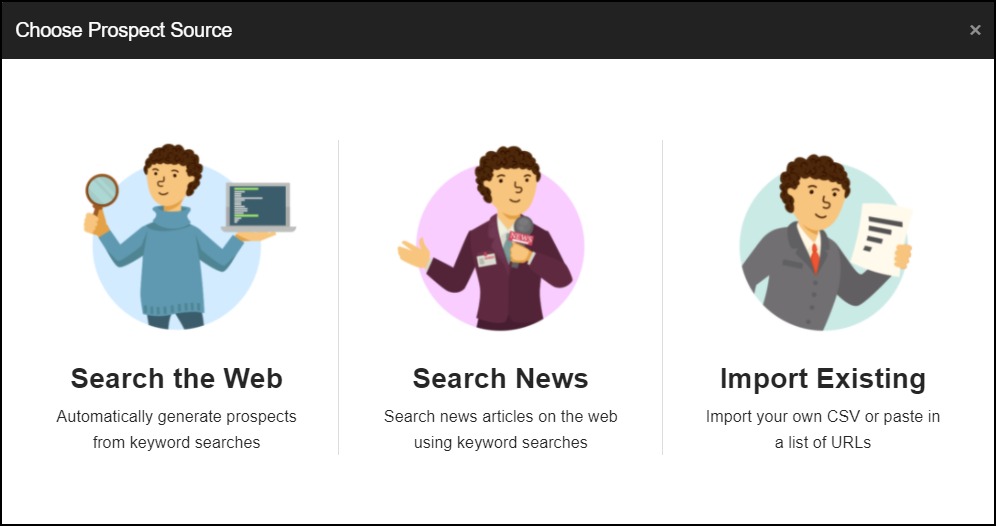 1) Search the Web: You type relevant keywords and It automatically generates a list of websites for you to check and approve.
2) Search News: Similar function as above but It will give you website results that are media publications or Into journalism. (CNN, Newyork times, etc)
3) Import Existing: If you have a list of websites in the form of CSV and want to import them into the research list; you can do that using this option.
For Demonstration we will use the "Search the Web" option:
You will see below Interface: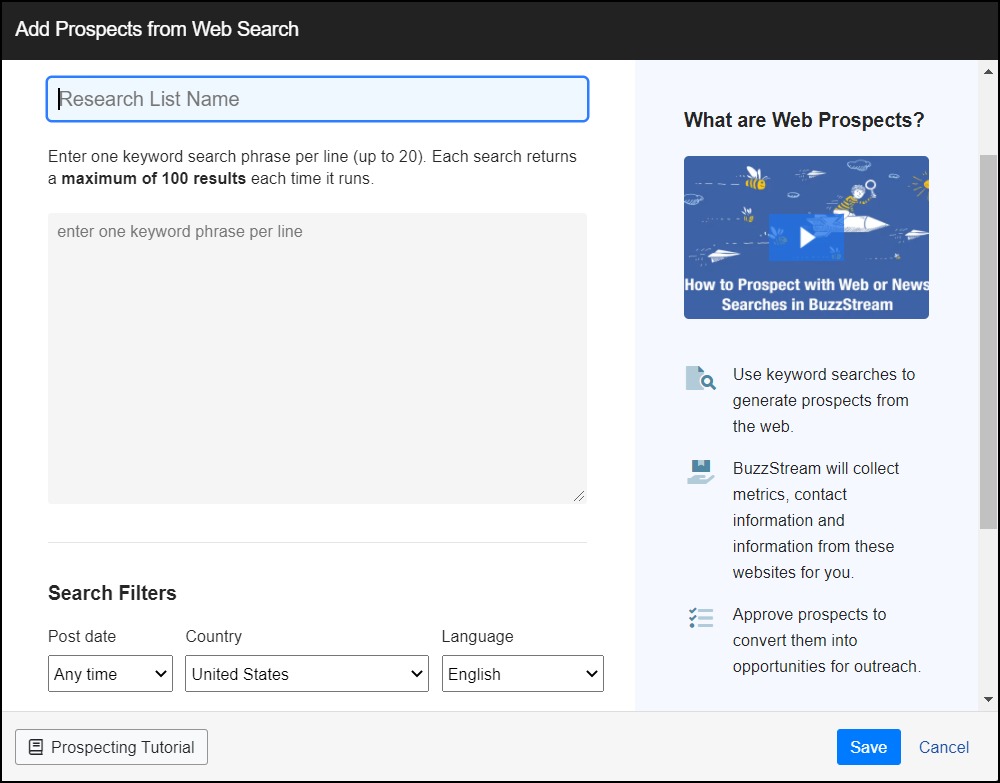 Type your Research List Name
Type Keywords related to your Niche (Upto 20)
Choose Post date, Country, and Language
After you click Submit; the BuzzStream will start finding websites that match your keywords and give you results (Upto 100 websites). It will also find contact details that are available on the websites.
It's time to find if the websites provided by BuzzStream are relevant or not.
To do that; You will need to manually go through each website, vet them and also add relevant contact details of the right person.
Steps Involved:
1) Select the websites on the Research List Tab (You can select all websites or 50 websites per page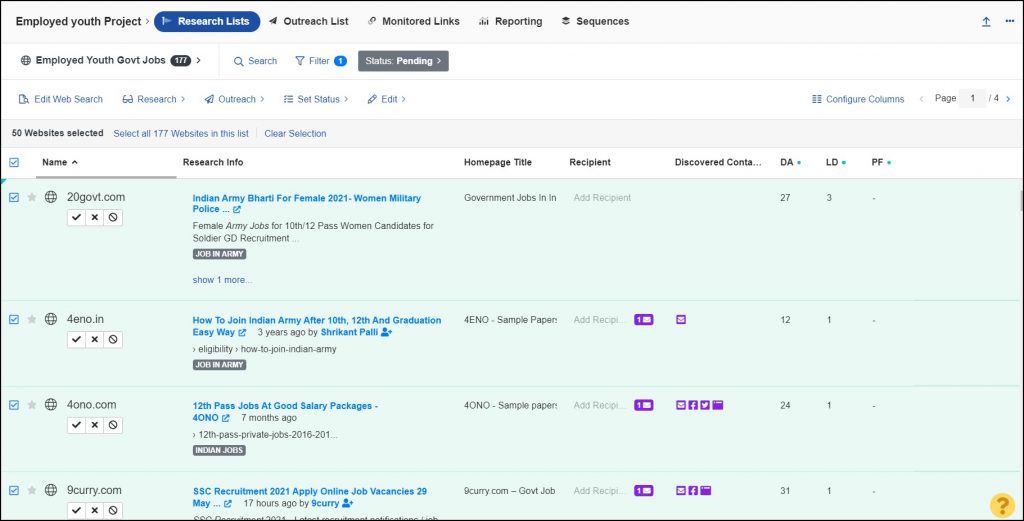 2) Click on the Research button and select review on the web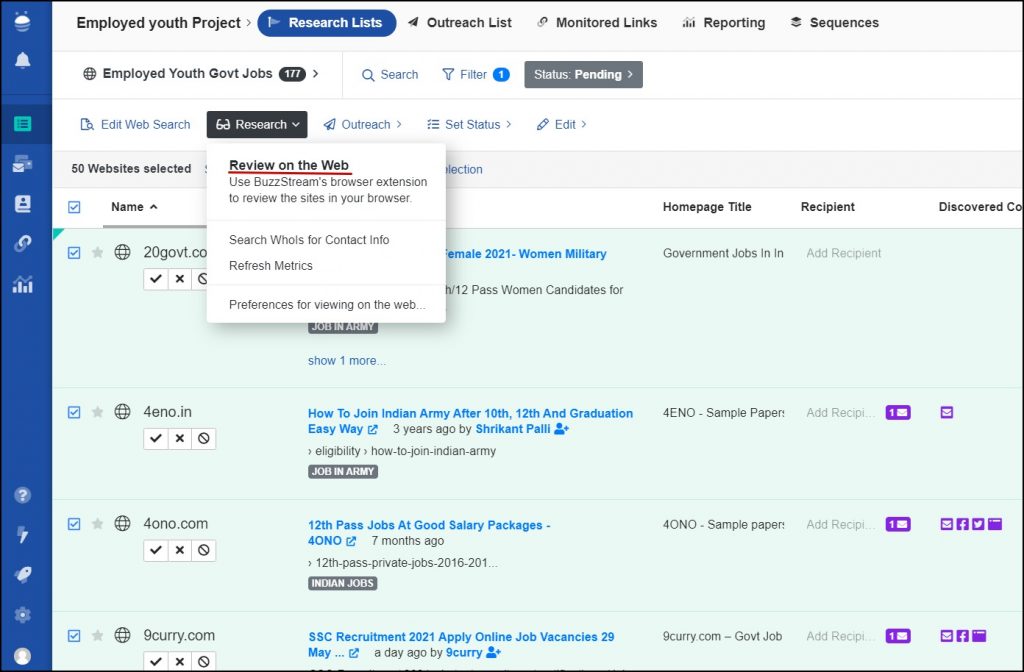 3) Now you can review prospects in Multiple tabs or review each prospect Individually (I recommend vetting 5 websites at a time)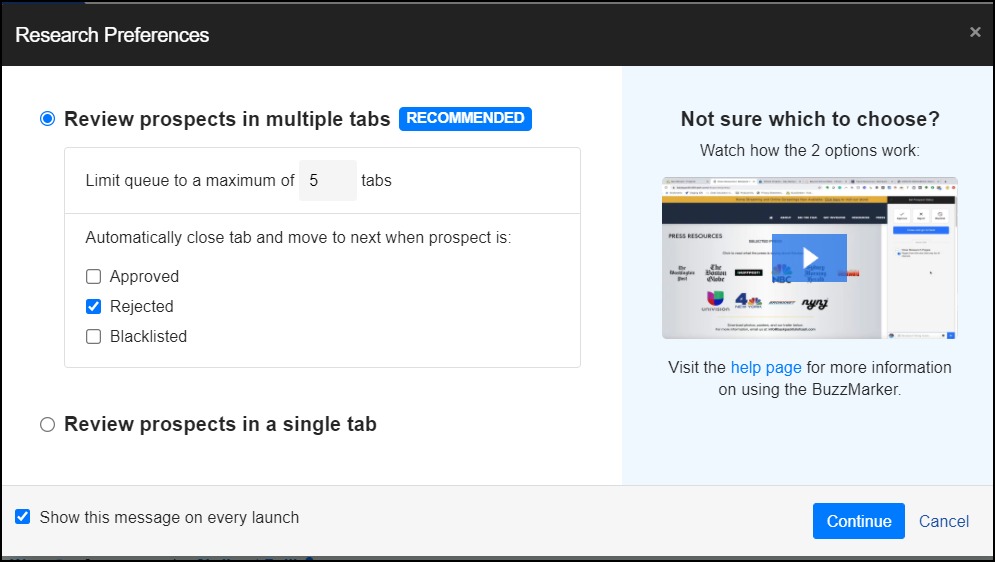 The right sidebar that we are seeing below is because of the Buzzmarker (Chrome extension).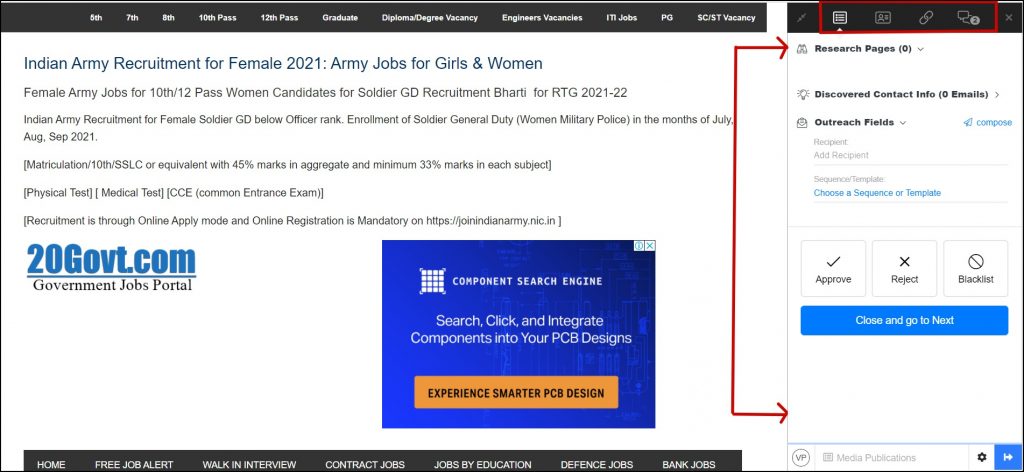 There are four tabs in the BuzzMarker Sidebar
Project: Here you will see Research Pages (The pages that you can check if they are appropriate for your project or not), Discovered contacts (All the contacts that BuzzStream can find), Outreach Fields, and to Approve the website or reject it.
Profile: Here you can find contact details of the right person for reaching out and add.
Links: It is the section where you will know if that website has previously given any backlinks to your website or not.
Activity: You can track all the activity like when you added the contact in BuzzStream as well as Important Notes.
That's It, We have vetted the websites and also added the contact of the right person.
Note: All the websites that you have approved and contacts that you have added will automatically move to the "Outreach list".
Creating an Email Sequence and Reaching out. 📩
Now that we have vetted the websites matching our criteria and also have the contact details of the person. It's time to create an Email Sequence and send them.
Let's Jump to the Sequence tab and create our first sequence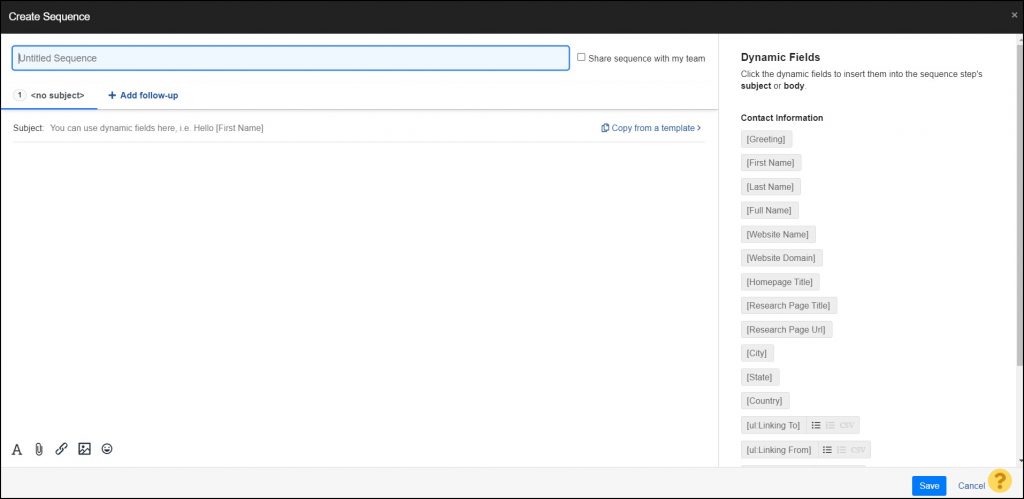 Steps Involved:
1) Give a Unique name to the sequence.
2) Add Subject line and Write the Email content (This will be the first email that you will send)
3) Add a Follow-up Email (You can set a date of this email or set a reminder for sending it manually)
4) You can add as many follow-up emails as you want but Ideally, 2 Followup's after your first email is good.
On the Right side, there are Dynamic Fields that can be used to personalized your emails.
Note: There is also a template section in the Sequence tab where you can write email copy and use it later.
Coming Back to the Outreach List tab, From here you will send emails.
There are two sections here:
Websites: Here you will see all the websites that you have approved.
People: Here you will see all the contact details added by you.
Steps to send emails:
Select the list of people that you want to email and by clicking on the Outreach Tab, Select "Send Individually" or "Bulk Send"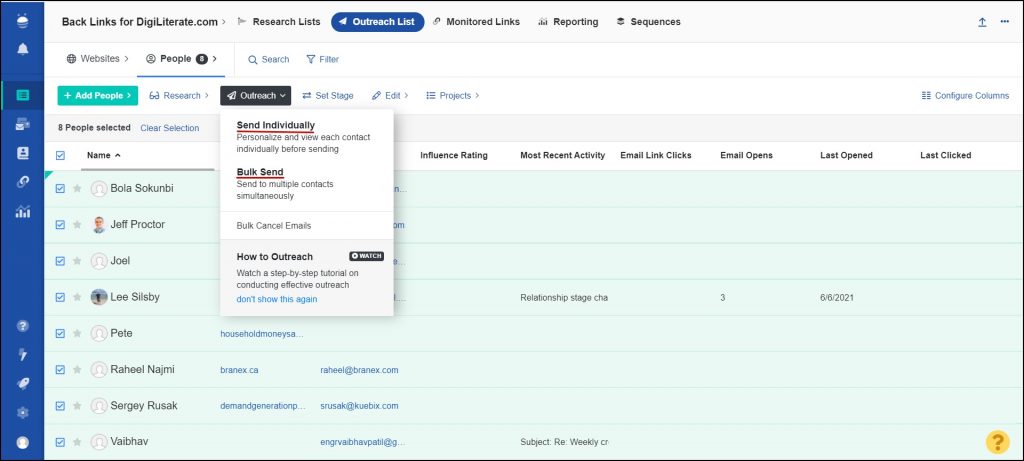 2. Choose the Sequence Or Template Email that you have already create (Or create a new one)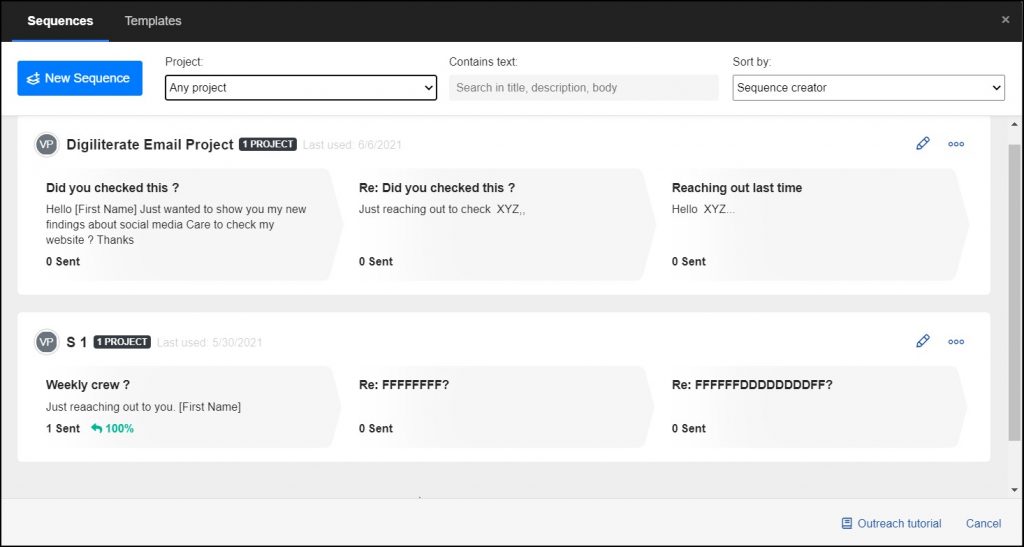 3. Review and Send the Emails
That's It, Our Email sending procedure is now complete.
Monitored Links in BuzzStream 🔎
When you create a new project; you have an option to "Enable BackLink Monitoring".
BuzzStream checks if you got any Backlinks and automatically updates the Monitored Links section.
Alternatively, You can also Import website URLs and monitor the backlinks.
Analyzing the Data using Reporting 📊
"If You Can't Measure It, You Can't Improve It"

Peter Drucker
In Reporting section, you can track all the data of your outreach campaigns.
Some of the Important Reporting Widgets are:
1) Funnel Chart: Using this you can check the relationship stage of websites and people.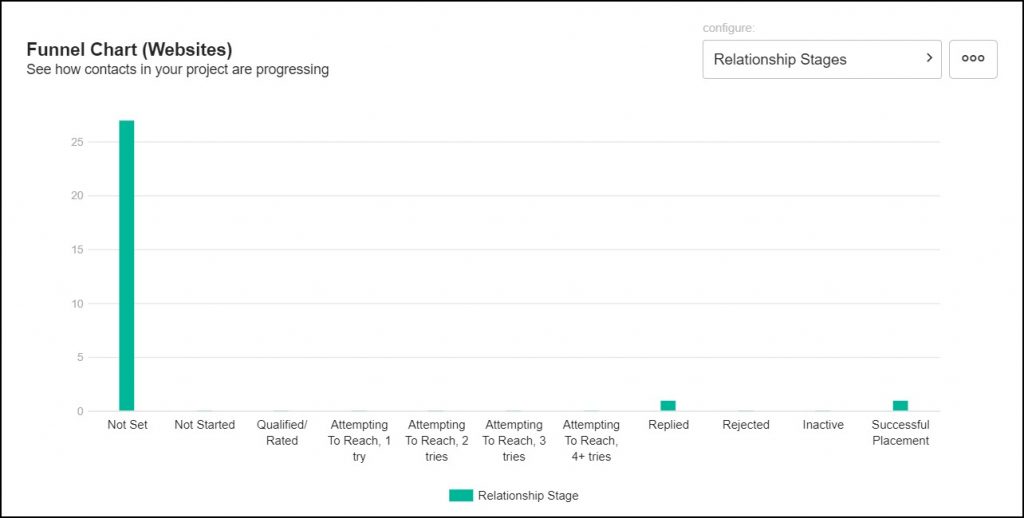 You get to know:
How many successful placements you got
How many people you are attempting to reach
How many people you have rejected
2) Project Leadership: Using this you get an overview of your project.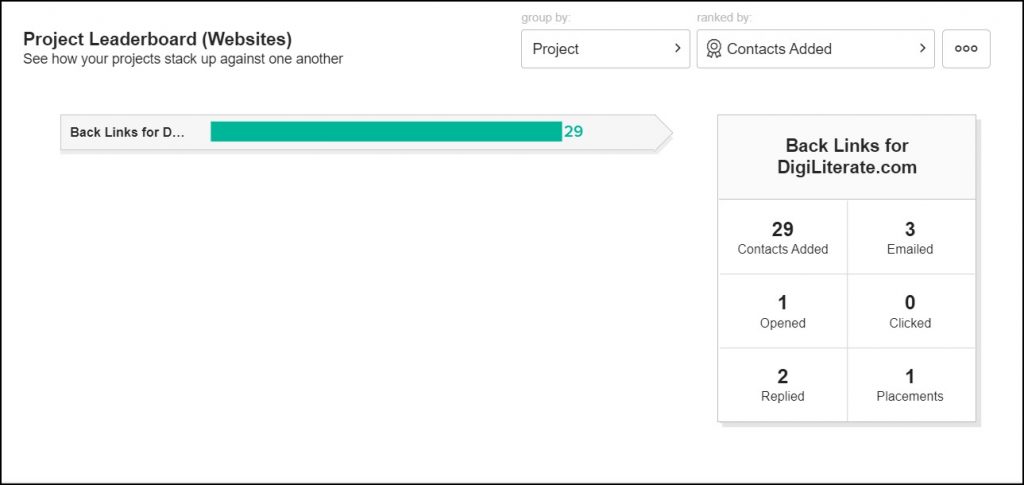 You get to know:
Number of people you emailed
Number of people opened, clicked, and replied to your email
Number of placements you got
3) Subject Line Performance Statistics: Using this you get an overview of how your different subject lines performed.

You get to know:
Number of Emails with a particular subject line you sent
Their open, reply, and click rate
4) Linking Domains by Domain Authority: You get to know about the Domain Authority (DA) of the websites from which you got a backlink.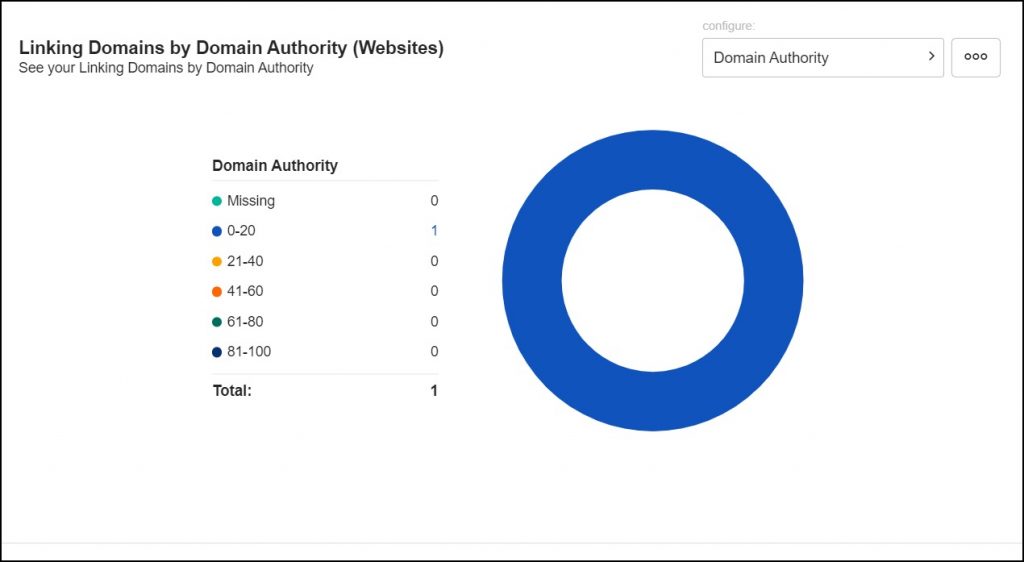 5. Outreach Trend Chart: You get to know about your overall outreach activity results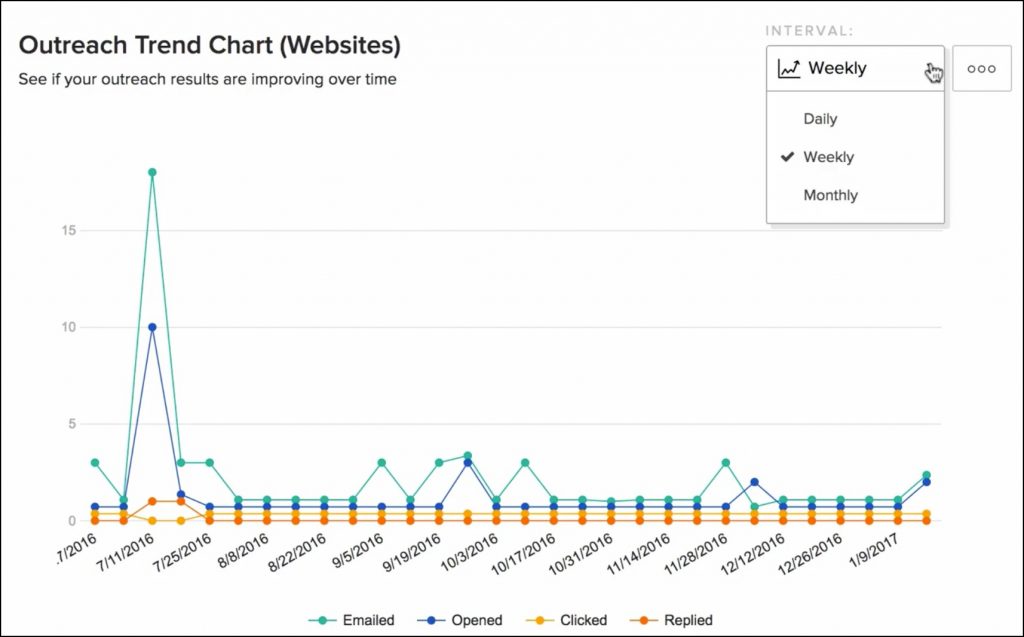 Bored with Text 😐? Check my Video Tutorial on BuzzStream
BuzzStream Pricing💸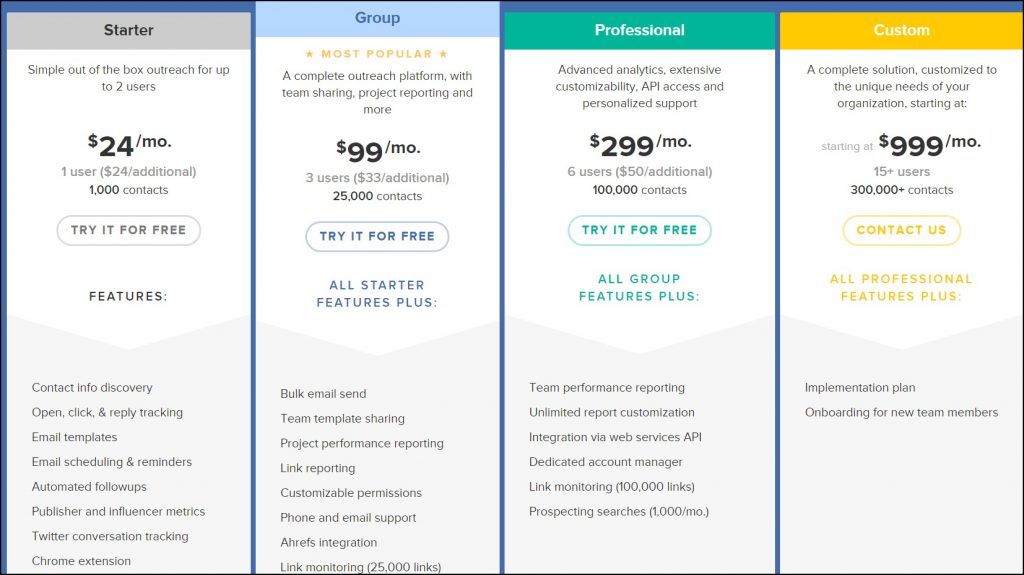 Pros of BuzzStream 😇
Flexible pricing plans that are suitable for Individuals as well as Large teams
Great Customer support for solving any product related doubts
Regular fixing of software bugs as well as taking feedback from the users for new features
Cons of BuzzStream 😥
No option for canceling the 14 days trial plan and still use till the end of the trial
As great Learning curve for the new users
Limited 3rd Party Integration options. Right now only Ahref and Hunter.io are available.
BuzzStream Alternatives 👀
PitchBox– When it comes to PitchBox Vs BuzzStream, Both tools are very similar in terms of features. Similar to BuzzStream, you can find targeted Influencers and also conduct a Linkbuilding campaign.
There is no free trial available in PitchBox and also the starting price of PitchBox is higher than that of BuzzStream.
PitchBox is easy to understand compared to BuzzStream.
BuzzStream Customer Support is better than that of PitchBox
2. Ninja Outreach– When it comes to Ninja Outreach Vs BuzzStream, Both tools do the work of Link Building and Influencer finding.
Ninja Outreach has the upper hand when it comes to finding Influencers. They can find Influencers from different social media websites. BuzzStream's Discovery platform still needs a lot of Improvements.
BuzzStream has the upper hand when it comes to Linkbuilding campaigns. Ninja Outreach does not have any dedicated CRM for handling outreach leads nor they have a system for keep track of everything.
3. Milkshake– When it comes to Milkshake Vs BuzzStream, MilkShake is purely an Email marketing tool that you can use for reaching out. You can use it for either getting backlinks or PR Campaigns.
It does not have a dedicated Link Building system like BuzzStream. It is best for Email Marketing.
4. Vocus.io and Mixmax are some other Digital and PR tools that you can check.
Conclusion 😎
BuzzStream is one of the best Link Building tools out there. It can help you build backlinks at scale. No software is perfect but BuzzStream does not hide its pricing and features. If you are a new user, you can easily start a free trial and try everything.
It has one of the most solid Linkbuilding systems compared to its competitors. I would recommend BuzzStream for professionals as well as Newbies.