Introduction to Streak CRM
Email management can be a daunting task especially if you are into marketing and have to deal with new emails every day.
There are many third-party email management tools in the market and they do have their own importance but they still don't go that well with Gmail.
Today we will review Streak CRM for Gmail that does not have any special application to download and Integrates well with Gmail. Streak offers Inbuilt Gmail CRM for tracking all your leads.
Some other Streak features Include Mass emailing, Email Tracking & Pipeline creation.
How to Install Streak CRM Add-on in Gmail
Streak does not have any dedicated application and comes with a simple Addon.
Here is the link to free chrome addon: Streak Chrome Addon.
Now headon to your Gmail and Sign In.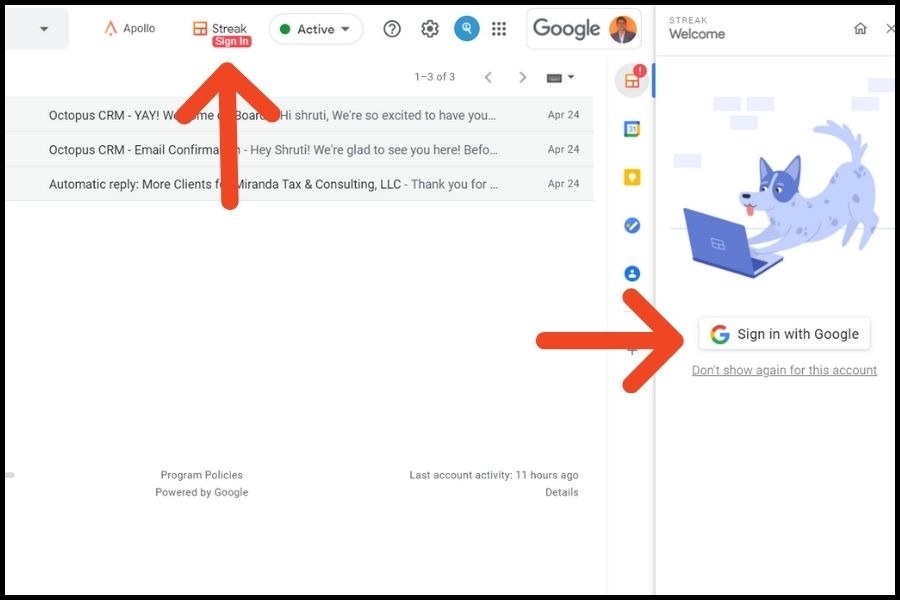 Tip: Use Streak with email that ends with your website domain instead of gmail.com. For example: [email protected] instead of [email protected].
Thats it. You are now ready to use Streak CRM.
All Streak CRM Features explained
Check video tutorial on "Step by Step guide on how to use Streak CRM" below.
Broadly speaking, Inside Gmail we can use Streak mainly in two sections: Compose email section of Gmail & Left Side bar of Gmail.
I) Streak CRM features in Compose email section: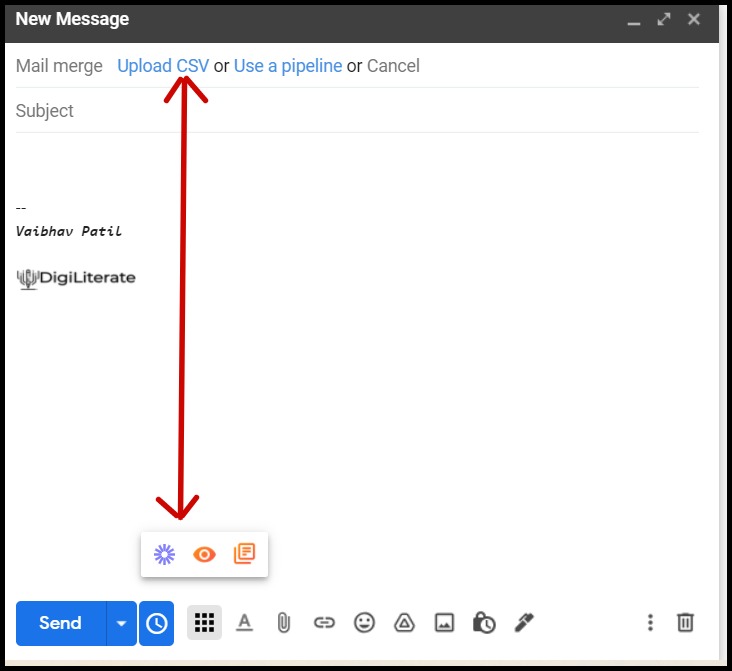 A) Mail Merge: From here you can mass email Individuals by uploading your CSV file. It will fetch all your emails and other details that are available in your file.
You can also personalise the emails using the "Insert Variable" option.
Insert Variables are the First row headings of your Excel file.
Example: First Name, Last Name, Title, Location, Company Name.
Here is the example of how I will use Insert Variable to personalise my email:
Hello [First Name]
I came across [Company Name] and I know that I had to reach out.
We provide services similar to what your company is currently is looking for.
Are you available on Monday for a short 20 mins video call ?

Thanks.
Vaibhav.
This way you can send personalized mass emails in gmail. It also helps you to send an email to a group without showing all the email addresses to the receiver.
B) Email tracking: Turn the Email tracking on and get notified whenever the person opens your email. It helps you to schedule a follow-up email if they haven't responded to your first email.
C) Loom recording: You can Insert or Record loom video directly in your Inbox. Its a great way to personalise the email and get more response.
D) Snippets: If you want to send the same email draft to multiple Individuals then this feature is for you. You can store pre-made email templates using the Snippet feature and use them at any point in time.
ii) Streak CRM features in Left Sidebar:
This is the section where you will store all your leads and create pipelines. It is an Integrated Gmail CRM.

Some Important Terms used in Streak CRM:
i) CRM (Content Relationship Management): According to Creatio.com— CRM stands for "Customer Relationship Management" and refers to all strategies, techniques, tools, and technologies used by enterprises for developing, retaining, and acquiring customers.
ii) Pipeline: Imagine it to be like a pipe which as starting and ending point. At the starting point, you start the process of getting customers and at the end, you either close the deal with them or lose the customer.
iii) Stages: In between the starting and closing of the deal— there are different stages. Depending on your end goal every stage is different.
For salespeople, it can be scheduling an appointment and Product demo while for Hiring Managers it can be an Interview and Offer negotiation.
iv) Boxes: When you create a pipeline and have multiple stages. Each stage will have some contacts in it. These contacts that are stored in each row are called boxes
Steps for Importing contacts and creating Pipeline
i) On the left sidebar when you click on + sign, You will see the below Image. Depending on your goals you can either use premade pipeline template or create your own custom template. I will use Sales Template.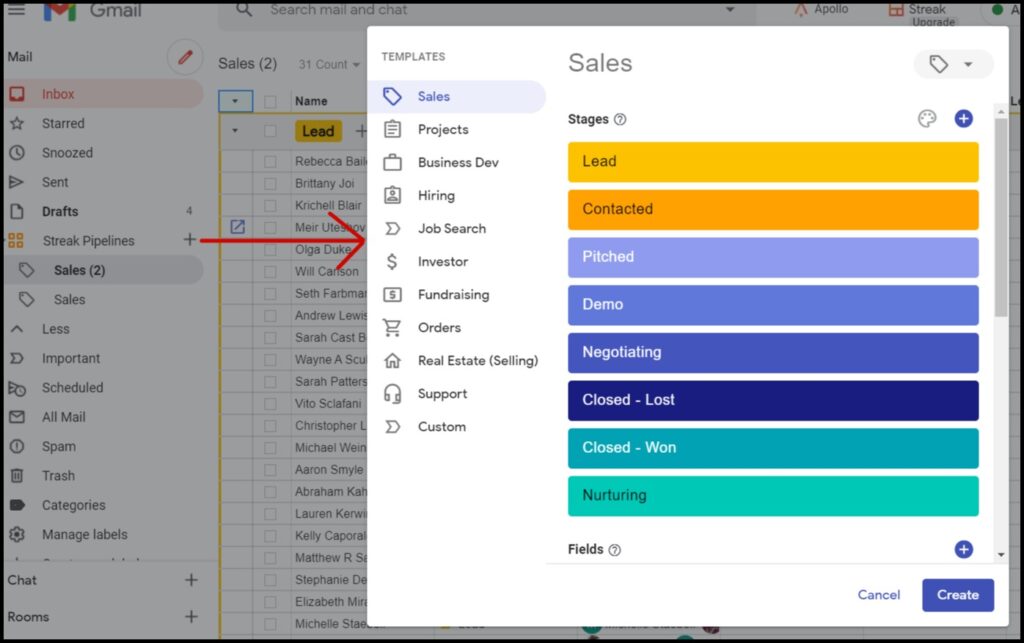 ii) In the right sidebar you can either use the "Quick Add" option to add contacts that are already available in your Inbox or use the "Import data" option to get data from an excel sheet.
While Importing the data you will need to Install the free "Streak CRM Importer" Addon inside your google excel sheet.
Thats it. You are all set to play with the data inside your Gmail CRM.
Tip: While Importing data from excel sheet make sure you are loggedin with the same Email ID in Gmail & Google sheet.
Columns in Streak CRM for Gmail
i) There are different Coloumns you can add in Streak.
Example: Dropdown Menu, Simple Text Box, Formula columns and Tags.
ii) Magic Columns make use of available data in your CRM smartly and provides you with useful information.
Example: Last Interaction: Tells you about time when you last had a email conversation with the person.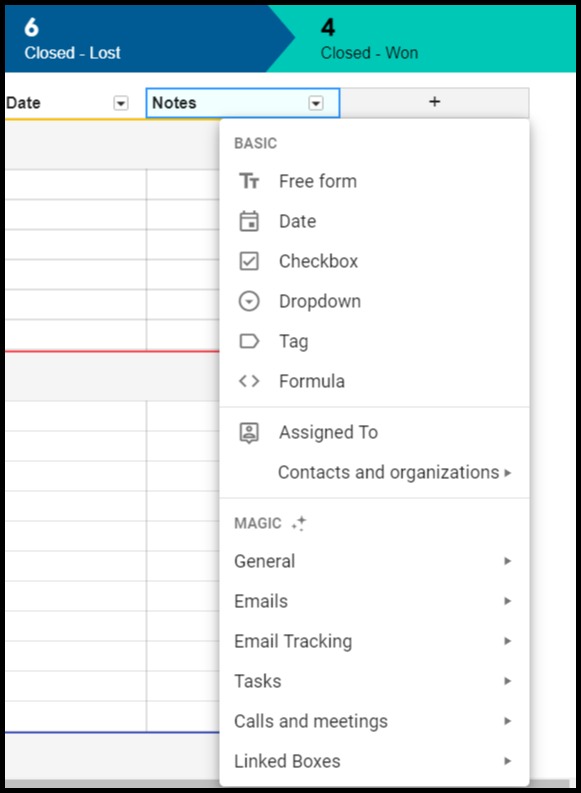 Streak CRM Pricing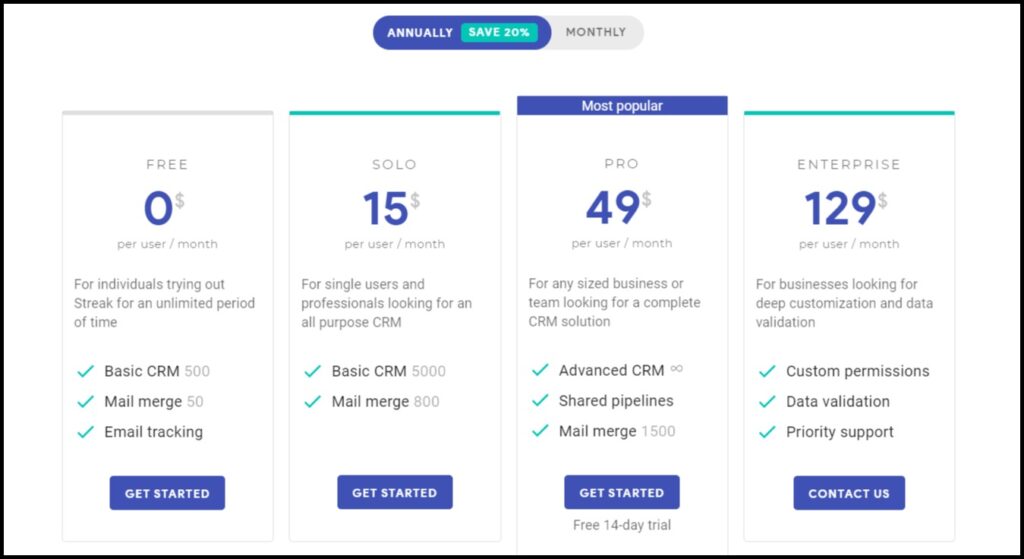 Basic CRM: It means the number of contacts/leads you can store.
Mail Merge: It means the number of emails you can send per day.
How to send free mass emails in Gmail.
Streak Free plan offers you 50 emails/day and you can store 500 contacts in your CRM.
There is a referal program of Streak CRM by using which you can store 5000 contacts and 800 emails/day.
All you need to do is share your referal link with your friends and once they Install Streak CRM Addon and Signin, you will get 20 emails/day and 100 boxes of free data storage.
To get 800 emails/day and upto 5000 boxes— You will need to share it with multiple people.
Considering that your friends dont have to purchase any paid version of Streak, It is very easy to get upto 800 emails/day.
Conclusion:
Streak CRM for Gmail is an Inbuilt Gmail tool that helps you keep track of all your contacts and leads. The CRM integrates well with Gmail and you don't need to install any third-party application.
It also helps you to send personalized mass emails in Gmail without showing your email addresses. It's one of the best Mail merge and Lead management software for Gmail.
Frequently Asked Questions (FAQ's')
1) What are the Alternatives for Streak CRM ?
2) Does Streak CRM works only with Gmail ?
A) Yes, Streak Addon is made exclusively for Gmail and does not have any other application.
3) Is Streak Available for Firefox ?
A) No, Streak is available only for Chrome and Safari Browser. The team might make it available for Firefox in the future.
4) Is there any limit on how many mass emails you can send per day on Streak CRM?
A) Using a Normal Gmail account you can send 400 emails per day and If you are using a Gsuite Email account you can send up to 2000 Emails per day. Streak allows you to send 1500 Emails per day If you have purchased their Enterprise or Pro Plan.
5) Is there any Mobile application available for Streak CRM?
A) Yes, There is a Mobile application available for Android & IOS Users.