Looking to earn some extra beer money? or want to save money to meet your next financial goal? Look no further.
Today I will be talking about Testable Minds where you can make some good money by taking part in paid research studies online.
Testable Minds is a website created by a small group of students and science lovers. Financial support was given by the Arts & Humanities Research Council (Science in Culture, RTS-2013-2017).
What is the Testable Mind's main purpose?
It is the platform for researchers who want to conduct psychological and behavioral experiments. They can easily recruit Individuals and make them participate in an online study. In return, the participants receive monetary benefits
If you are a researcher and want to recruit participants then take a look at the website of Testable Minds.
Is the Testable Minds website Safe and Legit?
Absolutely. I have been using Testable Minds for the past 3 Months and got paid every single time.
Information of the users is secured using Secure Socket Layer (SSL) technology and only limited people have the rights to access the confidential information.
Testable Minds is trusted by top universities and have researchers from Stanford, Harvard and University of Cambridge.
How to Signup on Testable Minds?
Create an account by Registering Here.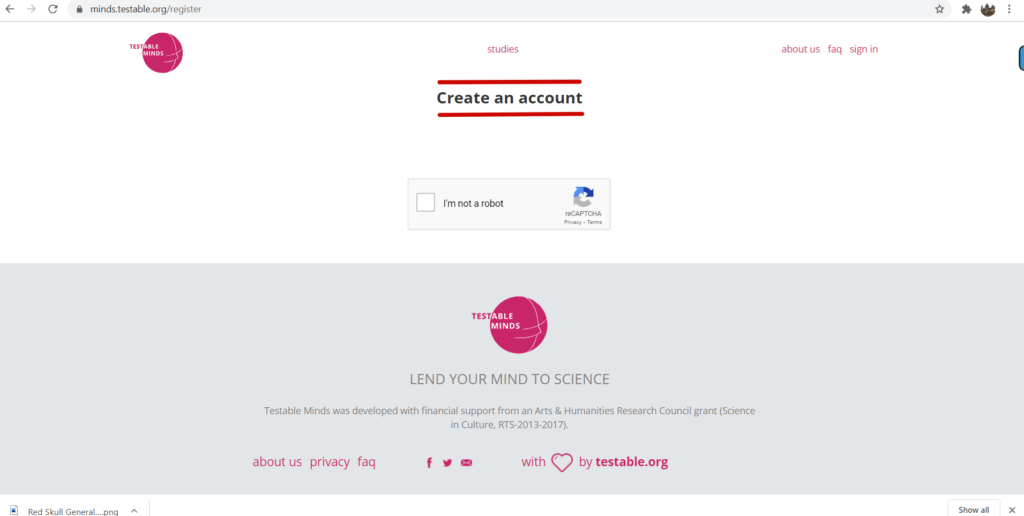 Fill the account details. You must be 18+ (nothing adult here HAHA) and also verify your phone number and email ID.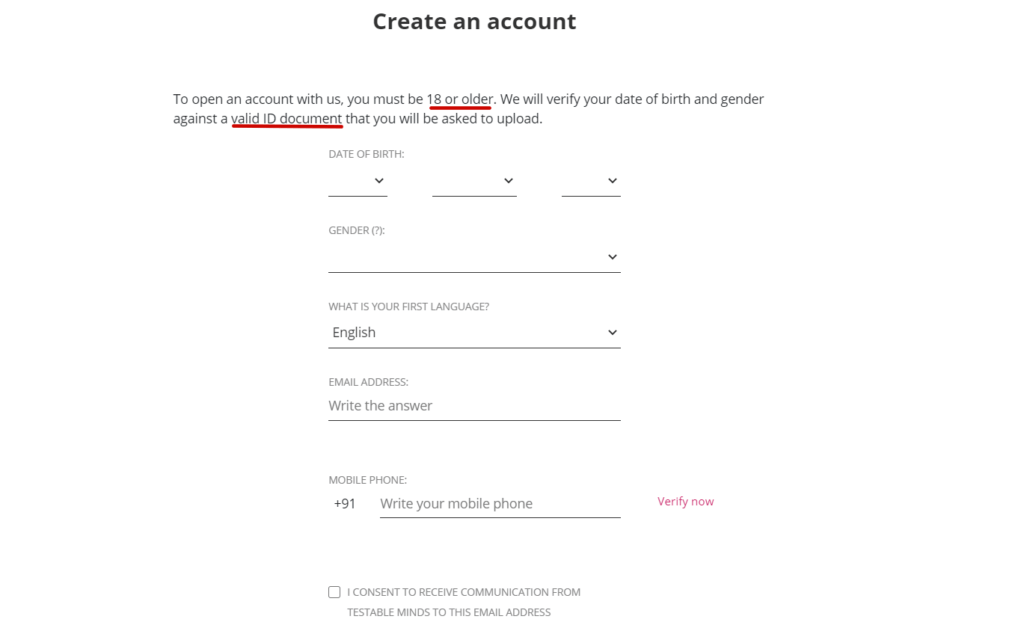 Sign In with any of the following three options shown below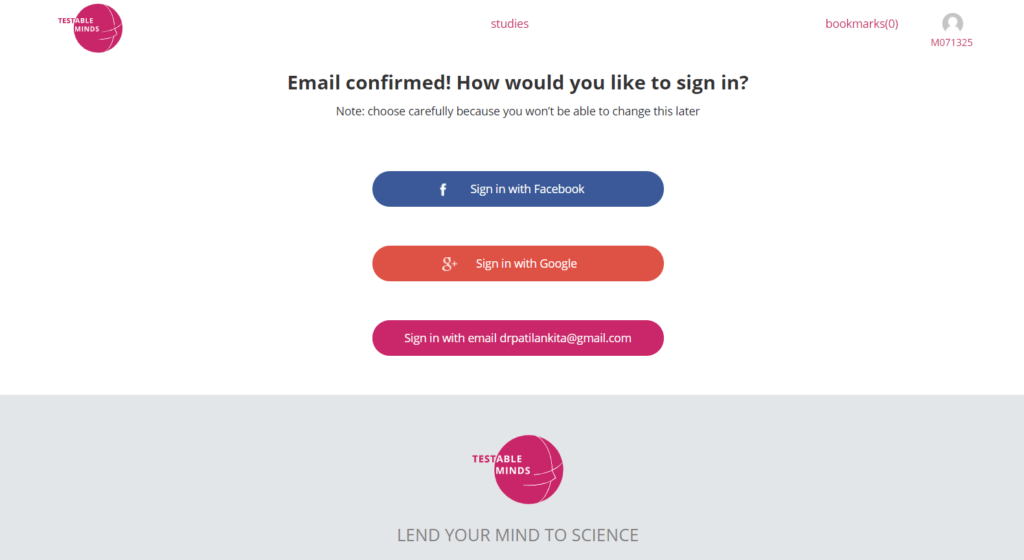 You will see "Become a Verified Minds'' Option. Frankly speaking, this option was not needed but Testable Minds wants to make sure that people do not misuse their platform where people create multiple accounts for earning money.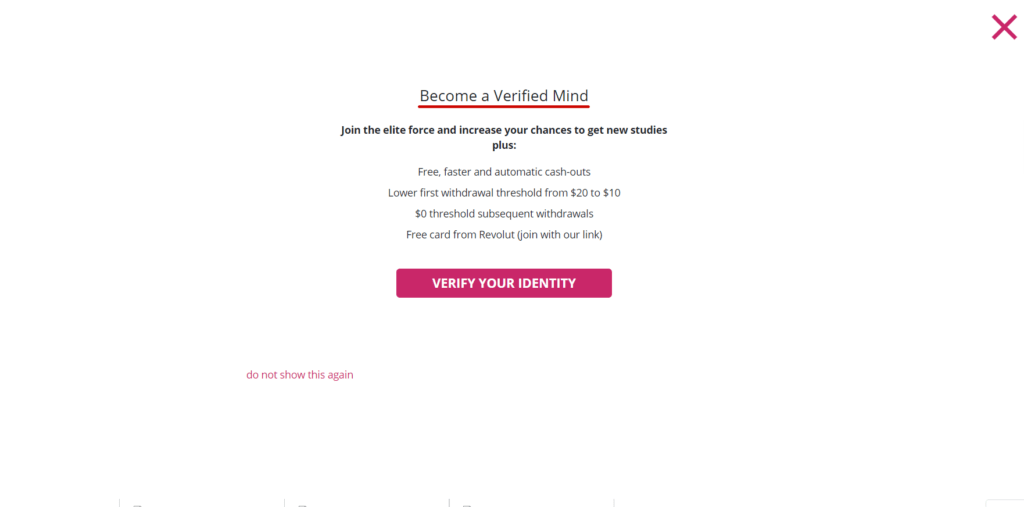 To become Verified Minds you will need to upload one document from below list.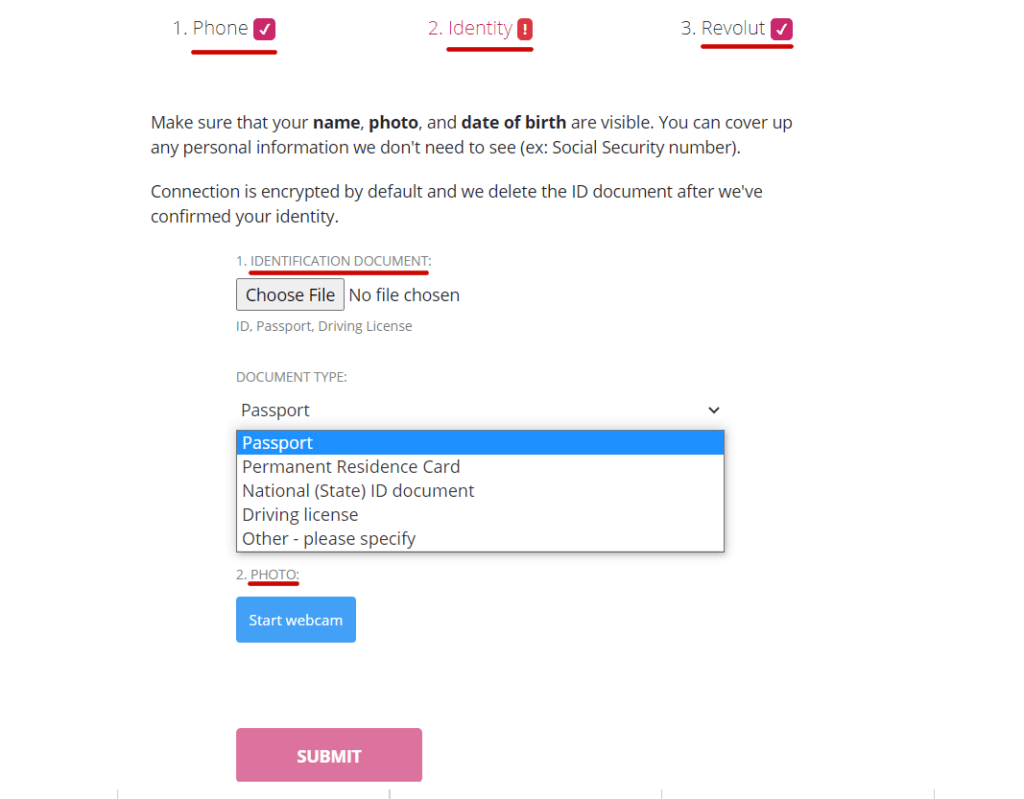 Benefits of being a Verified Mind include:
Opportunity to participate in more paid research studies (Most studies need verified minds account)
Free, faster, and automatic cash-outs
Lower first withdrawal threshold from $20 to $10
$0 threshold subsequent withdrawals
Free card from Revolut
Allow upto 24 hours for the Testable Minds team to verify your documents and approve your account.
This completes the signingup process.
Understanding Testable Minds Interface
Upon document approval and login, you will see below Interface.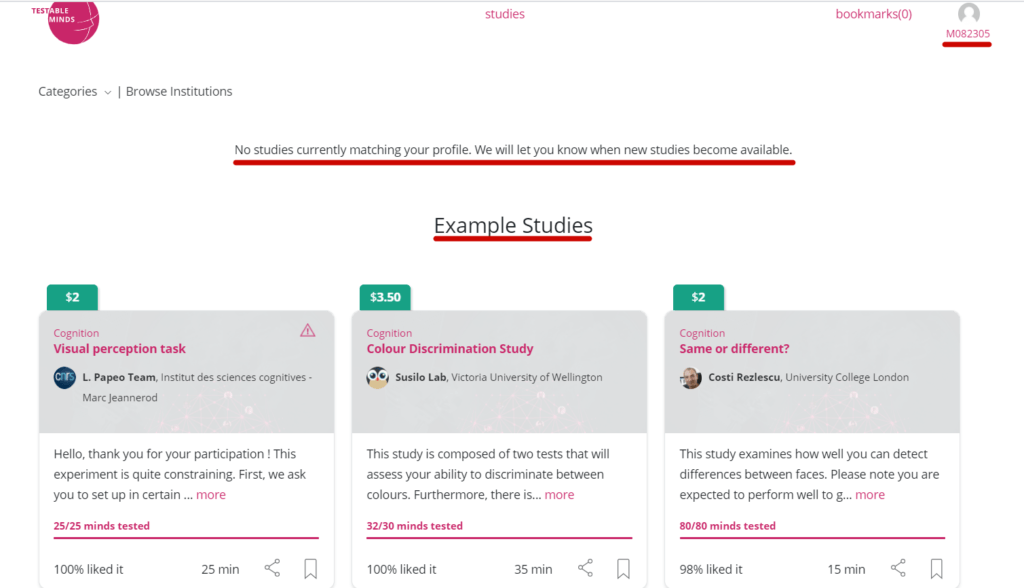 M082305: Located on the top right corner is the Mind ID.
Example Studies: It shows how the real study will look like when it appears in the current studies section.
No Studies currently matching your profile: This is the section where the real studies will appear for your participation. Right now there are no studies available.
Payment Proof
Image below shows the amount that I have earned till now and the current balance.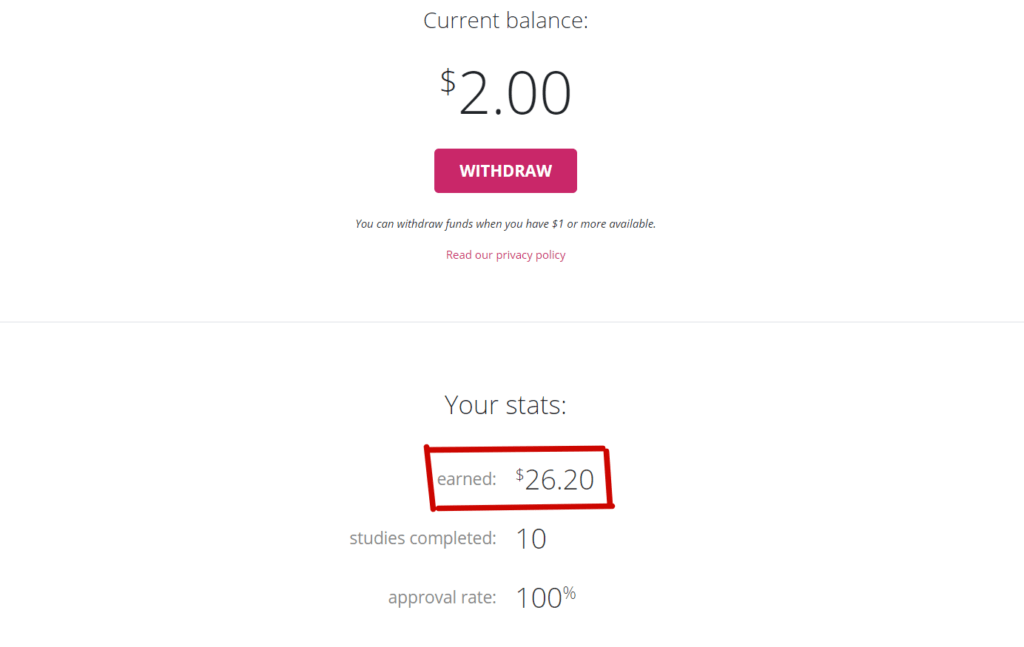 As you can see, I have earned 26.20$ till now with 100% approval rate.
How to not miss any of the studies on Testable Minds?
You need to be very quick when the study shows up in the ''Current studies'' section.
There are limited seats available for each experiment and it works on a first come, first serve basis.
There is an option of notification on Testable Minds but it does not alert you instantly. The way around to this is, we will use a chrome extension called ''Auto Refresh Plus''.
Extension is not available on chrome. Download it from HERE and Watch below video tutorial on how to setup the extension.
Conclusion:
Testable Minds is one of the reliable and highest paying websites in the market. Users get paid for participating in interesting psychology studies online. Follow each step that is mentioned in this article and start your journey of online earning today.
Create your Testable Minds Account Today!
Frequently Asked Questions (FAQ's)
1) How will I get paid from Testable Minds ?
2) Is there any minimum earnings requirement for withdrawal ?
Yes, You need to earn at least 20$ (Non Verified Minds) and 10$ (Verified Minds). Upon First Withdrawal you can withdraw after every 10$ in your current balance.
3) Is there any limitation on participating in research studies and earnings ?
While there are no restrictions on the number of studies you can participate in but to avoid low quality work and for not making this just another money making website, only 50$ per month is what you can earn.
4) Is Testable Minds similar to Prolific?
Yes, Both are based on similar concepts where researchers and participants connect for mutual benefits.
5) Where to contact If I face any technical Issues ?
You can email the Testable Minds team on [email protected] for any questions or issues.