People who love finding faults are going to love Testerwork. It pays for testing apps and pointing out mistakes.
Both new and experienced testers get a chance to test applications and websites.
There are more than 60,000+ testers and new test cycles are available almost every day.
Let's do an In-depth Testerwork Review.
What is testerwork?
Testerwork started small in 2013 and spread globally over the years. They provide a platform for companies to test their product for any errors before they are released officially.
Testers are recruited both locally and on their website to find bugs. They are compensated based on the number of bugs found or on a test case execution basis.
They have their offices in Romania, Poland, and the United Kingdom. They invented Testathon which has been conducted in over 50+ countries.
Onboarding Process of Testerwork
To set up your account on Testerwork, there are two stages.
In stage one, you need to go through three steps.
Complete your personal details (Step 1)

Here you need to provide your name, address, payment method (More on this later), and details of other social media accounts you use.
Provide your skills & Availability (Step 2)

Here you'll give details about your availability, testing preferences ( More on this later), and the languages (Not computer language) that you know.
Provide details about the devices that you have (Step 3)

List all your devices (Smartphone, Laptop & Desktops)
In stage two, you need to complete an online assessment test
The assessment is quite easy and it just checks your basic testing knowledge. You will also need to pass one simple English and Grammar test.
All the answers you need are available on the Notions page. You need to read it carefully and answer the questions on the next pages.
It's just like an open book exam so you don't have to worry or prepare for anything special.
After you complete both stages, the Testerwork team will verify your account in two days and send the e-mail below.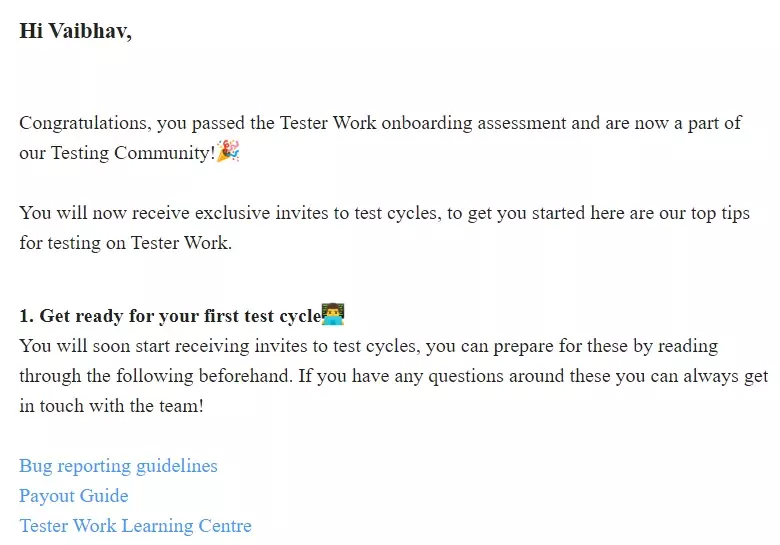 That's it. You are now a verified testerwork member and eligible to receive paid tests.
Types of Projects on Testerwork
The three project types available on Testerwork are listed below.
As the name suggests, when completing an exploratory testing project, testers have the freedom to explore all of an app's features.
They are not given specific testing instructions and are required to report any bugs they encounter while using the app.
While this type of testing may seem easy, they are not. There is no fixed path to follow and the tester has to rely on his own judgment.
Test Case Execution – Legacy
Contrary to exploratory testing, you are given detailed instructions on how to conduct the test cases.
You need to compare the results you got with the expected results and report for the bug.
The word "Legacy" is added because In this project you will get direct access to the tester work team. You can ask them your doubts and they will help you in testing execution.
Test Case Execution – Tester Work Platform
This is the same as Test Case Execution but without the word 'Legacy' because you will not get to interact with the tester work team.
The testing will take place in their Test runner platform. It will be a time-based testing with specific instructions at each stage.
How to get more test cycle invitations?
Getting Invited for more test cycles depends on different factors. Here are a few points to keep in mind.
Add all the devices that you have. Testers who have multiple devices added have more chances of getting test invitations.
Speak mulitple languages? Add them all. There might be a test a cycle looking for people speaking specific language.
Keep your basic profile details including your country of residence upto date.
Read their Educational Material and take Test Quiz. It will help you perform well in real test cycle and increase your overall ranking on Testerwork.
Ranking System On Testerwork
Testerwork rewards testers who report high-quality bugs consistently.
A newly joined person will start at the bronze level, make his way toward the Elite level and get good payment, more test cycles.
Silver, Gold, Platinum & Diamond are some other levels In Between.

While reporting good quality bugs and completing test cycles as per the instructions increases your level, reporting low-quality bugs or not following the rules will decrease it.
---
Exclusive Interview with a Tester
To get more Insights, I Interviewed Rodwin from South Africa. He is a 32 years old, Software Engineer and using testerwork from past one year.
Question: How did you start working with Testerwork?
Answer: I was scouring the internet looking for part-time online work until I eventually stumbled upon a reddit post that introduced me to Testerwork. I signed up and almost instantly started getting tasks.
Question: What should a new tester just starting out with Testerwork keep in mind?
Answer: Keep in mind that this cannot replace a full-time income. I have heard of some rare instances where you can make a month's wages on Testerwork but that is not the norm. Also, keep your device list updated and deliver your best on test cycles.
Question: How often are the test cycles available on Testerwork?
Answer: Testerwork underwent some changes in the recent year. There are less cycles available these days but they are of higher quality/importance. Or maybe it is just me not getting many invites like before.
Question: How much does testerwork pay for bug finding?
Answer: In general? I would say between $2 and $10 depending on the severity of the bug. There are also different type of tests eg. exploratory where you get paid a flat fee plus bounty for any bugs.
Question: Do the educational material available on Testerwork help? Should new testers read those before participating in their first test cycle?
Answer: Yes definitely. The first test cycle can be nerve wrecking so be as prepared as possible.
Question: How hard is it to increase your ranking on testerwork, and does it help to get more test cycles & payment?
Answer: Ranking would depend on how many cycles you get to do and the work frequency so it does not depend on you entirely and that makes it slightly difficult. Delivering good work is always a plus though. As you level up you do get invited to more cycles and for more money.
Question: How was your experience with Testerwork?
Answer: Mixed. The first year and a half I was very happy, earning approximately $150 a month on Testerwork. Things started to go quiet afterwards and I haven't been getting many cycles.
Question: Can you suggest other platforms that are similar to Testerwork?
Answer: uTest. I recently signed up and am still to get my first cycle invite so let's see how it goes.
---
Testerwork Alternatives
It's very similar to Testerwork, except with a more lucrative payment structure. You can earn up to $50 per bug that you find.
They offer more than just functional and operational testing. They also offer usability and UX testing. So you have more earning opportunities.
They have one of the largest testing communities. There are people who started working on U Test as a side hustle and are now making a full-time income from it. There is a lot to learn and explore.
It's a platform where brands seek User Insights. You need to record a video and speak your mind while going through a product.
For example, you will be recorded for your facial expressions and thoughts while visiting an e-commerce website of a particular brand.
What Payment Method is used by Testerwork?
They make the payment using Paypal & Upwork.
Upwork is a freelancing platform, but they also offer direct contracts to freelancers like you, where you can accept money from testerwork.
As compared to Paypal they charge more fees. You can check more details on the Testerwork Payment Policy page.
If your country does not accept Paypal and Upwork, you will need to reach out to their team for another payment method.
Testerwork Positive Side
The onboarding process is easy.
The educational material related to testing is easy to understand.
New Testers can get paid from their first test cycle.
They have flexible payment method with good customer support.
Testerwork Negative Side
New test cycles are not available immediately.
The payment is low as compared to other testing platforms.
The platform is less popular and doesn't have the same test cycle or earning potential as the others.
Conclusion
We did a complete Testerwork Review covering all aspects of the platform. Testerwork provides you with a good earning opportunity as a new tester. After passing one simple online assessment test, you can start participating in paid test cycles.
FAQs
What payment method does Testerwork use to pay?
PayPal and Upwork are the two methods by which they make their payments. Read their Payment Policy for more information.
I completed the Signup process but didn't hear back?
Once you complete onboarding, you need to wait for new test cycle invitations. If you do not hear from them within one week, contact their support team.
Are there any resources to learn about testing?
How to contact the Testerwork support team?
What will happen if I fail the assessment test?
There are two chances for passing the assessment test. If you fail, then you are not able to use the platform and have to take the test again after 12 months.
Your device is not listed on Testerwork's website?
Sometimes, a certain device is not listed. In this case, you need to contact their customer support and they will add your device.
Can my account get suspended on Testerwork?
If you fail to follow their warning policy and repeatedly violate the rules, they can suspend your account or issue a warning.
Is Testerwork a Scam or Legit?
Testerwork is a 100% Legitimate company with a global reputation. Big brands have a tie-up with them for testing their products.
Can I Reject a Test Cycle Invitation?
Yes, If you get an Invitation for the Test cycle and you can't participate, you can inform their support team. They will allocate your seat to another tester and you will have no impact on your profile.