In this blog post, I'm going to do an In-depth Respondent Review by sharing my honest experience of using the app.
Down the line, I'll show how you can earn up to $250 per hour (& why everyone cannot achieve this).
What is Respondent.io?
Respondent is a marketplace where researchers are looking for participants to take part in their research study. (Mostly via Video call)
A respondent is a place for both B2B and B2C researchers but their primary focus is on B2B. So if you are a working professional, Respondent provides you a good opportunity to earn money.
Researchers are also looking for consumers of various products and services.
For Example:
Participants who are using ''X App'' on their Mobile Phone
Participants who are using ''X Product'' in their daily life.
Although most of their studies are online (Zoom meetings, Online chat etc.), there are research studies where you need to be physically present.
How does respondent work
Respondent is easy to use. Here are a few steps you need to complete.
Vist Respondent Website & sign up (As a Participant)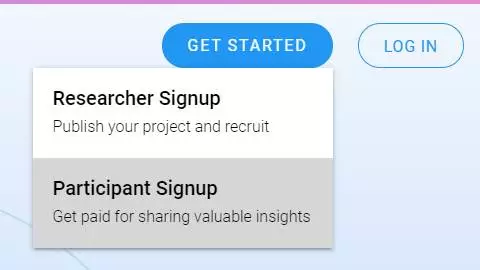 Complete all your profile details (See the below image)

You will need to have a work email for applying to industry professional projects.
You can connect your LinkedIn account and add a video introduction to make your profile look more professional.
Go to Dashboard and apply for new studies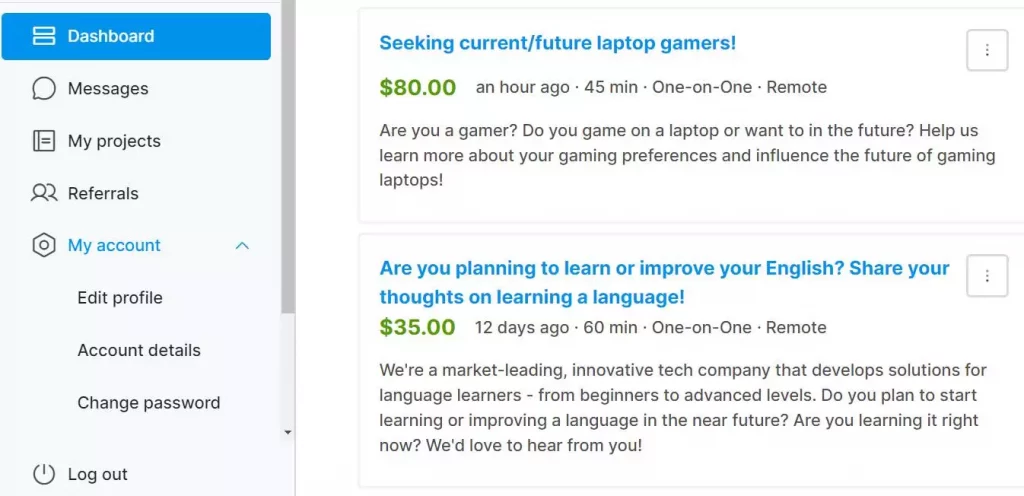 You need to check which type of study matches your profile and experience.
After clicking on that study, you then need to take their screener (which are some qualifying questions).
Different Stages of Respondent Project (Start to Finish)
You start by taking the screener test. Let's find out what ''Screener'' means.
A screener is the set of qualifying questions you answer when you want to participate in a particular study. (See below image)

Once you complete the screener, your application for that study will be submitted.
The researcher will view the questions you answer and also evaluate your profile information.
If he thinks you are a good fit, he'll message you.
You can check the status by navigating to the My Project section.
If you see submitted (Like the below image), it means that you have qualified for the project. The researcher may contact you depending on his or her interest.

If the status changes to Invited that means the researcher wants to do the research study with you. You'll get a message or an invitation email from him.
The researcher will send a calendar to schedule a time to complete the study. The status will change from Invited to scheduled.
Once you complete the study, you will receive payment via Paypal within five working days. The project status will change to payment sent.
If you have submitted the screener and see "Project closed", it means you weren't selected. (See below image)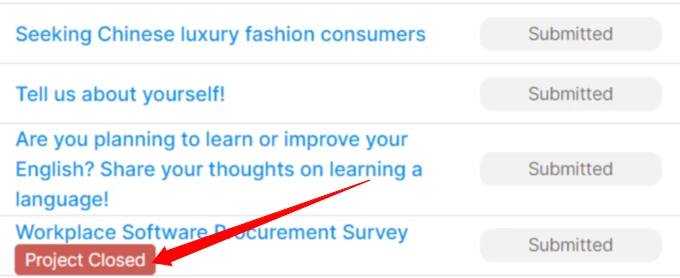 This completes the full cycle for the respondent study.
Is Respondent.io Legit or Scam?
Respondent.io is a genuine website. Researchers are paying thousands of dollars to people who participate in their interviews.
Respondent.io as a fair policy for participants as well as researchers. They verify the details of both parties to make sure the platform remains scam-free.
You can see payment proof by participants on Reddit and other platforms.
How to avoid any scams on Respondent.io
Respondent.io provides a platform for researchers to recruit participants and pay them. Respondent.io does not directly recruit or pay participants.
You should not share your critical banking details with them. It is fine to share your name, birth date, and profession with them.
Don't share critical details like bank account numbers, Social security numbers, or government IDs with the researchers. While sharing your screen with them, keep in mind that you are not exposing any critical details.
How much can you earn from Respondent & One Problem?
It depends on a person's background and profession.
For example, people working in the IT industry or business owners of computer software, the internet, or SaaS products always have more opportunities.
A quick filter of ''Highest Incentive'' on the Respondent.io dashboard showed me a 240$ incentive for 120 minutes of the remote video session.

Did you observe the problem? Let me explain.
Most high-paying studies are for people in the IT industry or for those who are working professionally in some good companies.
It's not that people from other industries or consumers of products will find no opportunities. They'll have it, but the overall website is more geared toward B2B.
Respondent.io is not a site where you earn a monthly income by completing some regular tasks. (For example Clickworker UHRS)
It is a website where you create a good-looking profile and wait for the right opportunity to match your experience.
Even if you complete two studies a month that pay $150 per session, it's an easy $300 a month side hustle.
How to get more Research Studies invitations
There are various factors that define your chances of getting selected in Respondent.io.
Demography, Profession, Skills, Work Experience are some of them.
The researchers are paying 250$+ for getting high-quality participants and your opinion can impact their business.
The best way to work with respondent.io is to create a legit profile and only apply to research studies that you qualify 100%. It will increase your chances of getting selected and save your time.
Make sure you complete your profile and link your social media accounts. The Information should be consistent across your profiles.
Patience and waiting for the right research study are the key.
How does the Respondent.io Referral system work?
Respondent.io has two types of referral systems.
Referral Links: You share a referral link with your friends, and they make at least 75$. You get paid 20$ as a referral bonus via PayPal.
Project Referrals: You have to find a research study that pays 100$ or higher. You can share that link with your friend who is a good fit. Once he completes that research study and gets paid, you will get 50$ as a project referral bonus.
In both cases, the participants should not have a pre-existing account on respondent.io.
Respondent.io alternatives
Below are websites like Respondent:
1) User Interviews:
It's like Respondent.io, with studies that are available for a wide variety of users and not just business professionals. The number of studies on User Interviews is relatively higher than Respondent.io.
2) Prolific Survey:
As the name suggests, most of the studies are survey-based meaning, you will give fewer video interviews (like you do on respondent.io) & answer text-based questions given to you by the researcher.
Surveys available depend on geography. People from the United States & Europe get more opportunities.
3) User Testing:
It's a platform where you'll be able to speak your mind about a product, website interface, or anything else in general where customer feedback is important.
In Respondent.io, video call is typical but in User Testing, you will video record your thoughts and expressions.
Conclusion
Respondent provides a platform for researchers to hire participants. Participants can earn up to $250/hour depending on their experience, demography, and some other factors. The platform is inclined more toward business professionals, and thus earning potential is more for them.
FAQs
1) Does Respondent have a Mobile App?
No, they don't have a mobile application but users can easily visit their website from a mobile browser and start earning.
2) How does the Respondent pay?
After the completion of the study, you'll be paid via Paypal within five working days.
3) How much can you earn from the Respondent?
There are no limits on how much you can earn. There are studies that pay up to 500$ per session. You can also earn using their referral system.
4) Is Respondent.io Worldwide?
Yes, Respondent.io is available for participants all over the world.

But if the researcher wants the participants of a certain country, he or she could choose that option.

Generally, people from Australia, Canada, France, Germany, Ireland, Netherlands, New Zealand, Spain, the United Kingdom, and the United States will get more earning opportunities as they are from English-speaking nations.
5) Are there any websites similar to Respondent?
6) Do I need to pay any fees on my earnings?
Yes, As per Respondent's website a 5% fulfillment fee or 1$ (Whichever is higher) is charged on the given Incentive.

For Example: If the incentive is 20$ for a research study, You will receive 19$ via Paypal.

7) How safe is my data with the Respondent?
They take the data security of participants and researchers seriously. They are GDPA, CCPA, and
SOC 2 Type II
compliant.
8) What is a Respondent focus group?
It consists of a small set of people with similar backgrounds who are mostly interviewed in person for some product research or study.
9) How many studies can I apply on Respondent?
You can take 3 screening tests per day. New screeners get allotted after 24 hours.
10) Can I get paid without a Paypal account?
No, you'll need a Paypal account to get incentives. They don't have any other payment options.
11) What type of studies are available on Respondent.io?
There are two main categories of studies on Respondent.io: remote and in-person.
12) How to contact Respondent.io customer service?
Check their website's
Respondent Help Center
for resolving your issue. If you can't resolve it, you can email them at support@respondent.io.
13) I completed Respondent Study but did not get paid?
If you face any payment or participation issues with the researcher, let their support team know. They don't have a dedicated resolution center but they do their best to solve conflicts.

They will take into consideration all the available evidence and take necessary action.

Reach out to them via their website's chatbox.