Yes, YouGov is a Legit App. They are a public company that is listed on the London stock exchange.
They are headquartered in London and have their operations in Europe, North America, the Middle East, and Asia-Pacific.
But while using this App, there are a few things that you should be aware of.
They are a market research & Data analytics company. They rely highly on the data that you share with them. So tracking your data including your opinions is their primary job.
In this YouGov Review we will cover all those aspects & learn how to make money on YouGov App.
How YouGov works
YouGov is a global website that is available in 29+ countries. The gift cards that they provide varies from country to country, but the basic idea of earning money with YouGov remains the same.
In the first step, visit the YouGov website and Signup. (Choose the right country)
Creating an account is easy, you need to provide basic details
Year of Birth
Zipcode
Sex (Male/Female)
Verify your Email
And that's it. Your account is registered & you also get free points.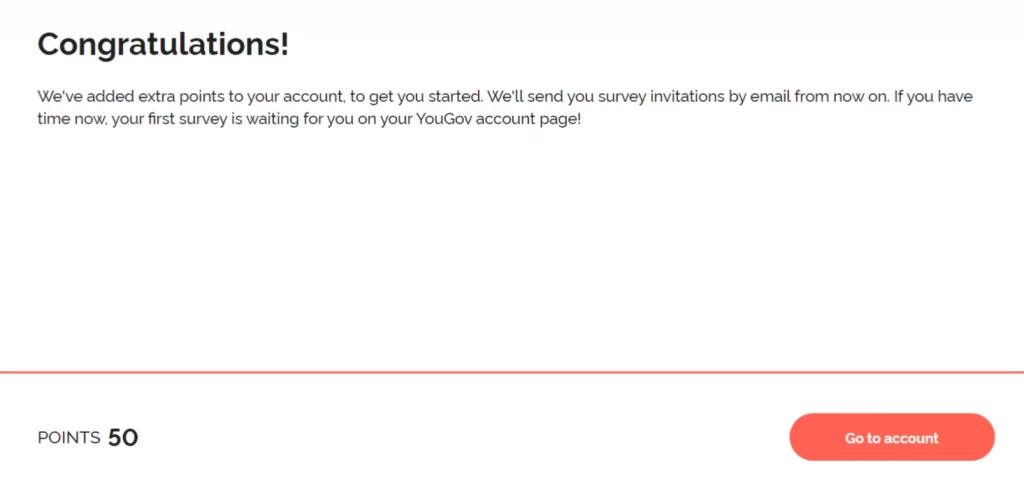 Once you signup, make sure you complete all the profile details (Important for getting more surveys).
Below is your YouGov Dashboard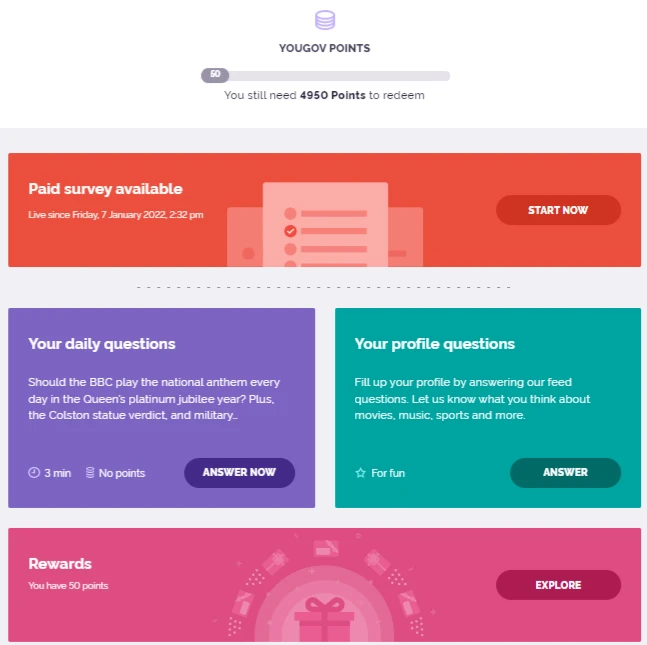 YouGov Points: It is the number of points you need to redeem your gift card or cash.
Paid Survey Available: It is the section where you will be notified of new surveys.
Your daily questions: It's a section where you can answer questions, but you earn no points.
Rewards: It is a section where you can redeem your points for Amazon Gift cards or Direct bank transfers.
Now next step is to take part in the surveys and earn enough points that you can redeem.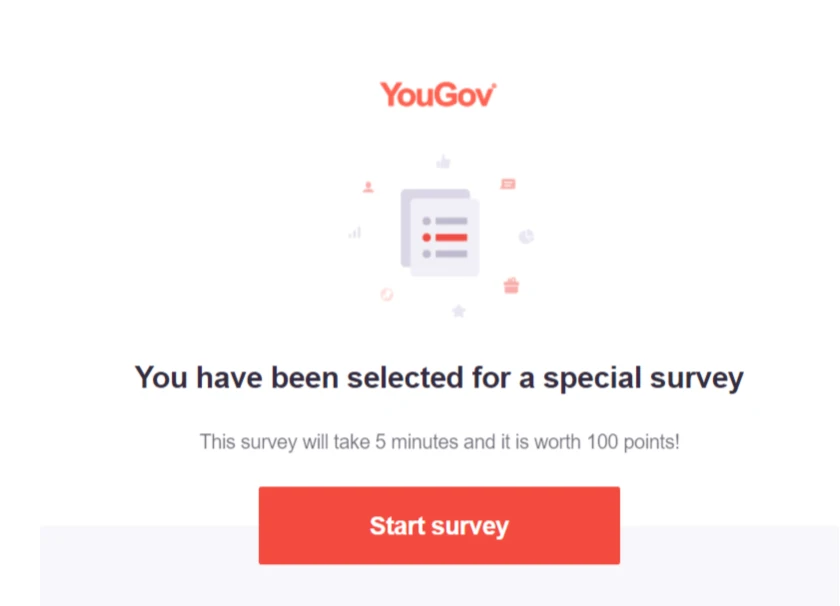 How to redeem YouGov points
If you are from the United States, you need 55000 points for $50 cash. You can also redeem your points for Amazon gift cards and other local brands like Lowes, Applebees, and Targets.
If you are from the United Kingdom you need 5000 points for £50 cash.
If you are from India, You can redeem your 5000 points for INR 3,600 Paytm Wallet Credit.
As you can see, the reward you get depends on the country you live.
Redeeming the points is fairly simple.
Just enter your email address (For GiftCards) or bank details (For Cash) or Paytm wallet details (For Indian users) and you'll get the reward.
There are a few countries where you can exchange your YouGov points for Paypal. If you do not see that option, it means it is not available in your country.
What is YouGov Pulse
It's another opportunity provided by YouGov to earn more points.
You will need to install YouGov Pulse on your computer or smartphone and let it run in the background.
They will track your non-personal data such as the applications you are using and the websites that you visit. Prior consent is taken before this.
The tracking is done with the help of a VPN certificate that you will need to install along with the YouGov Pulse app.
It's an Invite only platform. You will need an invitation email to join YouGov Pulse.
Below is the email with downloading instructions you'll get after you accept their invitation.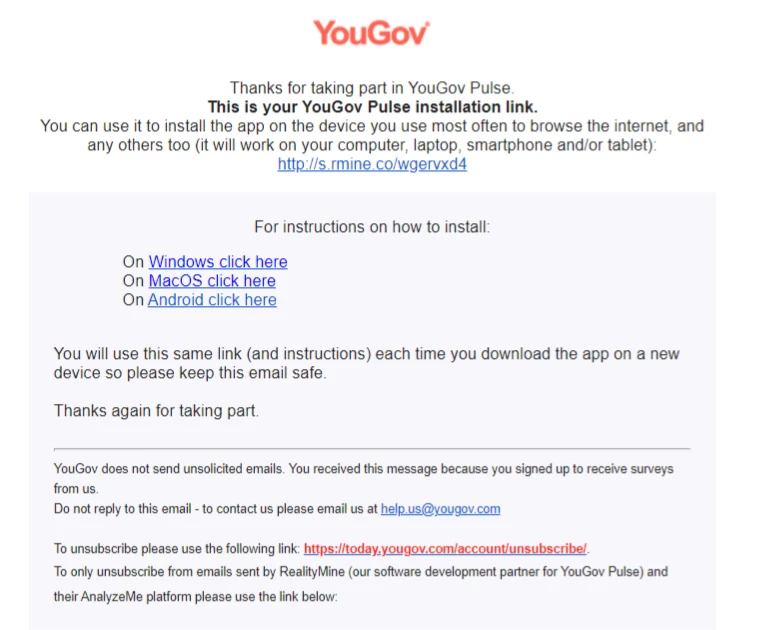 You can earn anywhere between 300 to 1000 additional points per month by letting the YouGov Pulse app run in the background.
Personal data you share with YouGov
As I mentioned at the beginning of the article, their whole business depends on your data and opinions so you need to be aware of what you are getting into.
Here is a list of data that you are sharing.
Name, Email ID, Address and other non-sensitive personal data
Bank Details (For transfering cash to your account)
Devices and applications that you use (If you Install YouGov Pulse App)
Websites that you visit and your activity (If you Install YouGov Pulse App)
Your political and brand opinions (shared with others with out revealing identity)
Search Term that you use in search engine (If you Install YouGov Pulse App)
They can share your data with 3rd party organizations. They'll sign a contract with them to keep your data safe, but a contract isn't 100% guaranteed.
So here is my take when it comes to data security.
If you just use their YouGov survey app, you are sharing only basic data that any other application stores nowadays. What is better to check is what extra details they will be tracking if you're opting for programs like YouGov Pulse.
How to get more surveys on YouGov
There is no trick to getting more surveys, but remember a few points:
Take time to read each question & do not choose answer randomly
Check your spam folder for survey Invitations
Complete your profile details
Choose survey frequency "as often as possible" in the personal detail section of your account.
Try other YouGov programs such as YouGov Pulse, YouGov Direct and YouGov Safe for earning more points.
Important: They regularly perform quality checks. If they found your account violating any policies or you are not answering surveys properly, they will stop sending you new surveys.
How much can you earn on YouGov
It depends on your location, the profile details you provide, and the YouGov programs you participate in.
It's not an application for quick bucks; you'll have to be patient and gain points to redeem for cash or gift cards.
On average, users earn a few thousand points per month. Then it takes them a few months or sometimes a year to redeem those points.
Payment Proof: Here is the 15$ Giftcard that I received from YouGov.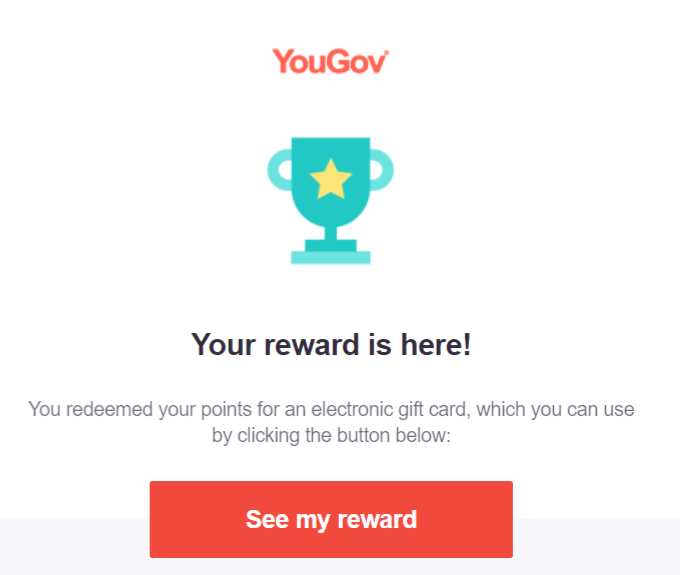 What is YouGov Direct
YouGov Direct is a program where you can sell your non-sensitive data to organizations for earning dollars.
The organizations will be using your data to invite you to surveys and in some cases to watch advertisements. Basically, they will use your data for marketing purposes.
Your identity will not be revealed to the organizations.
Although, It is owned by YouGov. It is a separate platform. It is available only in limited nations and in the future, they may expand.
You need to earn a minimum of 2$ and you can withdraw that to your bank account.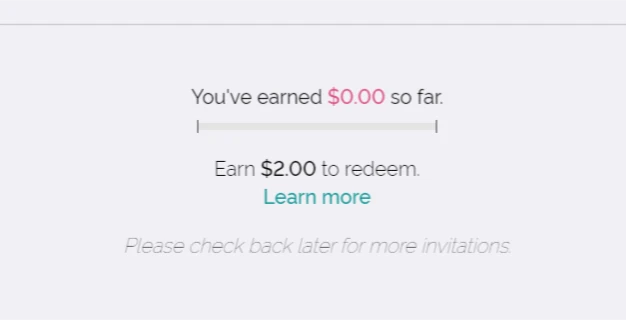 Make sure to complete your profile data. It is based on that, you will get survey invitations.
What is YouGov Safe
YouGov Safe is another program of YouGov. It is in its preliminary phase and works only with the Chrome browser.
With this program, they can track the various types of data but every time permission is taken from you.
Currently, the browser extension can track the following data
Netflix Viewing History
Browser History
Hulu Viewing History
Paramount+ Viewing History
Apple TV+
Prime Viewing History
Disney+ Viewing History
Spotify Listening History
Youtube Viewing History
Amazon Shopping History
In the future, they will add more apps and you can earn rewards for sharing data.
Reference Picture below from YouGov website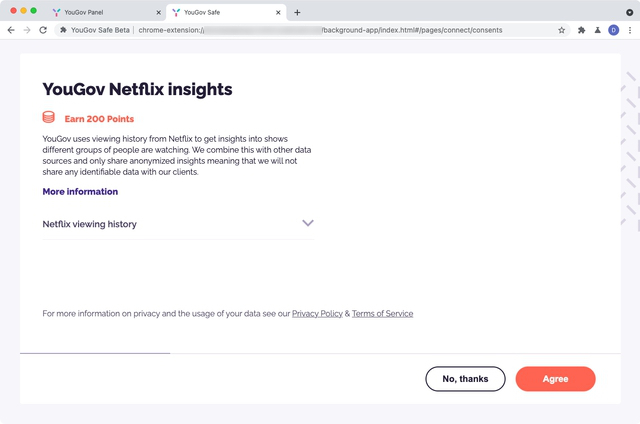 I couldn't find their Chrome extension, so they probably are testing the program. I'll update the blog once I have more information.
Is YouGov Global?
Yes, YouGov is available in the following countries.
Pros:
Less Survey Time: The survey time is less (Between 3 to 10 mins)
Assured Points: For every survey you take, you get points. (No Disqualification)
Direct Bank Transfer: You can redeem your points for cash.
Good User Interface: Unlike other survey apps that look spammy, YouGov has a clean website.
Cons:
Time consuming: It may take several weeks or months to reach the points that you require for redemption.
Data Sharing: If you're installing the YouGov Pulse App, they can track your non-private data. You might not be comfortable with that.
Less Surveys: If you are from United States, You need 100k points for earning 100$ Amazon Gift card. With only few surveys a week, Its going to take time.
Poor Customer Service: They don't answer your queries and account issues on time.
YouGov Alternatives
YouGov is a survey website, so it has a lot of alternatives. Here are some sites similar to YouGov.
Conclusion
YouGov is a UK-based company that's into market research and data analytics. They offer the ability to earn gift cards & cash in exchange for your opinions and non-sensitive personal data.
What sort of data you share with them depends on the program you participate in. I also shared a few tips for maximizing your earnings.
FAQs
How to delete YouGov account?
You can unsubscribe from YouGov surveys and deactivate your account by visiting My account> Personal Details> Unsubscribe.

You can no longer access the YouGov website to receive paid surveys. But you can always reactivate your account by contacting their support team.
How often does YouGov send you surveys?
It largely depends on your country and the profile details you've submitted, but you should get 1 to 3 surveys a week.
How long does YouGov take to pay?
It depends on the reward that you are choosing.
a) If you are opting for
PayTm cash
, It can take up to 30 business days.
b) If you redeem your
points for cash
, It can take up to 7 business days after you provide your bank details.
c) If you redeem your points for gift cards. It can take between 7 to 12 business days.
Do they have a referral program?
Yes, they have a referral system that provides you points for every person you refer.

But they don't have any dedicated page on their website where you can just copy your referral link and share.
What is YouGov points value?
The value of the points depends on your country. For example, a person living in the United States can redeem 55000 points for $50 cash.

Please check the rewards section of your YouGov Dashboard for more information.
Is YouGov pulse safe?
Yes, it is a safe app and there have been no reported data security issues. The company takes your consent before tracking any of your data.

While you're installing the VPN certificate and YouGov Pulse tracking app, you'll feel a bit skeptical. It's safe, though–a part of the program.
Do YouGov points expire?
No, They do not expire.
How to contact YouGov customer service?