There are many survey websites in the market today, but finding one that pays well is a challenge.
I did extensive research on "The Panel Station" and found useful insights that will save your time.
This Panel Station Review covers all the Pros & Cons of the platform with tips on how you can earn more.
What is the panel station?
The Panel Station (TPS) is a platform for brands and organizations to take surveys from Individuals like us to improve their products & services.
The Panel station acts as middlemen & connects survey providers & survey takers.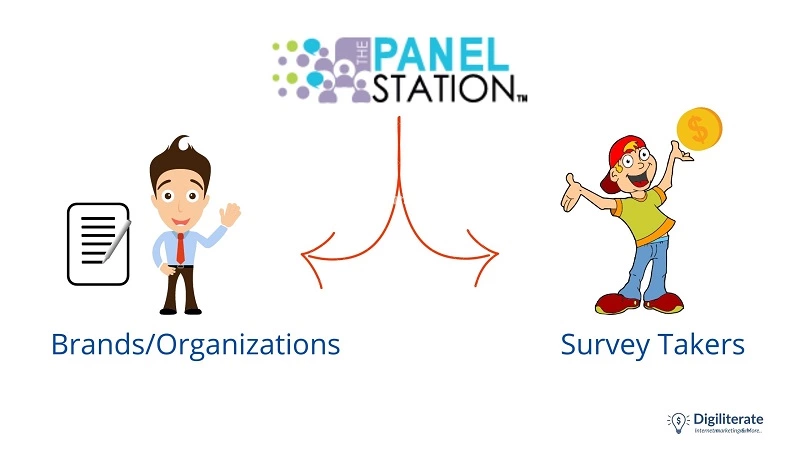 Survey Takers are rewarded with points that can be redeemed for gift cards or cash.
How does the panel station work?
Starting with the Panel station is pretty simple. Here are the complete steps.
Note: Panel Station is available worldwide, website interface and rewards may vary depending on your country.
Step 1) Signup on the Panel Station website (use Referral code 76TI78 for 250 Points)
Step 2) Once you signup, you will see the below dashboard.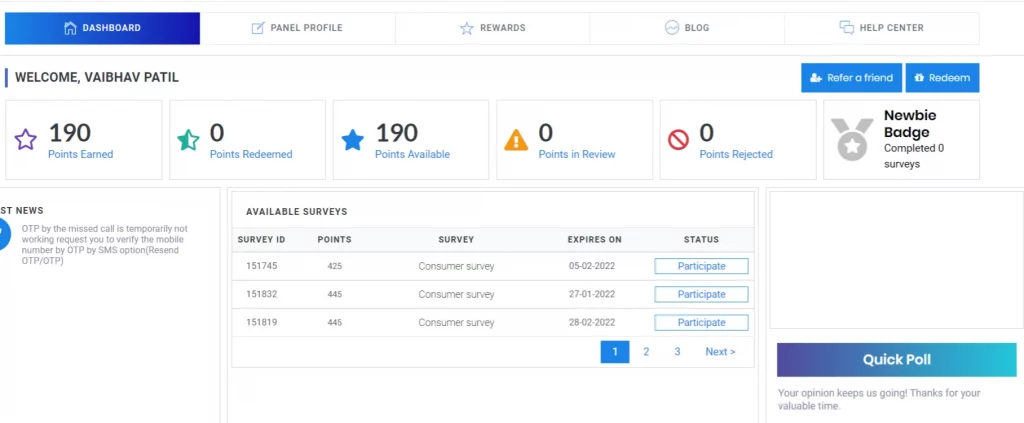 There are total 4 important sections on the website:
Dashboard: It gives you an overview of the points that you have earned & the available surveys.
Panel Profile: It's the section where you'll fill in your profile details. Updating your profile helps you get more surveys.
Rewards: Check here for the number of points you've earned for each survey and your redemption history.
Help Center: If you face any issue with your account or points, you can get in touch with their executives.
Step 3) Once you set up your account, you will receive survey emails like below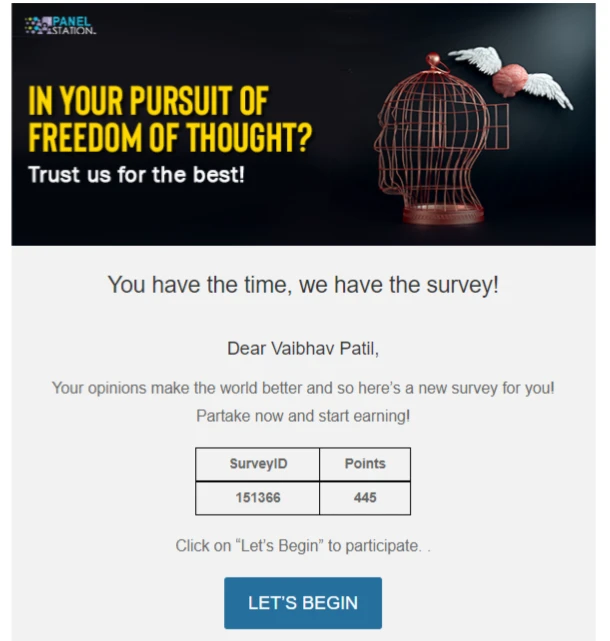 For each survey you take, you will receive certain points.
Answer all the questions correctly with details that are consistent with your profile.
You will not qualify for most surveys they send you.
They send random surveys and most of the time you will get disqualified. But they pay you 20 points for every survey you take so that is the good part.
Tip: It can be a bit irritating to receive a lot of surveys in your Inbox. It's better to use a side email just for surveys.
Badge Progress: They offer you a certain badge based on the surveys you take and the time you spend on the Panel Station.
Legend Badge: If you spend at least twelve months on the panel, completed all the profilers, and completed 21 or more surveys, you'll be assigned as Legend..
Grand Master Badge: If you've spent at least six months on the panel, completed all the profilers, and completed 13-20 surveys you will be assigned as Grand Master.
Master Badge: If you've spent at least two months on the panel, completed all the profilers, and completed 7-12 surveys, you will be assigned as Master.
Sensei Badge: If you have spent a month on the panel, completed all the profilers, and completed 2-6 surveys, you will be assigned as Sensi.
The Panel Station Mobile App Review
A quick overview of the panel station mobile app and its interface.
How to redeem Panel Station Points & Rewards
You need at least 400 Points to redeem. Once you accumulate that many points, you can redeem them from your dashboard.
Rewards vary depending on your country. For Indians, they can redeem their points for Amazon and Flipkart gift cards or Paytm cash.
It takes anywhere between 6 to 8 weeks for rewards to reach out to you.
The Panel Station Referral System
Yes, they do have a referral system where you can earn more points.
On your Dashboard, you can see the "Refer a friend" option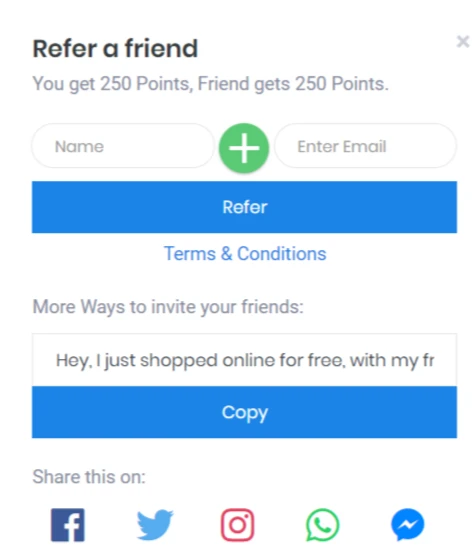 You can share your referral code on social media or with your friends & earn up to 250 points. (Use 76TI78 to get 250 Joining Points)
Here are the referral terms:
You earn 250 referral points (Only upon completion of their three surveys).
Your friend earns 250 Joining Points.
You can refer maximum of 5 friends in a month.
Type of Data you share with the Panel Station
It is very important to know about your data security when you participate in survey websites. I recently reviewed the YouGov survey website and the type of data they collect can be of concern for many.
However, the panel station collects only basic data such as your Email Address, Name, Location, and the survey response that you give.
They partner with brands including Google, Facebook, and Tiktok to help them in their market research. So your non-sensitive data does get shared with 3rd party organizations.
Check their privacy policy for more details on how they collect & use your data.
Panel station payment proof
Although, I am yet to redeem my points. There are reddit users who have disclosed their earnings. (Check below screenshot)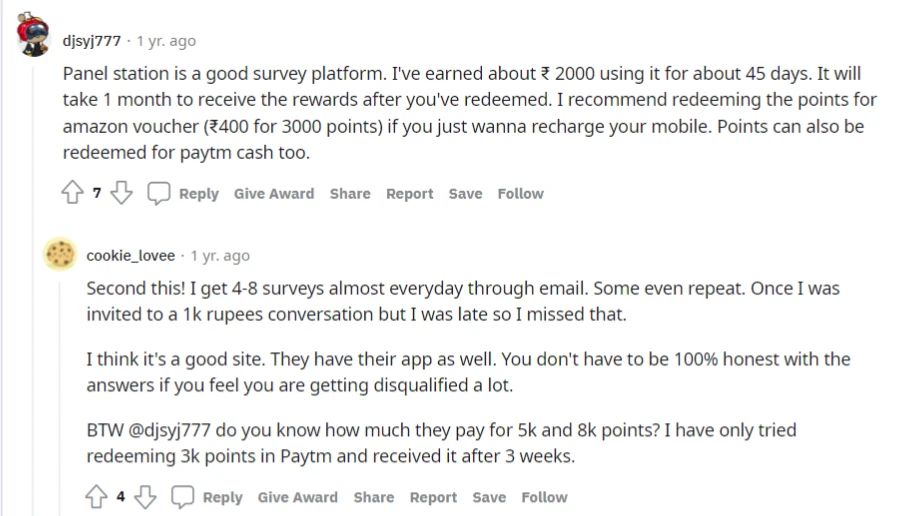 The Panel Station Alternatives
The Panel Station is survey app with many alternatives. Here's a list of Top 5 Sites.
Pros:
The Panel Station has a lot of surveys available on their website/app, providing good earning opportunities.
The application is easily accessible on your smartphone/laptop and tablet. You can complete the survey any time, making it truly portable.
The Panel Station is available in 19+ countries, making it possible for people all around the world to earn money.
Everytime you complete a survey, you get some points credited to your account. This is helpful and takes you one step closer to rewards.
Cons:
High disqualification rate: Although the number of surveys you receive are more, there are only a few that you qualify for.
They are not a direct survey panel: Let me simplify with the help of a graphic.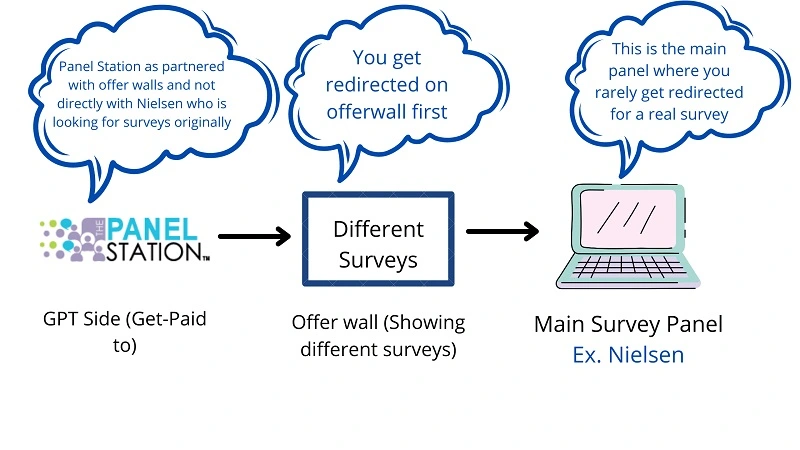 As you can see above, the panel station is basically as GPT site where they does not offer anything of their own. They partner with other offerwalls and show their advertisements on their page by taking some commission.
So the more users they have, the more they can charge for showing advertisements. Although they are not a scam, they are not the direct providers of surveys either.
So If you complete a survey, they will pay you full points (this happens only 10 to 20% of the time) and If you get disqualified (which you will 90% of the time) they give you 20 points so that you feel good and not scammed.
So what is the example of real survey website? Check Opinion World and go to their footer section you will "Dynata,LLC (f/k/a Survey Sampling International, LLC)"
Now google Dynata, you will see that they are a global online market research firm based in Plano, Texas and Shelton, Connecticut.
So basically Opinion World is owned by Dynata who are the real market research firm that takes surveys from people. So no offer wall in between and you are giving surveys directly to the source.
So you rarely get disqualified on surveys because they only show you surveys based on your profile data, and they provide a good amount of points for completing each survey.
Other Example of a real survey website will be YouGov, they are a market research and data analytics company who have direct partnership with organizations and never disqualify you.
Points under review & long redemption time: They often keep your earned points under review and it takes atleast 6 to 8 weeks for the rewards to reach you.
Conclusion
The Panel Station is a good earning opportunity for those just getting started with survey websites. I also talked about how they are not the direct providers of surveys, but are a GPT site. They have their pros and cons, but they're not a scam and you can redeem your points for cash and vouchers.
FAQs
How do I unsubscribe from the panel station?
If you no longer wish to receive surveys from the panel station. Login to your account> Go to Account Settings located on the top right corner> Click on Unsubscribe. You can also Unsubscribe & Delete your account.
Is the Panel Station legit?
Yes, 100%. I have my friends who have redeemed the points for money and vouchers.
Does the Panel Station have a Mobile App?
Yes, they have a mobile application for Android and iOS devices.
Is the Panel Station available globally?
The Panel Station is currently open to the legal residents of the following countries: India, Brasil, Russia, China, Mexico, Argentina, South Africa, Indonesia, Turkey, Philippines, Poland, South Korea, Taiwan, Chile, Nigeria, New Zealand, Colombia, Australia and Singapore.
How to redeem Panel Station points in Paytm?

You will need a minimum of 3000 Points to redeem for Paytm Cash.
Steps:

1) Go to Dashboard
2) Click on Redeem
3) Select Paytm as Reward
4) Select Numbers of Points you want to redeem
5) Type your Paytm number in Paytm ID
6) Click on Buy
Thats it.
What is the Panel Station redemption time?

After you earn enough points, it takes anywhere between 6 to 8 weeks for the rewards to reach you.