"Get Instantly Rewarded with $1 for every survey you complete" that's the tagline they are using on their website. Can you really earn that much ? or they are just big claims?
In this comprehensive Surveytime review, I'll walk you through each step, give you some amazing tips, and show you a live demo of me using the application.
What is Surveytime?
Surveytime AKA (Also known as) surveytime.io is a website that pays you for completing surveys based on the information that you provide during the signup process.
They have an algorithm that gives new surveys with easy to navigate dashboard.
How does Surveytime works?
Here is how the business model of Surveytime works. They don't have a direct tie-up with organizations that are looking to take surveys.
They are a GPT (get-paid-to) site that redirects users to offerwalls where surveys are matched with your profile depending on the availability.
A user like me and you have to try multiple surveys before we actually get a chance to complete them and get paid. (Most of the time we will get disqualified)
Surveytime gets commission from offerwalls for providing advertisement on their platform. (Here the advertisement is of surveys)
You can read more about how the whole system of GPT sites works in my panel station article.
That's what Sureytime's backend business model looks like. What's on the front side?
Let's start with the Signup process.
Surveytime.io sign up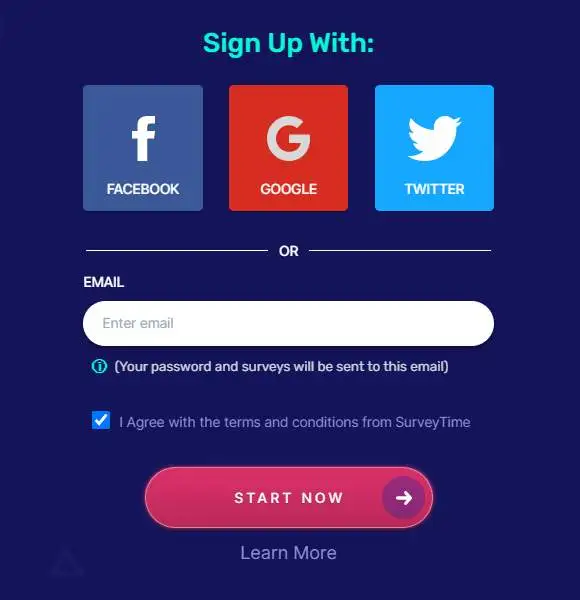 Tip: Use a non-primary email because they flood your account with surveys.
Answer questions by Surveytime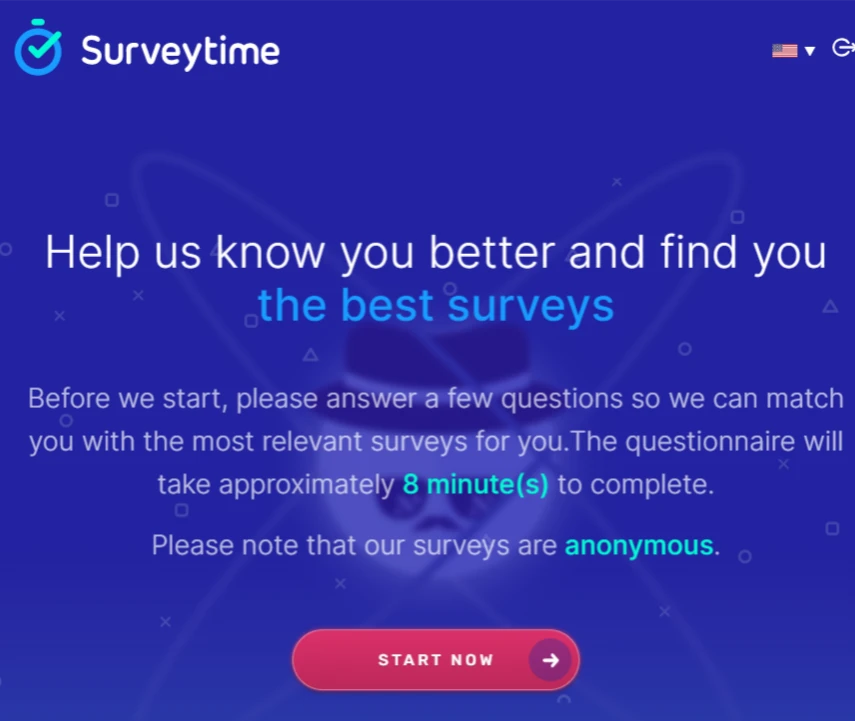 There will be a total of 31 questions about:
Date of Birth
Education
Household Income
Address
Relationship Status
No of childrens
Employement status
Industry you work
Job Title
Department you work
Illness Diagnosed with
Fav color
If you are a Primary decision maker
Languages you speak
If you are a voter
Tip: Answer them correctly, While participating in surveys they will ask similar questions and If you provide wrong answer they will disqualify you.
You can start taking the surveys once you answer the above questions.
Who is the founder of Surveytime?
Ofir Pasternak is the founder of Surveytime. Persona.ly is the parent company of Surveytime.io and was launched in 2019. The company is based in Israel.
They previously ran a similar survey website called Gifthulk but they closed that website in August 2019 and created Surveytime.io.
Surveytime Ambassador Program
Apart from taking surveys, there is one more way to increase your earnings.
Surveytime as their own referral program which they call the "Ambassador Program". The process to apply is simple.
Provide your full name & email address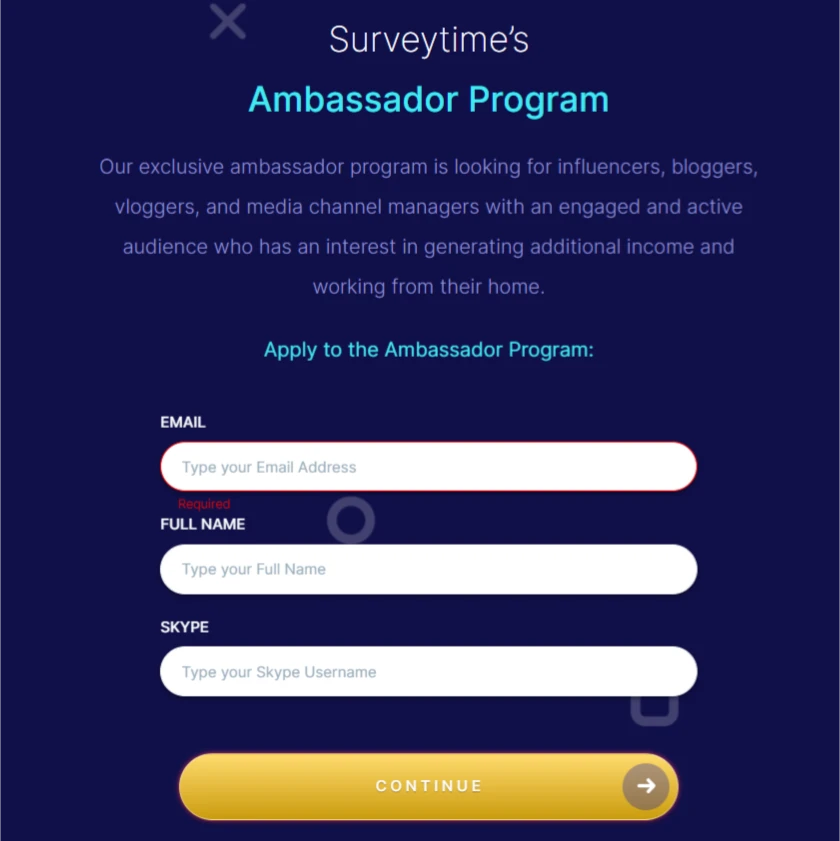 Tip: Although they claim to be looking for Influencers or bloggers, you don't have to be one. Even if you have a facebook or Instagram account with decent friends & followers. You are good to go.
Select your traffic sources (Facebook, Instagram etc)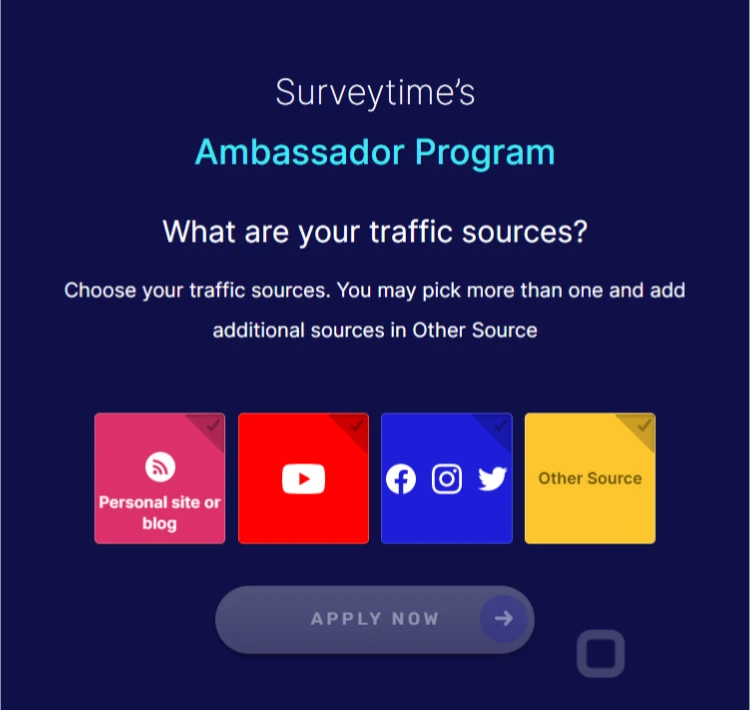 Write few sentences on how you are going to promote surveytime.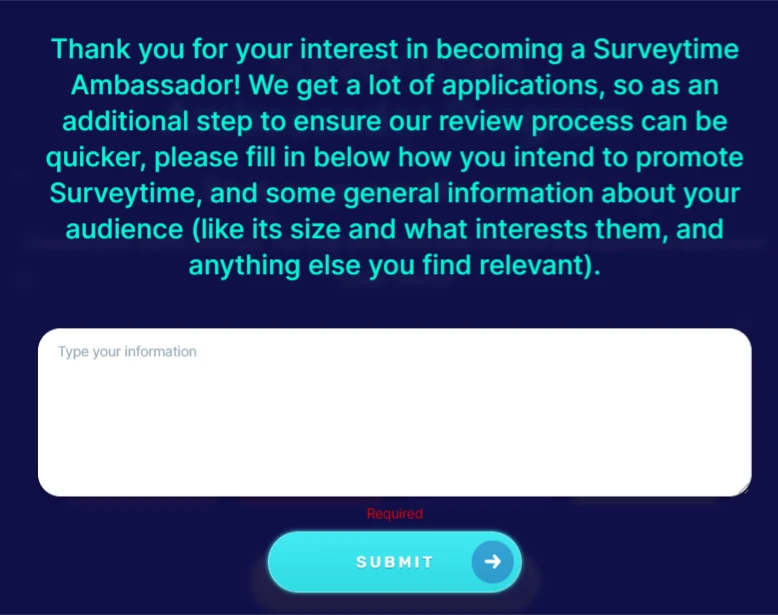 For example you can write: 

Hello, I want to be a part of the ambassador program and I am willing to promote surveytime on facebook & Instagram account. My friends & followers are always looking to find ways to earn more money and I think this will be a good platform for them. I have over 1000 friends on facebook and 500+ followers on Instagram.

Thank you
After you submit your application, they will review it and email you for taking part in their ambassador program.
The email will consist of a referral link. You can also log in to your ambassador dashboard and track all your referral earnings, the numbers of people who clicked on your link, and overall performance.
How much you can make on Surveytime?
You can make anywhere between 10$ to 100$ depending on your country. People from the United States and Europe earned relatively more.
I took some data from Reddit users and found that their earnings have decreased from the past year and they are experiencing higher disqualification rates.
Is Surveytime Legit?
Yes, Surveytime.io is a legit website. I am attaching a screenshot from Reddit users who have claimed to get paid from Surveytime.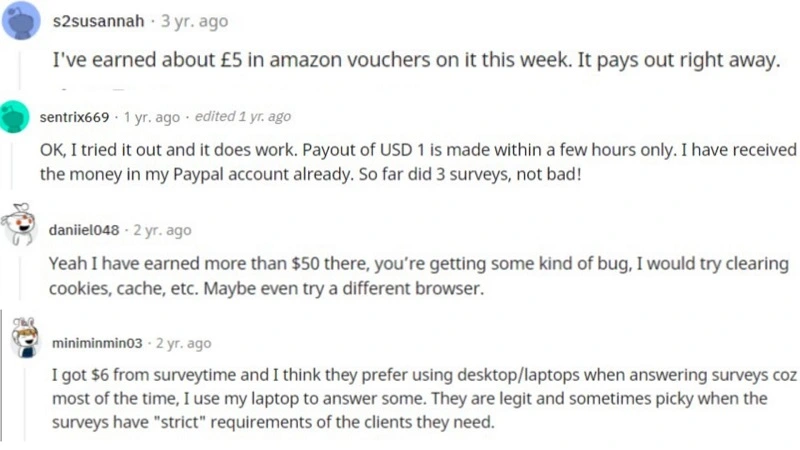 Surveytime Payment Proof
Below is the payment proof uploaded by a Reddit user. The image is available on the public platform and you can check the real post here.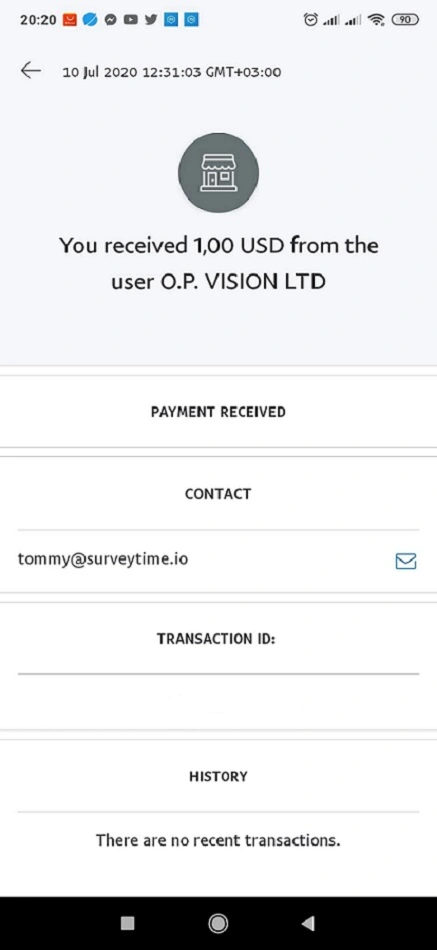 The Awesome things about Surveytime
No Redemption time: As soon as you earn your first dollar you can redeem that for Paypal cash or other gift cards.
Clean User Interface: The survey website is not spammy with awful links. Of course, the website redirects you to different offerwalls, but the main website is clean.
No Point Earning system: Unlike other survey websites where you must earn certain points and then redeem, there is no such thing on Surveytime.io.
The Not so Awesome things about Surveytime
High Disqualification rate: You have to participate in multiple surveys before you qualify and get paid. It can be very frustrating and people may end up thinking Surveytime is a scam.
Not a real survey website: Surveytime.io is not the real survey website with a direct partnership with market research companies that are looking for survey participants.
They have a partnership with offerwalls who give them some commission for sending traffic (you are the traffic here) to their website.
An example of a real survey website is YouGov, They themselves are a market research company and also have a direct partnership with organizations that pay them for providing their user data and opinions.
No dedicated profile section (For Desktop users): Unlike other websites where you can go to your profile section, change your display picture and check your earning history, Surveytime.io does not have anything like that.
Live Test of Surveytime App
Here is the live demo of me using the website and how it works.
Clearly, I was not able to qualify for any surveys and the loop continued for new surveys with no positive results.
Surveytime alternative
Here is a list of the top 10 survey websites that pay well.
Conclusion
Surveytime claims to pay 1$ for each survey that you take. In this Surveytime review, we saw how easy it is to earn money with Surveytime. I also give a live demo where I test the application myself for checking if we can earn rewards. Surveytime is a legit website but it has its Pros & Cons that you should keep in mind.
FAQs