Dscout is a legit app that pays people for participating in research studies.
In my Dscout review, I'll show you how users are making 260$ & more for a few hours of their time.
I'll also share some tips to help you ace the Dscout application and earn more.
What is Dscout?
It means Digital Scout. To put it simply, companies are looking for information and opinions before the launch of a new product or service, which Means they scout out (S of DScout).
So they take the help of users like you to get information and opinions through a digital app (D of Dscout).
That's the meaning of the word "Dscout".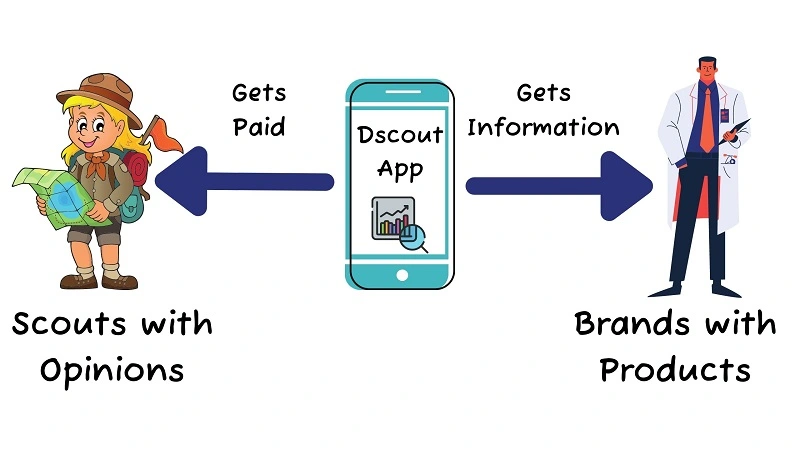 In Dscout, you do one-on-one interviews, answer survey questions, discuss your expertise based on your background, use products and share the experience.
Basically, you take part in research studies and get rewarded for your opinion & time.
Is Dscout Legit?
Incorporated in 2011 and headquartered in Chicago, United States- Dscout is a legitimate company that provides its mobile & desktop platform as a service.
Brands like Google, Salesforce & Headspace have worked with Dscout for taking user opinions. They have 100k+ registered users who are getting paid for participating in research studies.
Michael Winnick is the founder of Dscout. Below he is speaking at a conference about Modern Research. (You can totally skip this)
Getting started with Dscout
You need to create an account as a "Scout".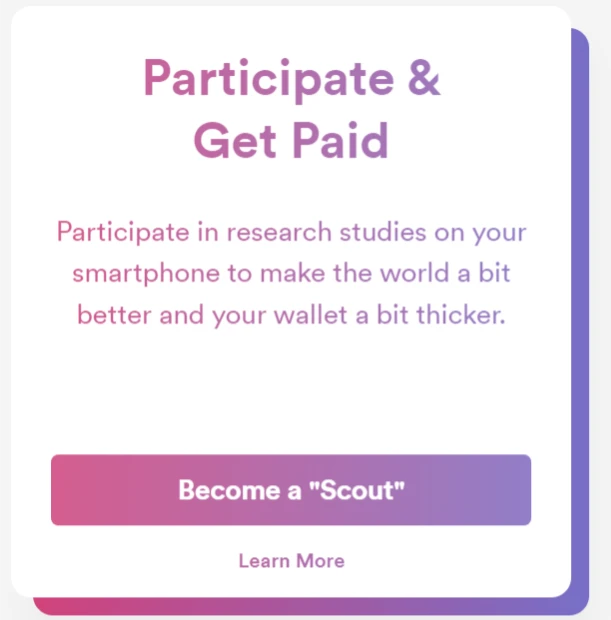 Most of the research studies are completed on Mobile App. Downloading the App for Android & IoS users is recommended.
Signing up is not complex. Once you create an account make sure to complete your profile details & update your Paypal email address.
Pro Tip: Be honest when completing the profile details. Gaming the system to get more research studies will not work.
That's it. Depending on the availability, you can now start participating in research studies.
Type of Missions on Dscout
Missions are nothing but the research studies you participate in. They are called missions because some of them span over a few days or weeks. (Mission & Research studies are the same).
There are three types of Dscout Missions
1) Dscout Diary Missions
Diary Missions are the type of research studies used to analyze user behavior and experiences over a period of time. Some research studies can't be completed with just one survey or one live Interview and thus Diary Missions are used.
In the Diary mission, the researcher will ask you to share your experience about a certain product or subject. Most Diary missions are divided into a few parts that last for a few days or weeks.
For every part, there may be a bunch of questions that you will answer. Sometimes you will also record a video or share a picture.
For Example: Researcher might want to know about your smart watch and how you use it over a period of time. 
Some diary missions have desktop parts where you need to answer questions from your desktop. For that, you need to download diary chrome extension.
The extension helps you to answer some parts of the questions from your mobile & some parts from your desktop.
2) Dscout Live Missions
Dscout Live is an inbuilt tool that lets researchers conduct one-to-one live video interviews.
You will give real-time video interviews & answer questions asked by the researcher.
Being comfortable with the video interview is a requirement. If you are not comfortable you can reject the mission.
Having a webcam, working microphone & decent internet connection is a requirement.
Dscout live missions can be completed on mobile or desktop depending on the researcher's demand.
Note: The video Interviews are casual and this is not an exam to worry. (PS: Even for exam I don't worry 😁)
3) Dscout Express Missions
Express missions are short research studies that can have a maximum of 20 questions. You can earn up to 5$ and there is no long application process.
Express missions are currently available to the people of the United States. So if you are outside of the USA, you cannot participate.
The rewards are almost instant and can take anywhere from a few minutes to a few hours to reach you.
Understanding Dscout Interface
In the mobile app, you will see three tabs.
1) Explore: You can track all the new research study opportunities here. You need to find the right study & complete the application.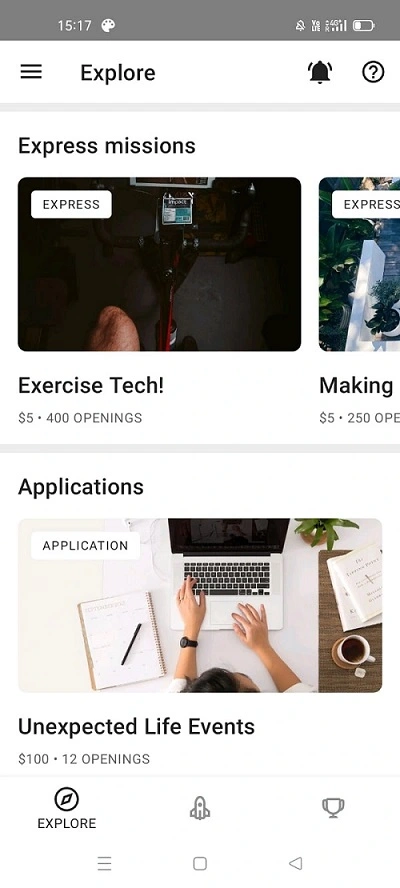 Diary & Live missions are found in the Applications section.
2) Missions: There are 3 new tabs inside this.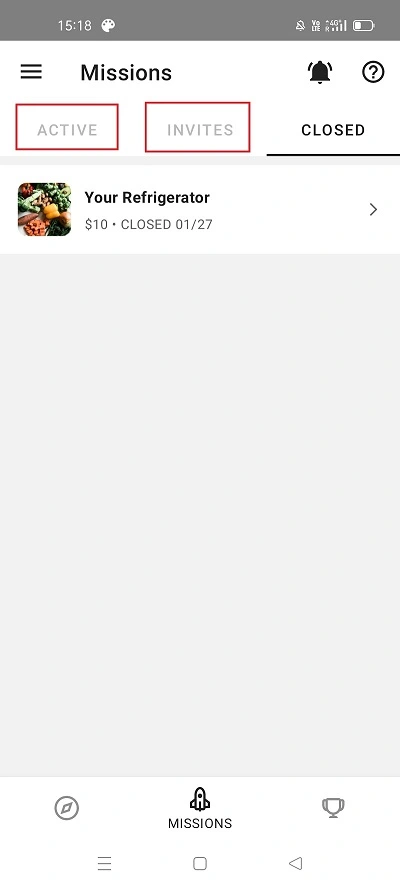 The active tab shows all the studies you are

currently

participating in.
The invites tab will show all the invitations you have received & you can accept them.
The closed tab shows the missions that you have completed & are closed by the researcher.
3) Rewards: You can check the amount you have earned for the completed missions.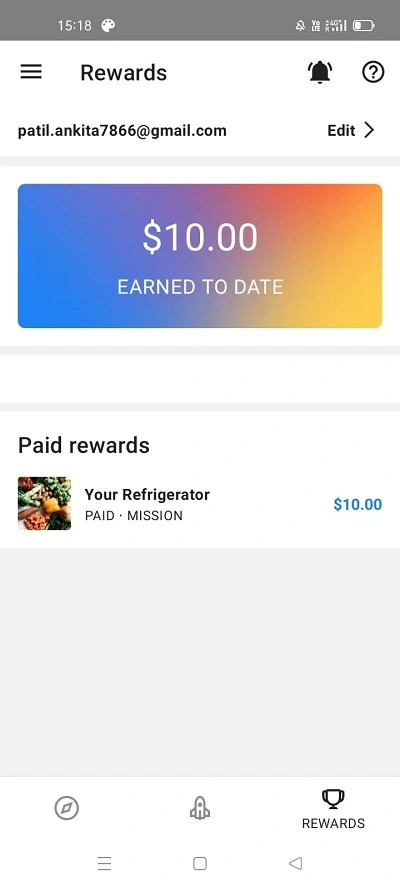 Note: Once you apply for a study, you won't be able to see the application. The researchers will see & invite if you're a good fit.
If the researcher invites you for a mission, you will get an email & notification on Dscout app.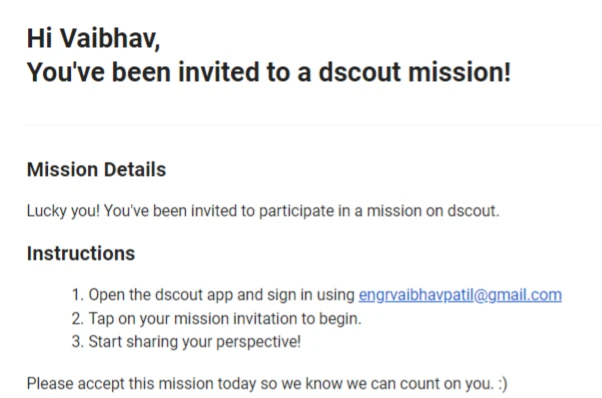 You need to accept the Invitation & complete the study as per the given Instructions.
Dscout Review (Video)
Check out this 5 min video of me giving a brief overview of Dscout App.
Can you make 260$ & more on Dscout?
We have a Dscout user TheDollarHacks who have earned 19000 INR (That's 260 USD Approx).
That's for the user from INDIA, where the opportunities are very less.
I surveyed a few Dscout users from the United States and they are making anywhere between 150 to 1000 dollars per month.
One user made over 5600$ in two years. that's 230$/Month on Average. (Screenshot below).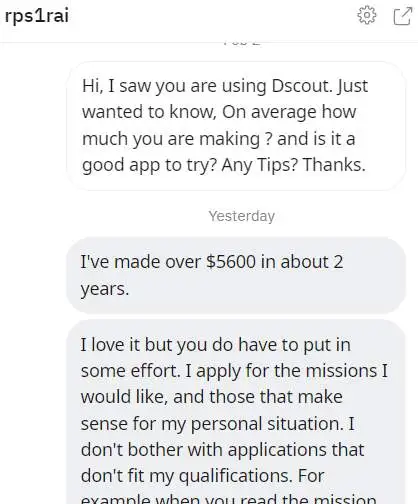 Dscout Payment Proof
Till now, I have completed one Diary mission on Dscout and earned 10$. Below is the payment proof.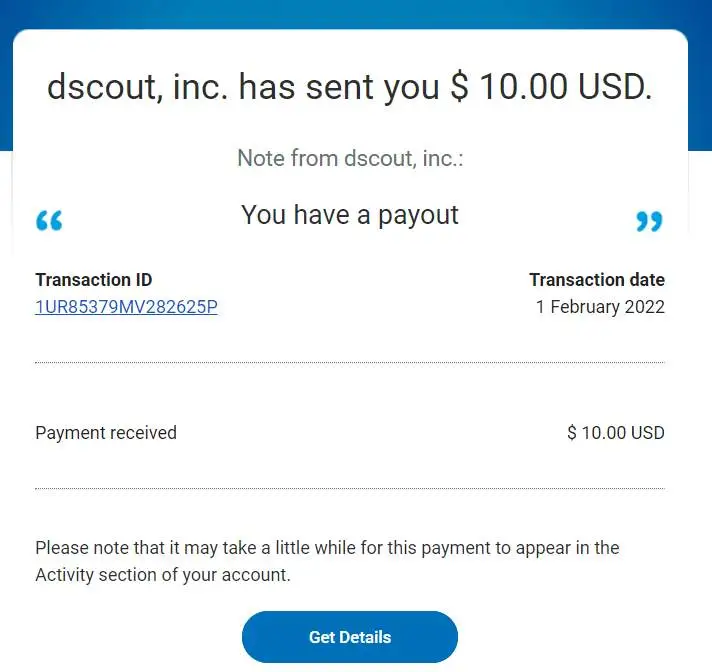 Tips to Ace Dscout Applications
Being honest & consistent with your applications will help you get invitations for paid research studies.
The majority of the applications will require you to record a video of yourself answering questions. Treat it as a job interview because researchers want participants who can present themselves well. (Good uniform, Stable Video, Fluent English & Good Lighting conditions help)
Apply to only those research studies that you truly qualify for.
That's it. There are no Dscout hacks that will help you jump the line & get more invitations.
There are people on the Internet who talk about changing their Ethnicity to American Indian as helped but it's something to try & test.
Changing location for more opportunities is not possible. They evaluate each application & it may lead to a ban.
Dscout Pros
High Payment rate: Unlike other research study websites where you get paid in pennies, Dscout has a good payout. Some of the research studies can pay up to 150$ for 1 hour of your time.
Easy to use: The Dscout application process is simple & within a few minutes you can complete your profile & start applying for the missions.
Stable Business: They've been launched in 2011, and since then they have evolved with new innovations in research study techniques. This makes them a good platform for making money in the long term.
Dscout Cons
Fewer Opportunities: If you are from the United States, you have an opportunity to earn more but people outside the USA will have to struggle to get more research studies.
Video Interviews: In most of the studies, you will need to record a video of yourself in the application process. It might be uncomfortable for most users.
Sites similar to Dscout
Below are a few websites that conduct research studies and are similar to Dscout. Feel free to read my articles on them and register.
Conclusion
Dscout pays you to participate in research studies. They are a good earning source for a few minutes of your time. Although most of the studies are available for U.S. residents, they are growing rapidly in other countries as well. Read my complete Dscout review to learn all the details about this application.
FAQs