Taking part in surveys & earning money is not a new concept but finding a reliable survey website that pays well is a challenge.
To solve this, I am presenting you with a GrapeData website that offers you surveys with high-earning opportunities.
This is going to be an In-depth GrapeData Review covering all the important aspects of the website. I will show you some payment proofs that are very attractive.
What is GrapeData?
GrapeData is a market research company that connects financial institutions & managing consultants with Individuals having certain expertise & background.
The crowdsourced data is then used by brands & organizations to improve their product or take important business decisions.
As a contributor, you get paid for either participating in surveys or taking Interviews of people who qualify the survey requirements.
Yes, you heard that right. If you are not qualified for a certain survey, you can find people who are & take their Interviews, and submit the survey.
The image below demonstrates a basic business model of the Grapedata survey website.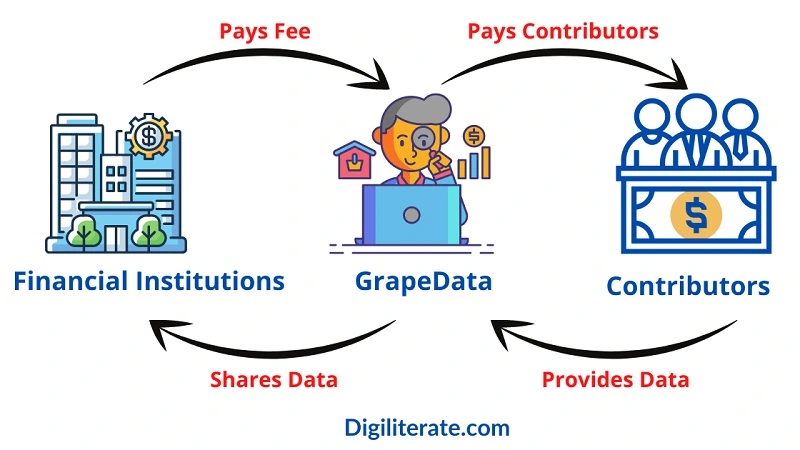 Is GrapeData Legit?
GrapeData is a legit company that is Headquartered in London, United Kingdom. GrapeData is a Data as a service (DaaS) startup that was founded in the year 2018. They raised some undisclosed fundings on June 1, 2018 (Source: Crunchbase).
Adel Louertatani is one of the co-founders of the company. Information about GrapeData is available on popular websites like DnB, Crunchbase & LinkedIn.
There are payment proofs (Included below) by GrapeData user that shows, GrapeData is not a scam company & they pay to the contributors.
They are also rated with 4.6 stars & 108+ reviews on their Google my business (GMB) page.
How to Signup on GrapeData?
Getting started with GrapeData is simple.
Visit the GrapeData Signup page, Verify your mobile number & complete basic information.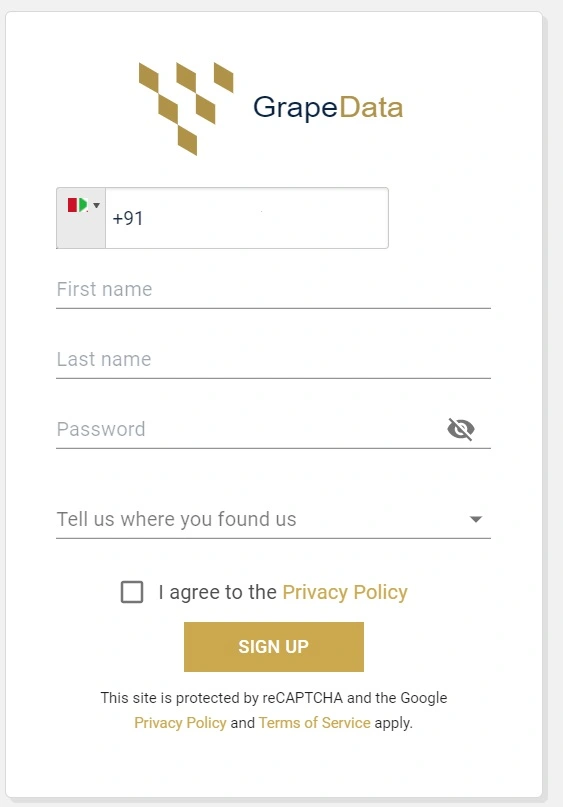 Answer remaining questions that Includes:
Your company name
Job Title
Email address
Location
What Industry do you work in?
Role & Responsibility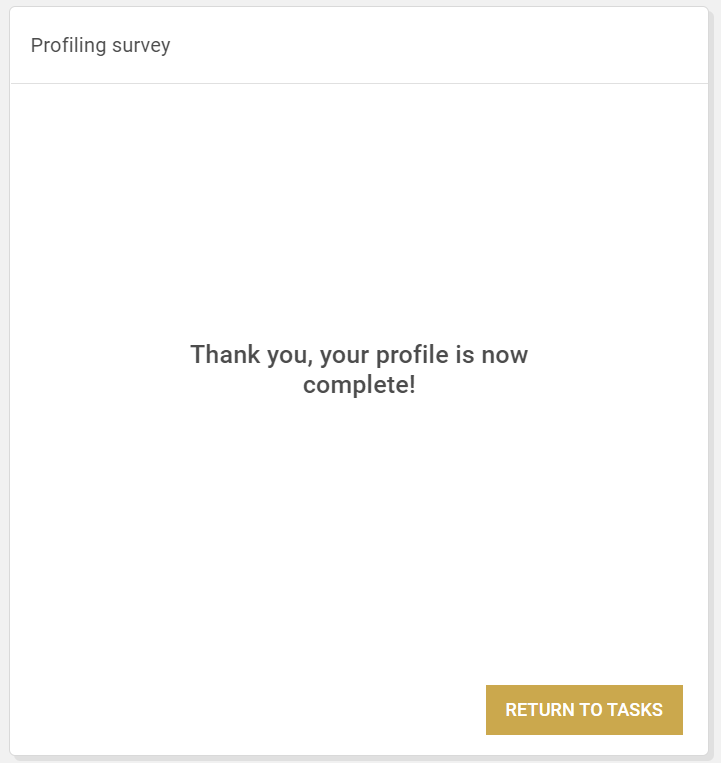 That's it. You can now start taking part in the paid surveys.
GrapeData Review: Dashboard Overview
GrapeData is a simple dashboard with four main tabs.
Tasks: All your new surveys can be tracked from here.
History: All the surveys that you participated & their approval status can be tracked from here.
Profile: You can update your paypal email address & check your earning amount from here.
Contact: Have questions? Check their FAQ or contact their support team from here.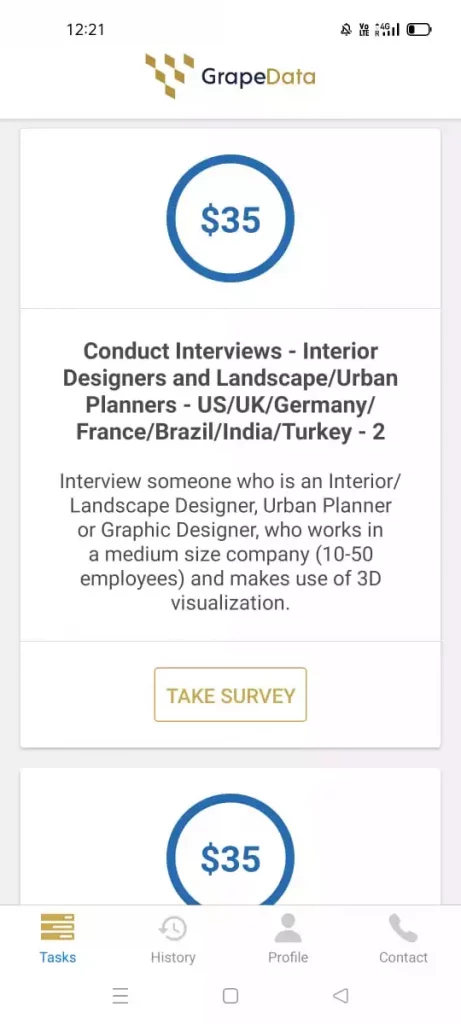 How to make money on GrapeData?
There are mainly two ways to make money on GrapeData.
1) Completing Surveys: Once you complete your profile details, you will see available surveys on the "Tasks" tab.
2) Conducting Interviews: This is one more way to make money with the GrapeData survey website. In this, you will need to find people who qualify & take their survey Interviews.
For Example: They will ask you to conduct interview of civil engineers living in Brazil & United states.
You can find qualified people on social media websites like LinkedIn or check your friend circle.
It's important to have some proof when you conduct the survey. They review it for quality and ask you to submit the call duration screenshot. They can also contact the person for verification.
How to conduct interviews & Get paid on Grapedata.
While you can definitely earn money by completing surveys on Grapedata, they are limited in nature. Conducting Interviews is the best way to earn money from Grapedata.
Here are the exact steps you need to follow
1) Signup on the Grapedata website.
2) On the Grapedata dashboard, you will see "Conduct Interviews" in the tasks tab. (Depending on their availability).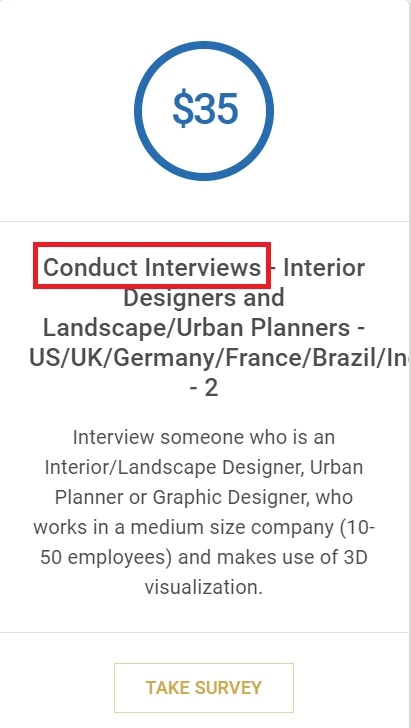 3) Read the survey requirements. What type of people they are looking for, their location & expertise.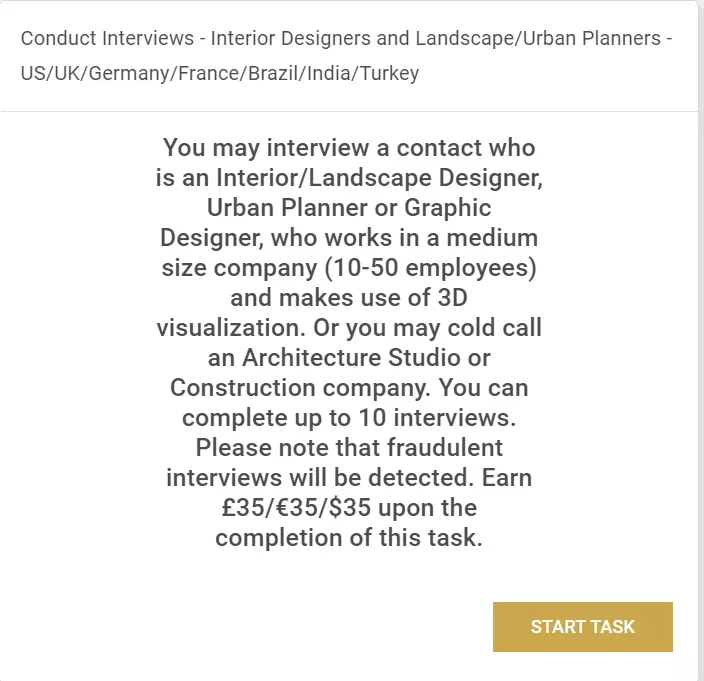 4) Once you find the right person to Interview, you need to call the person & ask questions (presented to you when you start the task). They are qualifying in nature & If they are a right fit, you will see the below screen.
This is the actual survey. Complete all the questionnaires.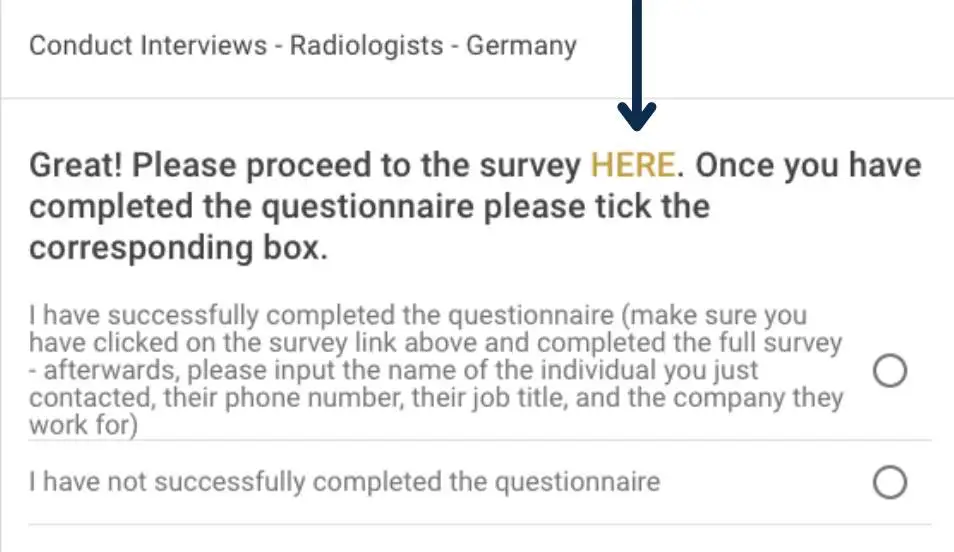 Note: Calls can be conducted by using a personal number or any application that works best with the caller, such as Skype or WhatsApp calls, as long as a screenshot with the required details can be taken (screenshot requirements detailed in the next step).
5) You need to take the screenshot of the call log clearly showing the number called, the call duration & time.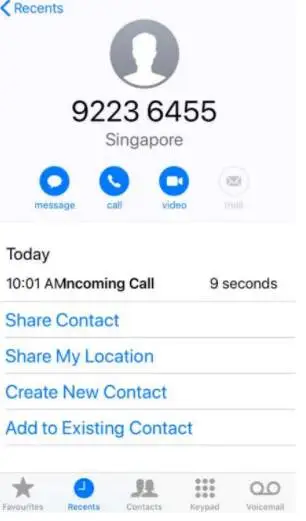 6) Upload the above screenshot into the system. Your payment will be processed via Paypal once their team approves your survey.
Method you can use to find people for survey Interview:
While cold calling & finding people in your friend circle is one way, you can also use the power of social media.
GrapeData is mostly looking to take surveys from professionals. LinkedIn is the platform where you can easily find such people.
You will need to use LinkedIn filters to find people who are matching the survey requirement & message them.
Here is the exact way to do it with the help of video.
Small correction: You need to take video interviews, Text-based Interviews are not allowed. 
How much money can you make on GrapeData?
I recently started using GrapeData & as soon as I withdraw my first payment, I will update here.
I did some Internet research and found that there are very few people talking about this website on Reddit and Quora. I found one Reddit user who has made some good money from GrapeData surveys.
His strategy for making money from GrapeData is simple: cold-call people who meet the survey requirement, submit the form, and get paid. He sent me screenshots of the payments and it was very attractive for a survey website.
As per the title, below are the payment proofs from GrapeData.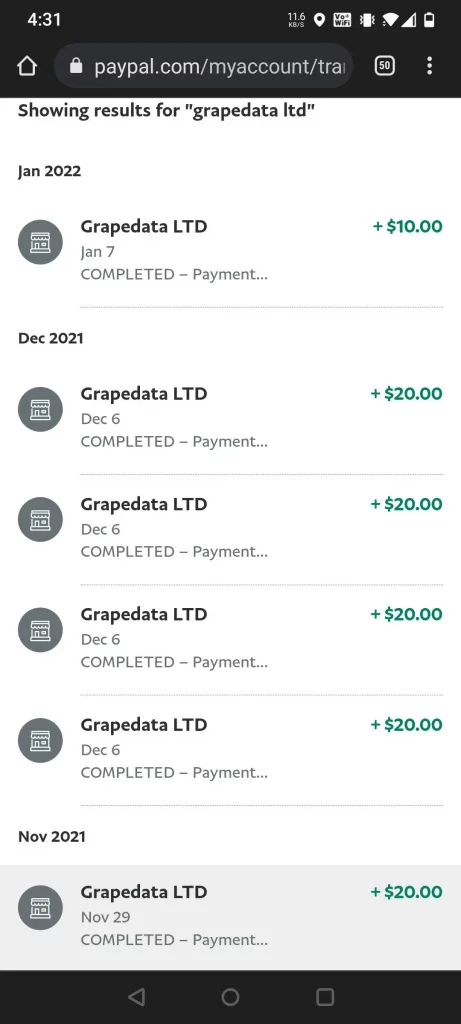 As you can see, the person earned 800$+ from GrapeData Surveys (Mostly by conducting interviews)
To conclude on how much money you can make with Grapedata, it depends on how many survey opportunities you have per month and how many successful interviews you complete.
GrapeData Pros
GrapeData as best support: For this article, I tried contacting them using their website's chatbox & they did replied me & were very professional. All my doubts got cleared & they even directed me to some resource pages to learn more.
High Earning Opportunity: Unlike other survey website where you earn pennies, Grapedata is different. Most of their surveys are in the range of 10-35$. Also, the unique concept of conducting interviews of people who qualify for surveys helps you earn 100s of dollars if you do it right.
Professional looking website Interface: Other survey websites look spammy with lots of ads & offerwalls, but Grapedata is not like them. They are to the point, simple & easy to navigate.
Flexibile with Payment Method: Although they primarily use Paypal but if you live in a country like Pakistan where Paypal does not work, you can contact their support team and they will work out a suitable method.
GrapeData Cons
Review process takes time: Once you complete a survey or interview, It may take a some days or few weeks to get your review approved.
Disqualification: The review is done by Grapedata team and if they found any issue with your survey data, they will reject it. There isn't anything you can do about it.
Location based surveys: Most surveys are Geolocation based so if you don't live in a country where brands & organizations are looking for surveys, you may not have many opportunities.
GrapeData Alternatives
Grapedata is a survey website. Here are a few reliable websites similar to it.
1) LifePoints
2) PrizeRebel
3) YouGov
4) AttaPoll
Conclusion
Grapedata is a survey website that pays you for completing surveys & taking interviews of people who meet certain survey requirements. They are available globally and are a legitimate company that is headquartered in London.
In this Grapedata Review, I have given In-depth information on how the whole website functions & how you can qualify for most surveys if you follow the mentioned steps.
FAQs