LifePoints Panel is a website that pays you for completing surveys and participating in community-based contests.
This is an In-depth LifePoints Review where I will share my experience of working with the LifePoints Panel.
You'll learn how to approach the surveys and some tips that will help you earn more money.
What is LifePoints Panel?
LifePoints is a survey panel that is operated by Light Speed (Headquartered in New Jersey, United States). Light Speed is a market research company and it is one part of Kantar Group.
LifePoints Panel takes surveys from people like us and in return provides rewards. In short, you are getting rewarded for providing your data and opinion.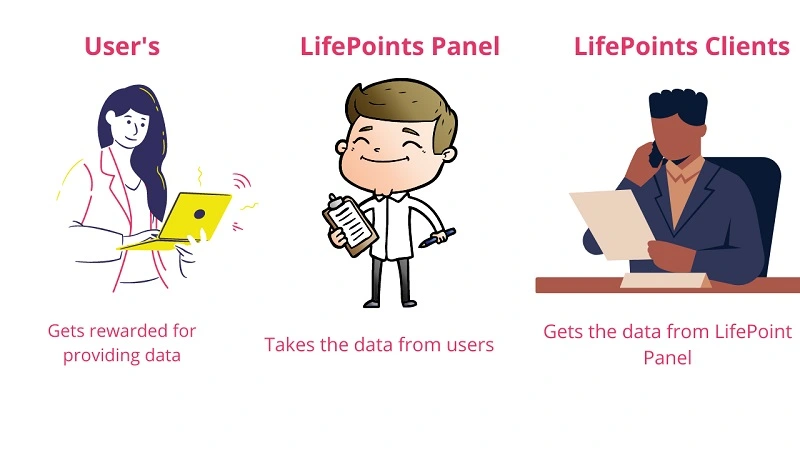 LifePoints provides this data to its clients. The clients can be government organizations, brands, or NGOs.
They use this data to get insights into what people are thinking or what opinion they have. It helps them to improve their existing or upcoming products & services.
LifePoints (LightSpeed Company) gets paid by clients for sharing data and that's how the whole business model works.
Is LifePoints Legit?
They are a legitimate company and are not a scam. LifePoints operates under Lightspeed Research Limited.
Lightspeed information can be tracked on dun & bradstreet which is a reputed business directory.
They are in the business of market research since 1946 and they have worked with famous brands & government organizations. They are currently operating in 45 countries.
How does lifepoints panel work?
The First Step is to create an account on the LifePoints panel.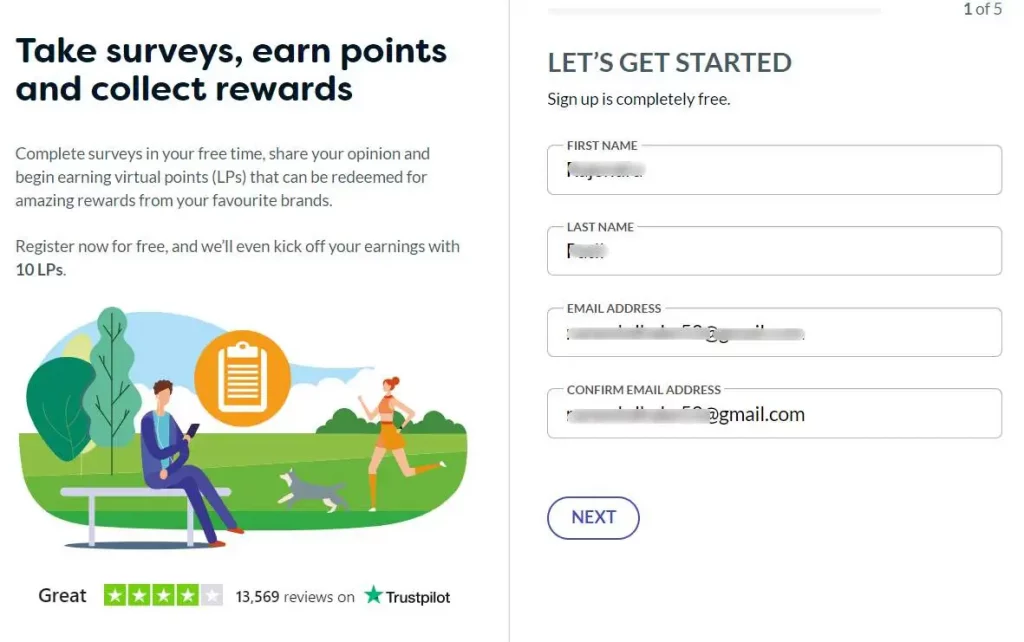 Along the way, you will need to verify your email address and answer some basic questions related to your household and income. (You get 20 points)
That's it. You can start taking part in paid surveys (Like below).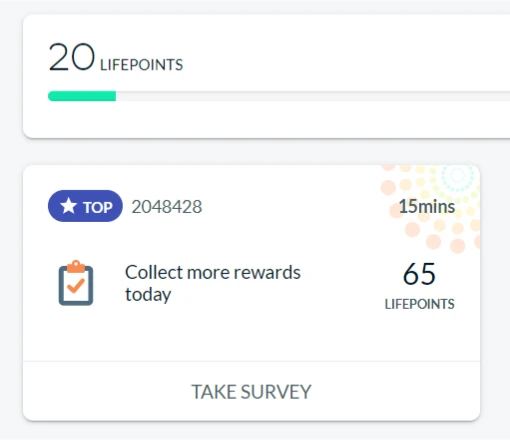 Lifepoints five main sections

Surveys: All new surveys you can track from here.
Rewards: Earned enough points? You can redeem them from here.
Community: Besides surveys, you can earn extra dollars by participating in their weekly contests.
Help Center: They have compiled all the frequently asked questions in one place. Also, you can reach out to their customer support from here.
Account: You can access your profile and privacy data from here.
LifePoints Community
While you can earn Lifepoints rewards by taking part in surveys, there is one more way to boost your earnings.
LifePoints Panel is a community of over 5,000,000 members who have signed up on LifePoints & regularly follow them on social media handles.

In the community section of LifePoints, there are weekly giveaways. You can earn anywhere between 10$ to 30$.
You should follow them on Twitter, Facebook, and Instagram. That's where the real fun happens.
How to Redeem Lifepoints Rewards?
The types of rewards you'll get depend on your country. For instance, Paypal & Amazon Giftcards are common for most countries, but there can be local gift cards that you can redeem. (Paytm cash, If you are from INDIA)
The value of your Liftpoints cannot be estimated. It depends on the type of gift card or payment method you choose. (Country currency plays a role too)
For Example: If you want 10$ in Paypal cash, you need 806 LifePoints & for 20& Paypal cash you need 1611 Lifepoints.
A certain time period is required for your rewards to reach you. (Check below)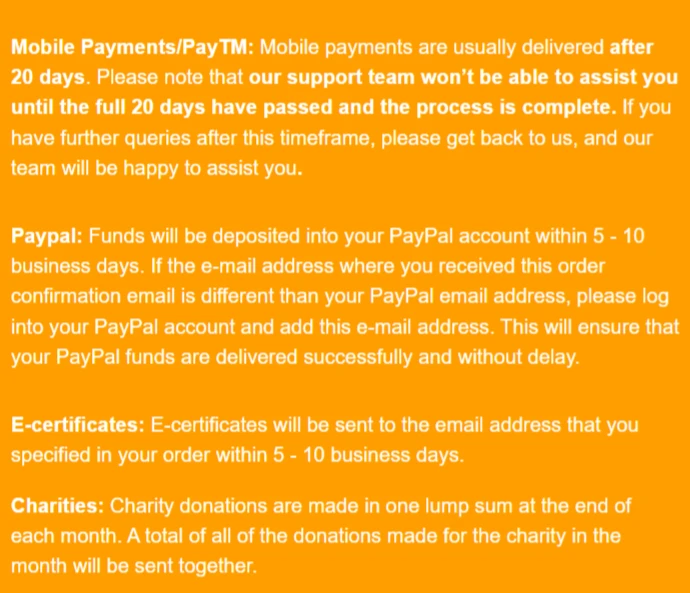 Make sure your Paypal address is the same that you use with LifePoints or you can add an extra email address to your Paypal. You can learn more about it here.
How much you can earn from Lifepoints?
There are people who are making $60+ for a few hours of work per month.
We have a Reddit user who is making a similar amount on LifePoints.
I did a small survey of the LifePoints panel users, asking them to share their average monthly earnings.
The highest average monthly earning was 30 Euros & the lowest is 10 Euros. Your earnings also depend on your time spent doing the surveys and your country.
Apart from regular surveys and weekly giveaways on the community panel, LifePoints also sends you emails about research studies that you can participate in and earn rewards.
Tips to avoid survey disqualification
While completing surveys there are certain things you could do to avoid disqualification.
For Example, They often ask you "Do you work in any of the following" like the below image.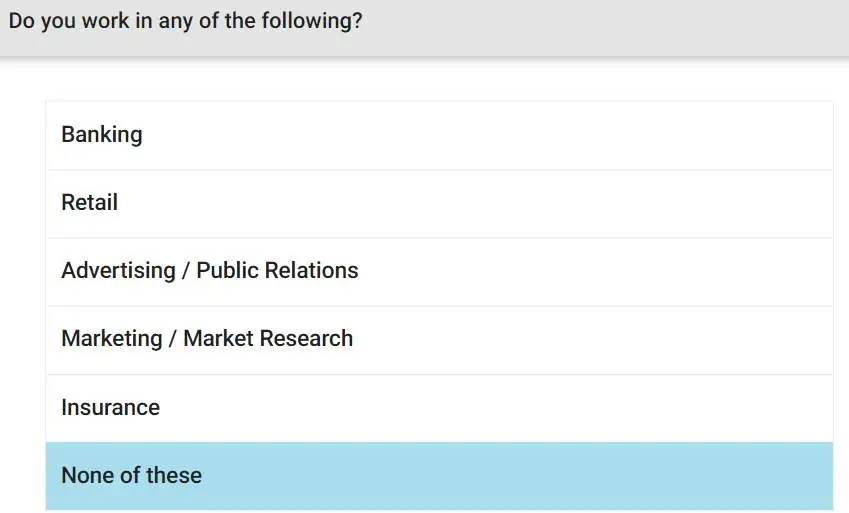 Always answer "None of these" because often brands are not looking for people who are working in Marketing and a few other Industries.
The other example will be "If you are a chief earner in the family" or "If you are the decision-maker for buying a certain product" always answer YES to such questions. (Example Below)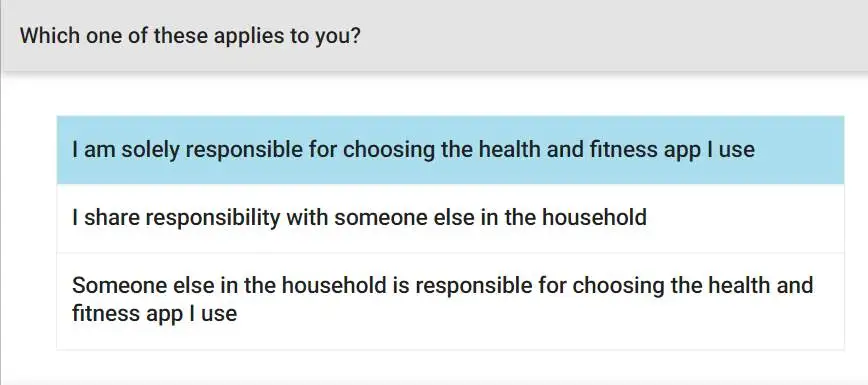 Also, while completing the surveys they give you some hints on what the survey is all about & what type of people they are looking for.
You need to use your instincts to answer surveys questions & you should qualify for most surveys.
This is not against their terms and conditions. You provided basic information in your profile, and if they are sending surveys to you, you should use it to make money.
Alternatives to LifePoints Panel
YouGov: It is a survey website that is very reliable. You will always qualify for all the surveys you take.
Prolific Surveys: They provide research study based surveys in which you'll be paid good amount in Euros.
AttaPoll: It is a mobile based survey app wher you can withdraw your reward to Paypal as soon as you reach the 3$ threshold.
Surveytime: It is another survey website that claims to pay 1$ for each survey you qualify for.
The Panel Station: They have a lot of surveys on their website that you can complete from your mobile device. They always pay you some points even if you disqualify for any surveys.
Pros of LifePoints Panel
Trusted Survey Panel: Unlike other survey websites that are mostly created for gaining profits. Lifepoints is a reliable brand. They have a community of over 5 million users and that is a sign of trust.
Good User Interface: Within just 5 mins you can create your account & start taking the surveys. You don't have to provide lengthily information about your household and other personal stuff.
Different reward options: From mobile recharge to PayPal cash, they have various rewards that you can redeem. Even if you haven't earned much points, there will be rewards for you.
Less Survey Disqualifications: You will qualify for most of the surveys that you take. Being a market research company, they are the direct survey providers for their clients.
Cons of LifePoints Panel
Banning Users: I have taken surveys of few users and they claimed to be banned from LifePoints. The reason for banning can be a violation of terms such as creating multiple accounts, but it has happened with many users.
High reward redemption time: Although you can immediately redeem the points for gift cards and paypal cash, it still takes 10-20 days for them to actually reach you.
No Referral System: Having a referral system in place always helps users to earn more money besides surveys. Currently Lifepoints does not have one.
Conclusion
Lifepoints panel is a reliable and popular survey website that pays users for giving their opinion and participating in community-based contests. They are very much active on social media with millions of followers.
In this Lifepoints review, I have shared my experience with Lifepoints and covered all the important aspects. Along the way, we have seen few techniques that will help you qualify for surveys & earn more money.
FAQs