iPanelonline is a Chinese market research company & people often find it difficult to trust them. (No offense to anyone).
But is this the same case with iPanelonline or can you actually make money from this? Is your data safe?
In this iPanelonline review, we will do an in-depth analysis of all this & check, if this survey website is worth your time.
I believe in taking action especially when it comes to making online money. Create your account on iPanelonline & continue reading.
What is iPanelonline?
iPanelonline is a market research company, with panels in 17 countries. Unlike other market research companies that have only one panel for all of the countries, iPanelonline has dedicated panels.

iPanelonline collects data for their own market survey as well as help brands & organizations get data as per their requirement.
They're active in both B2B and B2C, so if you're a consumer of a product or a working professional, you have the opportunity to earn.
With iPanelonline, you can participate in surveys & get paid for your time & your information.
Is iPanelonline real or fake?
iPanelonline Market Research Co. Ltd was founded in 2004 in Shanghai, China. They started collecting data for the market survey from china & slowly expanded their panels to other countries.
Today they claim to be one of the largest proprietary online panel companies in Asia. The current CEO of the company is Rita Song
Now, to give you my opinion. They seem to be a legit company to me although I found their website to be very basic with a lot of mistakes & errors.
For example:
1) When we click on a new survey it opens a new tab with a webpage that is "Insecure" A simple SSL certificate would have fixed this.
2) Spelling & grammatical mistakes at many places again were a concern. Being a company from china is not an excuse.
3) No easy access to information on how many points you earn for referring your friend.
A company that claims to be Asia's largest market research company is not expected to have such issues.
Although there are people on the Internet who have received payment from iPanelonline that we will discuss further.
How does iPanelonline work?
1) First, you need to signup on iPanelonline & complete basic information.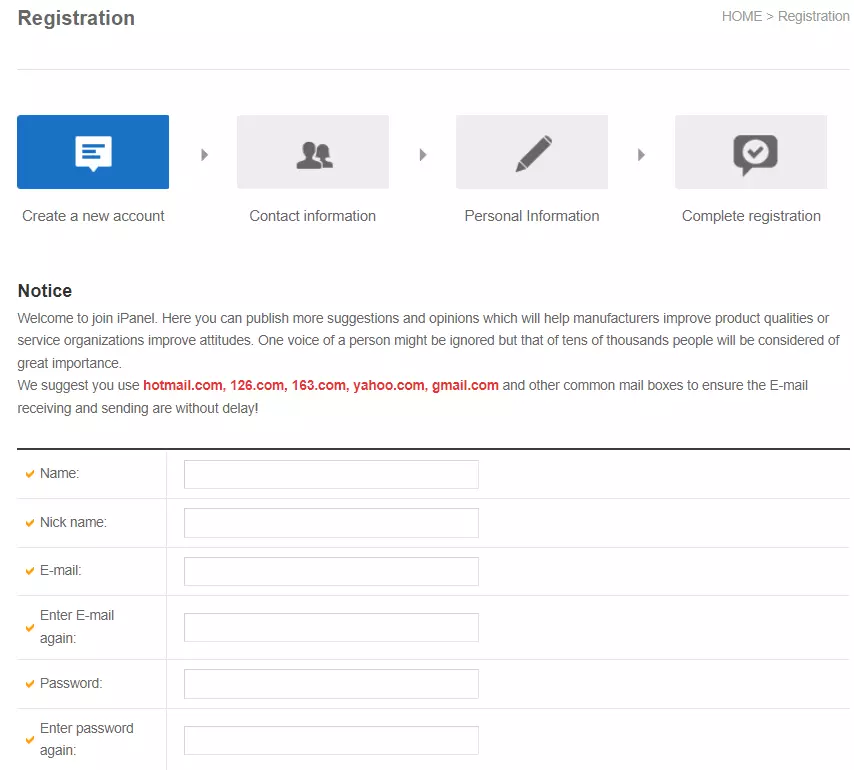 Upon registration, you are rewarded with 50 points.
2) Now you can participate in paid surveys, depending on their availability. Once you complete a survey, you'll see the below screen of successful survey completion.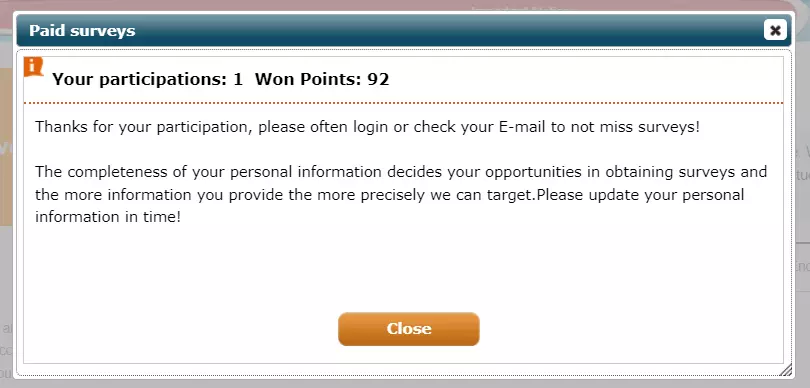 Although they are a market research company themselves, you will not qualify for all the surveys you participate in. Also, the points earned will undergo a review before they are credited to your account.
3) For receiving payment you need to visit the "Personal Information" section.
They make cash payments via Paypal.
Physical gifts that include laptop, iPod, etc are sent with express delivery (UPS). For that you need to provide address & phone number.
Digital gift cards are sent directly via email.
This completes the basic working of the iPanelonline website.
Different ways to make money with iPanelonline?
1) Paid online surveys: It's a no-brainer that iPanelonline is a survey website & completing surveys is the primary way of earning money. You also earn one point for daily logins.
2) Referral system: Share your referral link with your friends & earn points. The amount of referral points you earn is not clear on their website.
They also have a notice on their website where they claim to give points for achieving certain milestone in the referral program.
For people from USA: 

1,600 extra rewarding points for inviting 100-199 members since registration to now
     
3,200 extra rewarding points for inviting 200-299 members since registration to now
     
4,800 extra rewarding points for inviting 300-399 members since registration to now
     
6,400 extra rewarding points for inviting 400-499 members since registration to now
     
8,000 extra rewarding points for inviting 500-599 members since registration to now
     
9,600 extra rewarding points for inviting 600-699 members since registration to now
     
11,200 extra rewarding points for inviting 700-799 members since registration to now 
    
12,800 extra rewarding points for inviting 800-899 members since registration to now
     
14,400 extra rewarding points for inviting 900-999 members since registration to now 
    
16,000 extra rewarding points for inviting 1000 or more members since registration to now     
So, If you are able to bring 100 members to iPanelonline using the referral link, you will get 1600 points.
3) Share your opinion & Earn: They have a section on their website where users can speak their mind (Just like facebook). They provide one point for each opinion.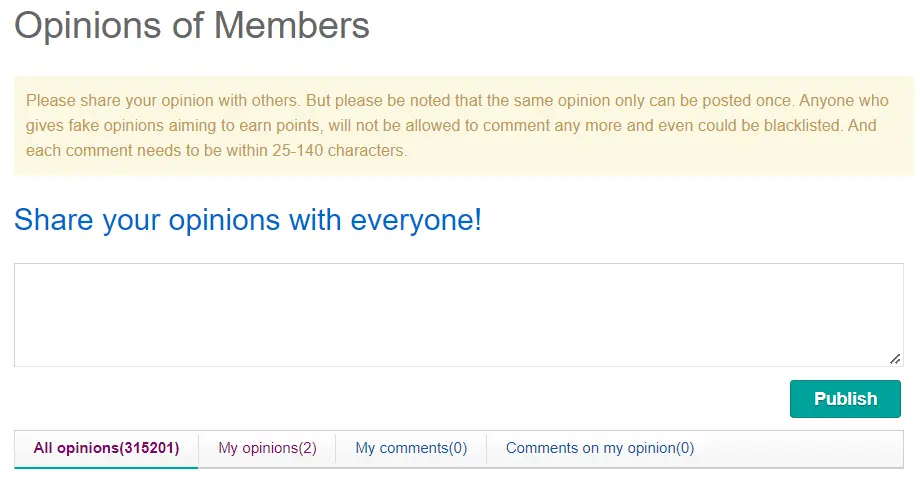 4) Lucky Draws: Every week a lucky draw is held & random winners are selected based on their activity. Users who bring in more referral members are given priority. Winner gets 100 points as a reward.
How to Redeem your Rewards?
I already discussed above on what are the different methods used by iPanelonline to pay rewards. Once you have gained enough points, you need to visit "Redeem for cash" section & choose the reward of your choice.
As per iPanelonline you will receive your funds within 1 to 7 business days. Although not mentioned, the physical gifts may take longer depending on the delivery partner.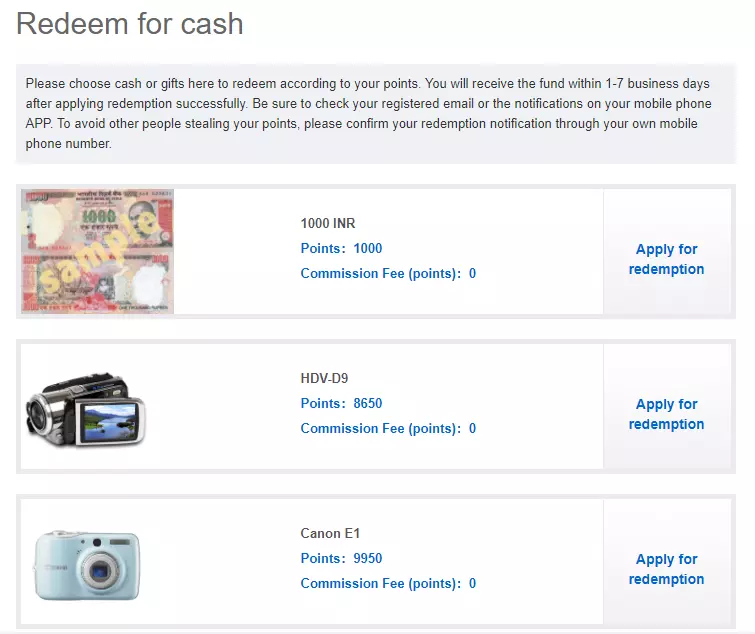 How much can you earn & Payment Proof
Your earnings highly depend on your country & consistency. But frankly speaking, I would have skipped this website or have kept this one as a last option If i were you.
You may earn 5 to 20 dollars per month.
Here is a payment proof that I found on the Internet. (Source: iSmart Vanitha)

Pros
1) Available globally: They have research panel in 17+ countries which helps people around the world.
2) Multiple opportunities: Along with surveys they also have lucky draw, member opinions & referral system.
3) Old research panel: They are not newly launched company and are in the market from 2004. They have 40+ employees on LinkedIn. It makes them trustworthy.
Cons
1) Outdated website: The website does not have a modern look, the navigation is confusing & the useful information is not available at the right place.
2) Less surveys: Unlike other websites where we have a lot of surveys to complete, its not the case with iPanelonline.
3) Information safety: I wouldn't provide useful information like a government ID number, which they've asked for in the personal information section. Although, Its not mandatory but still a survey website have no business with it.
4) Lot of grammatical & website errors: Along with outdated website they also have spelling mistakes & website issues. This makes them look untrustworthy.
Sites Similar to iPanelonline
Here are few alternatives to iPanelonline that are worth trying.
1) YouGov
3) GrapeData
4) LifePoints
5) Surveyeah
Conclusion
iPanelonline is a China based market research company that expanded its operation to other countries. With iPanelonline you can earn cash & gift cards by completing surveys. They are in the market research business from 2004 & claims to be one of the largest in Asia.
Although there are payment proofs on the Internet, I found the website to be a bit outdated with lot of errors. If you are looking to try survey website, this should be your last option. Check the alternative websites that I suggested.
FAQs