If you are interested in a website that provides multiple opportunities to earn cash and gift cards, then you have come to the right place.
iRazoo pays not only for completing surveys but also for playing games, watching videos & Installing apps.
In this iRazoo Review, we will do an in-depth analysis of how the website works, how much you can earn & also check some payment proofs.
When it comes to making money online, taking action is very important. Create your account on iRazoo & follow along.
What is iRazoo?
iRazoo is a reward website that has tie-ups with brands & market research companies. They pay iRazoo for promoting their offers & surveys on the iRazoo website. iRazoo takes the help of users like us to complete those & in return pays gift cards & cash.
iRazoo is not your typical survey website, along with Survey they also have other exciting incentives for playing games, installing apps & watching videos.
They are not a market research company and the surveys have high disqualification rates like any other GPT (GetPaid To) website.
iRazoo Video Review
Is iRazoo Legit or Scam?
iRazoo was founded in 2007 by Neal Verma but in 2016 it was acquired by Side Money LLC. Gregory Ziemak is the current managing member of it.
They are based in Newyork, United States, and are a legit company. PRNewswire a public relations & communication firm talked about their partnership with Adscend Media.
Also, many users have given payment proof from iRazoo which is enough to confirm that iRazoo is not a scam & is a real company.
On Trustpilot, they have 4 stars rating with over 496 reviews. Although they give a certain incentive for a review on Trustpilot so it cannot be depended on 100%.
How does iRazoo work
The first step is to signup with iRazoo, You can use Facebook or Email ID.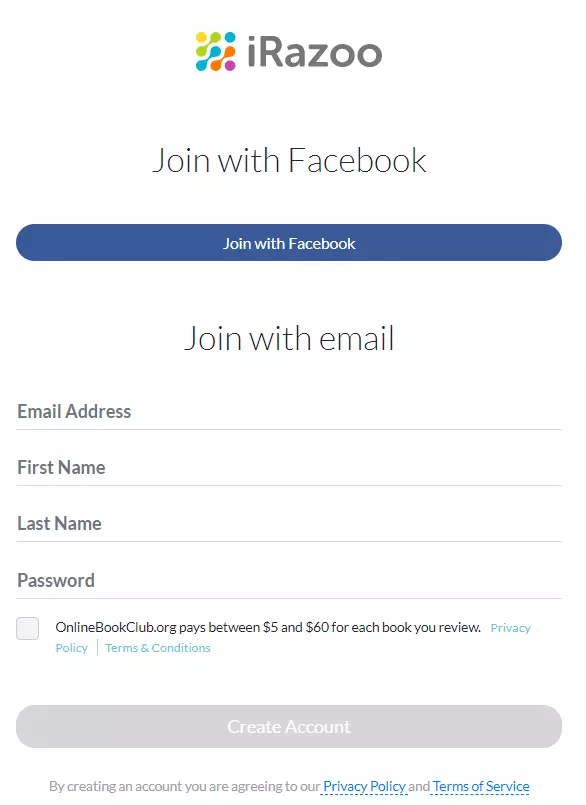 Once you are in, you should complete basic profile information and answer questions that are useful for providing you with suitable surveys.
For completing the above steps you get rewarded with 300+ points.
The Interface of iRazoo is easy to understand.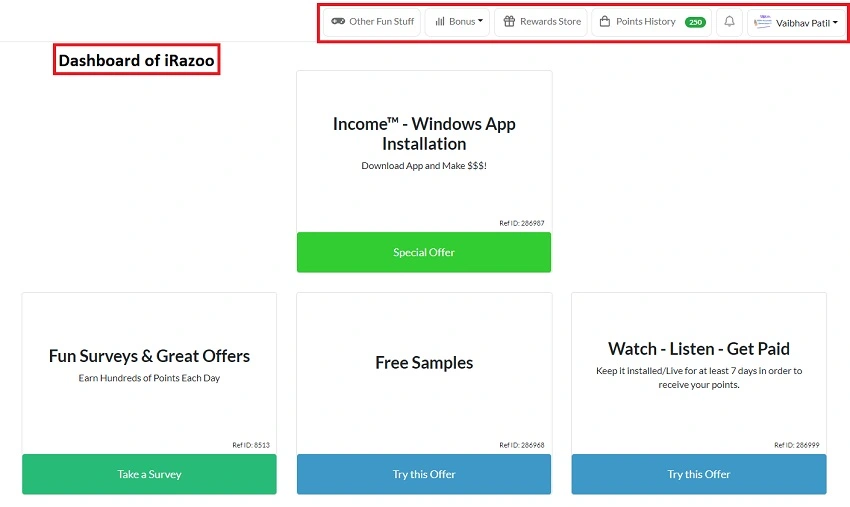 On Dashboard, you can complete all the new offers & surveys for points
In the Other fun stuff section you can complete special offers made available to you by iRazoo partners.
In the Bonus section, you earn points for completing daily & monthly goals.
In the Rewards store, you can check the rewards available for your country & redeem them.
In the Points History, you can check the points alloted to you for completing tasks.
This is the complete overview of how you can create an account with iRazoo & start earning.
Different ways to make money with iRazoo
1) Completing Surveys: iRazoo has partnered with websites like Peanut Labs where you can take surveys and earn points. Most of the surveys will have qualifying questions, you need to have a good judgment on how to answer them.
2) Watching Videos: iRazoo is partnered with Hideout.TV where you get paid for watching videos.
To get started, first visit the "Other fun stuff" section then click on Adscend Videos Home & create an account on Hideout.TV.
This way, you will link your iRazoo account with Hideout.TV and can redeem your points.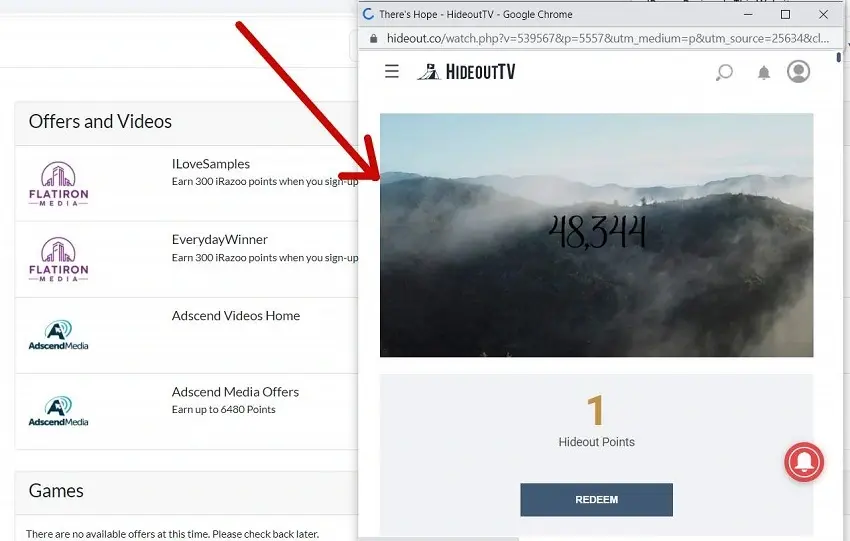 You need a minimum of 9 Hideout points before you can transfer them to your iRazoo account.
3) Installing applications: iRazoo is a partner with various software vendors & mobile application owners. You can download the application & get rewarded with points.
4) Playing Games: They have partnered with Arkadium where you play games & earn credits. Many iRazoo users love this option to earn money by playing games.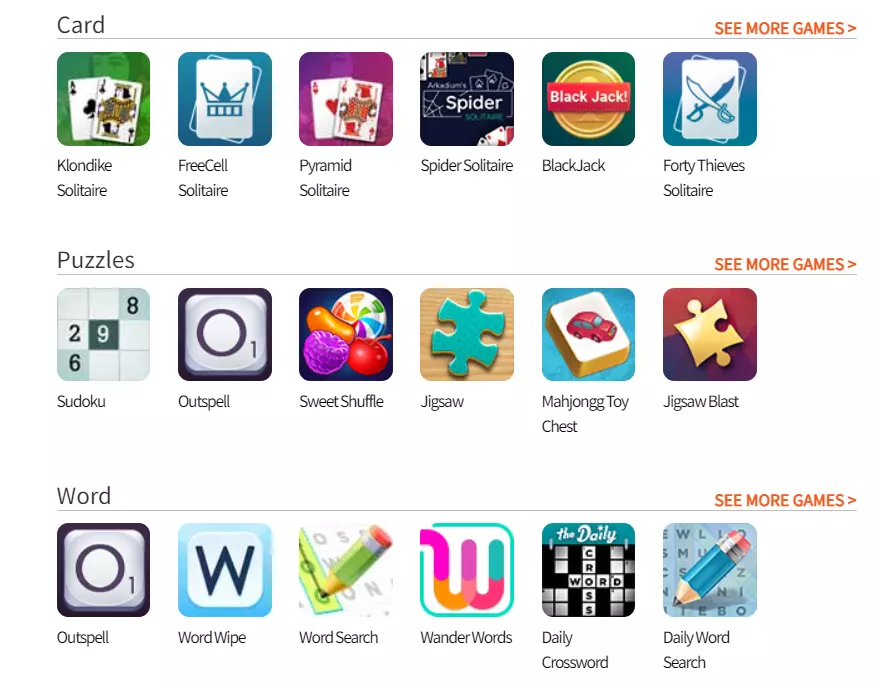 5) iRazoo Search Engine: With this, you can earn up to 25 points every day. All you need to do is keep iRazoo as your default search engine.
When you want to search for any term or query, Instead of using a google search engine, you can use iRazoo & earn points.
For more details on how to set your default search engine to iRazoo, Read here.
6) Referral System: Just like other survey websites, iRazoo have their own referral system. You can earn points by sharing your referral link with your friends.
As per the iRazoo website, you will earn anywhere between 100 & 500 points once your referral signs up using your link & earns at least 1000 points.
7) iRazoo Partnership: If you have a blog, youtube channel, or good social media following, you can apply for the iRazoo partner program.
You get access to exclusive promos & referral codes customized as per your audience. I have applied for this program and I will update you as soon as I get more details.
As per my understanding, you should be earning a certain commission each time your promo & referral codes are used.
8) iRazoo Promo Code: They often share Promo codes ( Treasure Codes) on their social media accounts. You can use those codes to earn extra points. Lately, they have been very inactive on social media & no new promo codes are being shared.
9) Daily & Monthly Goals: You get bonus points for completing certain goals. If you earn 25 points in a day, you get 5 bonus points.
If you complete all daily goals for 28 times in a month, you earn 1200 bonus points.
How much can you earn with iRazoo
You need 3000 points for 5$ Paypal cash. If you are from the United States, you have many other reward options; Adidas, Amazon, Nike, Starbucks & many other gift cards.
If you are not from the USA, you can only redeem Paypal cash.
My advice will be to cash out your first payment of 5$ & move on. Here is why, when you join the website you are given free points of up to 300 just for completing your profile.
After that, you can refer your friends & complete a few offers to reach 3000 Points. Your first cashout will always be easy.
iRazoo used to be a good website in 2016 when it wasn't acquired by Sidemoney LLC. However, once the company owner changed the earning potential significantly decreased and many people stopped using it.
iRazoo Payment Proof
Here is payment proof of a user from Reddit. It's a 5$ Amazon Gift card.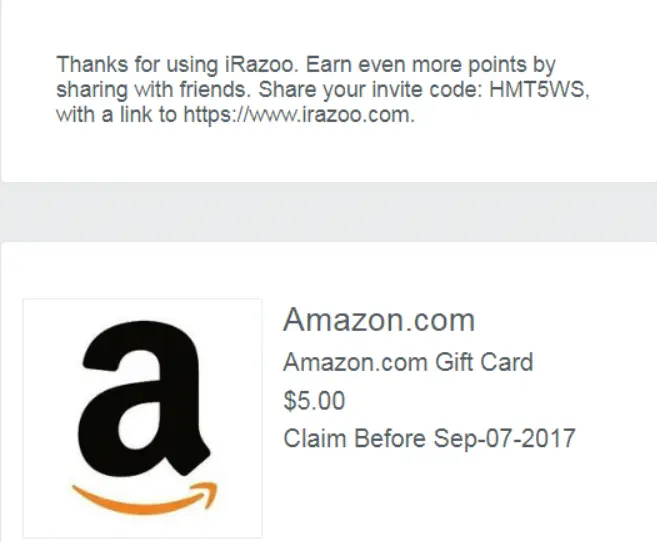 What users are talking about iRazoo
1) Payment Delay: Here is a user on Reddit who had to follow up with iRazoo for 4 months before getting his payment.

2) iRazoo used to be a good website but not anymore.

Pros of iRazoo
1) Multiple earning opportunities: From completing surveys to playing games, there are 9 to 10 different earning opportunities.
2) Clean User Interface: iRazoo website is easy to navigate & use. It does not look spammy with lots of ads.
Cons of iRazoo
1) Payment Delays: iRazoo users are complaining of not receiving their payments on time. This is alarming for new users because they have to put in a lot of effort to earn the threshold amount of 3000 points.
2) No proper customer support: Although they have a proper ticket system, customer support is not helpful or on time.
3) Most of the features are outdated: I tried to find their referral link to share with my friends but I was not able to do that. Also, the iRazoo search engine option was confusing & I was not able to implement that even after following the instructions.
iRazoo Alternatives
Here is a list of websites that are similar to iRazoo & are worth trying.
1) YouGov
2) GrapeData
3) iPanelonline
5) Surveyeah
iRazoo Review Conclusion
iRazoo pays users for completing surveys & various other offers. They are Newyork based company & were recently acquired by Sidemoney LLC. Although they had a great name in the GPT sites after the acquisition things changed drastically & people found the website to be low-paying with no customer support.
iRazoo could be a good option if you're looking for a website that you can use to earn money as a side hustle. There are many other alternative websites that you can try & are better than iRazoo.
FAQs