Testbirds is a website made for testers like you. You don't need to have any technical or coding knowledge in order to become a part of Testbirds.
You will test digital products and give feedback or report bugs. In return, you will get paid for each bug your report.
In this Testbirds Review, we will evaluate the website for its authenticity along with a simple guide for you to follow & start earning.
JOIN TESTBIRDS
What is Testbirds?
Testbirds is a crowd testing platform. A digital product owner can test their product for user experience & bugs in real-time with real people & devices.
Testbirds have 600k+ registered users with over 1 million+ device. Users who participate in testing projects are rewarded with cash payments.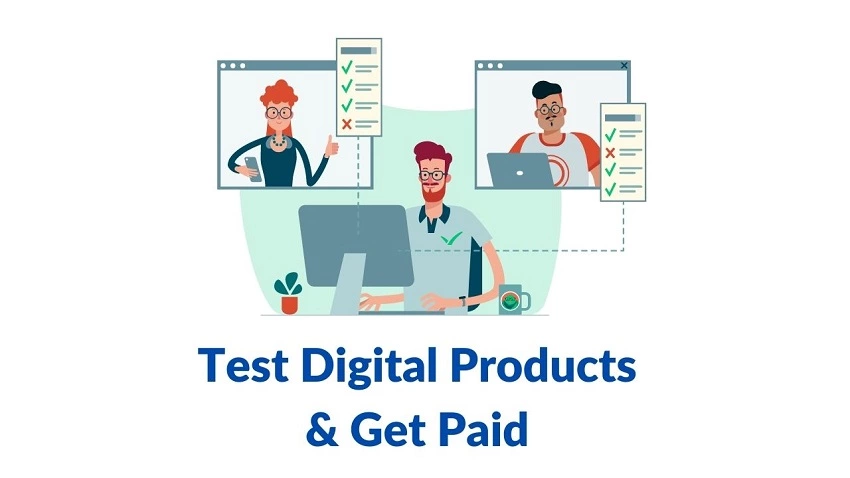 Testbirds claims to manage all type of testing requirements that includes Bug testing, Load & Performance Testing, Usability & UX study, Remote Interviews & few others.
If you are a digital product owner, all your needs are met and if you are a tester, you have a lot of earning opportunities.
Testbirds Video Review
Check my complete video tutorial on Testbirds.
Is Testbirds Legit or Scam?
Testbirds is a company based in Munich, Germany with VAT ID: DE283970887. Testbirds was founded in 2011 by Georg Hansbauer, Philipp Benkler and Markus Steinhauser.
As of today, they have 100+ employees and 250+ clients that include BMW, Audi, Deutsche Telekom, and Allianz. They're based in Germany (Europe) which has strict privacy laws.
I myself got paid for completing the test, and the proof of it is attached below.
All the above information is sufficient for us to acknowledge that Testbirds is a legitimate company, not a scam.
How does Testbirds Work?
Testbirds as a simple onboarding process for new testers. Here is the signing-up process.
1) Getting started with Testbirds
The first step is to signup on the Testbirds website.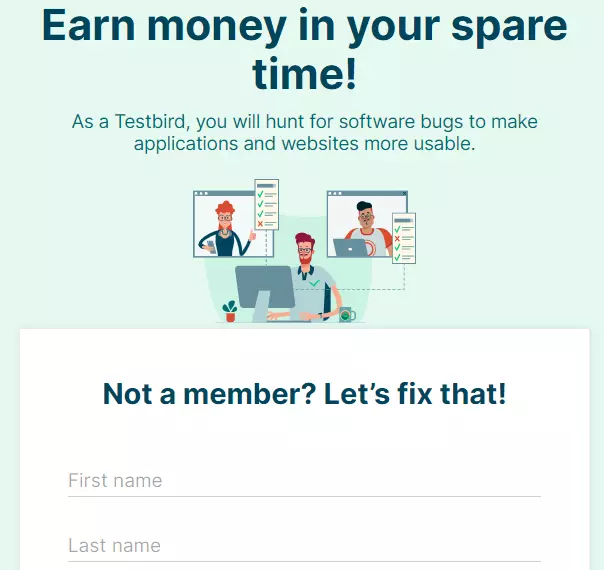 Once you signup, you need to complete your profile details, add the devices that you are using & take part in the Entry test.
You'll earn 5 Euros for completing the Entry test. Completing the Entry test makes you familiar with the testing environment that is useful when you participate in real tests.
Testbirds says that it's mandatory to complete entry tests for getting real test invitations. In my case, I did not complete any entry test and received a real test that also paid me.
2) Testbirds Dashboard Overview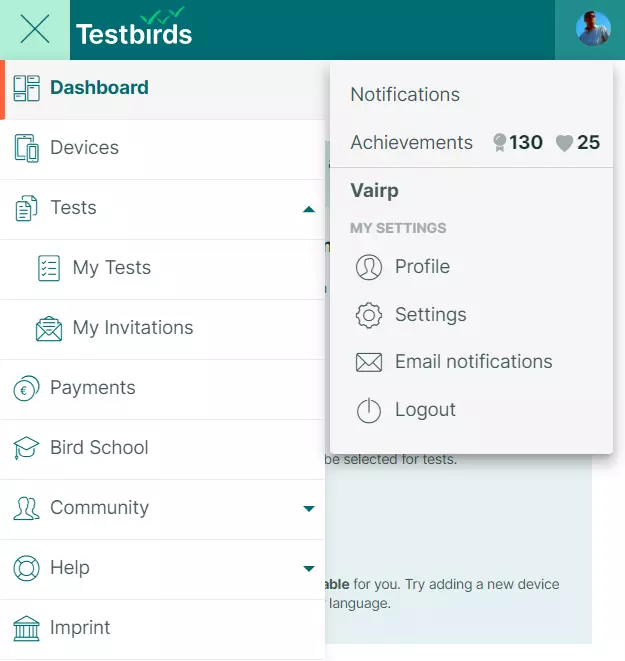 Devices: You can add your smartphone, PC, VR Headset etc. The more devices you add the more chances you have of getting invitation.
Tests: From here you can track progress of your test project & accept new invitations that you receive.
Payments: Once you complete a test, you can request the payment from here.
Bird School: They have their own e-learning modules that testers can complete to earn experience points and learn testing skills.
Community: In the community section, you can refer your friends & earn community points. You can also track Bird of the month (BOTM), The Testbirds team recognize testers with exceptional performance in Bug reporting.
Points: As a tester, you earn two type of points- Experience & Community points.
You get Experience points for submitting bugs successfully, taking Birdschool courses, and becoming an expert on the Testbirds platform.
You get Community points for referring more friends on Testbirds, replacing the vacant position caused by someone leaving the project, and contributing positively to the community.
There are no cash rewards for earning points, but you may get surprise gifts, special recognition, or invitations to the projects.
3) Actual Test Dashboard Overview
When you get invited for a real test, It is important to understand- How to follow the Instructions & navigate the test dashboard.

Description: Here you can read the device requirement & the time required for completing the test & payment amount.
For Example:

We are seeking specific Android devices with 12 OS version.

You will be required to test a simple pass/fail app and we will reward you with 10 Euros for approximately 15-20 minutes of your time.  

If you have any questions, please don't hesitate to ask.

Kind Regards,

Your Birdmasters
Out of Scope: Here you can find what type of bugs you should not report.
Report Pages: It consist of Initial Report & Report Form.
In the initial report, you need to answer some qualifying questions related to the device & your availability.
In the Report form, you need to follow the given steps & submit the report.
For example: You may need to visit a website and provide positive or negative feedback or you may need to download an application, take screenshot & upload certain files.
Deadlines: Here you can track different phases of the project.

In the Signup Phase, you need to complete the Initial report & wait for the test project to start. In the testing phase, you need to follow the instructions & submit the test report. In the review phase, your submitted report will be evaluated for accuracy by the Testbirds team.
Details: Here you can track the name & type of test (Bug Test, Usability Test or BugAbility Test).
Payouts: Here you can track the amount you will get paid after completing the test successfully.
Access Data: Any media file, Apk file that you need to download for completing the test will be available here.
Message Birdmaster: During live test, If you have any doubt or questions you can message the support.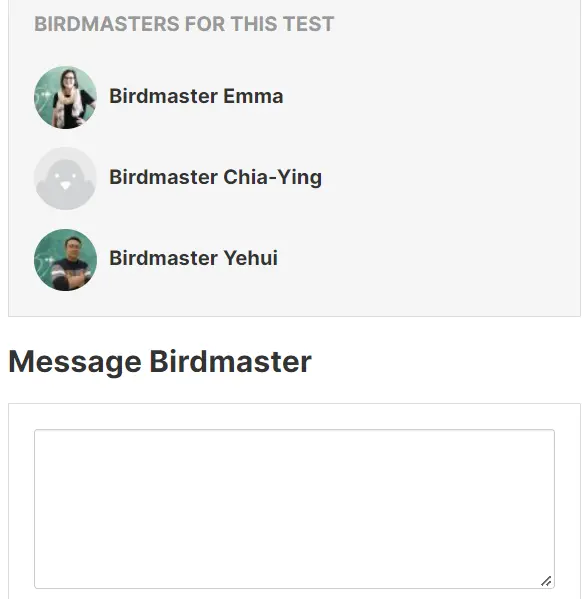 4) Testbirds Mobile App
The Testbirds have their own app called "Companion App". The app will enhance your experience of working with Testbirds.
It is not a complete replacement for the Testbirds desktop version. It can help you complete simple testing projects & syncing your mobile with the testbirds account will provide your latest device version to them automatically.
It will also help in providing you with Instant notifications so you do not miss important projects & updates.
Download the application for Android & iOS devices.
How much can you make on Testbirds?
I recently got invited for a testing project. It was a simple validation test where I had to download some apps & submit the report.
I was given 10 Euros for 15 mins of my time. Check the payment proof below.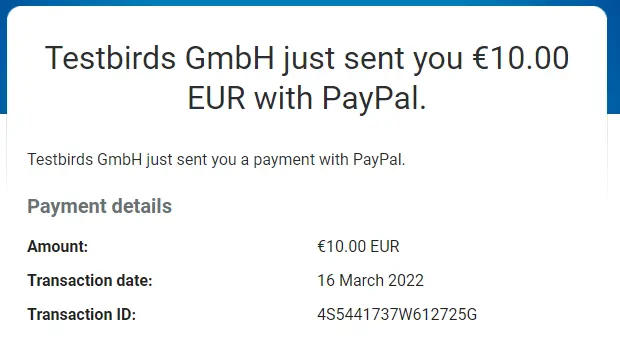 So the money that you can make depends on the devices you add (more devices, more invitations) & your location.
Also, here is a rough estimate of the money that you could earn depending on the test type.
Entry Test– 5 Euros
Usability Test– Between 10 to 50 Euros (Sometimes more)
Bug Test– Between 1 to 5 Euros depending on the bug severity
BugAbility Test– 10 Euros or more per hour.
Testbirds Payment Proof
I already provided my payment proof. Here is the payment proof of the other user.

Testbirds Review- Reddit
Overall the review of Testbirds by the Reddit community is positive with several people sharing their payment proofs.
Some people complained about how the website had some errors but they are old reviews and at present, the website is working perfectly fine.
They also said that it is a lowing paying website but compare it with the survey websites & you have a clear winner here.
Below is one such positive review.
Here is my story about how i started-

I was searching for a testing website for quite some time and now it seems i have found one for myself.

I just joined testbirds 3 days ago and gave my entry test (took me about 2 hrs to do it) and i also found a BUG!!! 

So after three days my test got approved.
 and guess what you earn 428 rupees or 5 euros for the first test !!!

And now just another test and i can have my first payout !
 (minimum payout is 10 euros)

Best of luck to anyone who tries this ! take time guys that is my only tip!!!

Cannot post pic here so no proof maybe


Testbirds Pros
1) Great User Experience: The website is simple to use, with not many moving parts that can confuse new users. Everything is perfectly aligned.
2) No testing knowledge required: Although they have their own course & entry test. Any person can participate in paid tests & earn.
3) Good payments: You will be compensated well for the time you spend on completing the test projects.
4) BirdMasters support: During the testing phase, you can ask any questions & there will be support available for you.
Testbirds Cons
1) Fewer Opportunities: As compared to other websites like Utest, the test availability is low.
2) No Referral Earnings: You earn community points for referring your friends but there are no direct cash rewards.
Testbirds Alternative
Here are a few websites that are similar to Testbirds
1) Respondent
4) Dscout
6) Testerwork
Testbirds Review- Conclusion
In this Testbirds Review, we did a complete analysis of the website. Testbirds is a great website for new testers to earn some cash without having any testing knowledge. They are a legitimate company & pay on time. Proper instructions are given when you are selected for real tests that are easy to follow.
Have any questions? Comment Below.
FAQs